『A tour doesn't end until you're back home』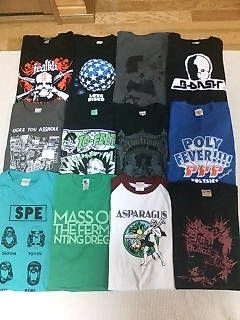 Hello hello, this is Kazu Nakamura.
We returned from Hanamatsu not long ago and somehow the fatigue from touring just struck me all at once. Right now I'm just feeling worn out. I tried lining up the T-shirts from all the bands we played with on tour. Lining them up like that, there would've been a space remaining so I put a 9mm one there. It's really fun doing this as it makes me reminisce about this and that about the tour. This venue and that venue, this band and that band. Really, so many fun things happened, I can't even write them all of them down. Bleh, now I feel lonely somehow. The tour's really over.
Also, those of you who came to see us, thank you very much. There were people who came to a number of shows it seems, which makes me really happy. Well done!
Now then, tomorrow it's back to the studio for us. We'll do our best.
With that, thank you. This was Kazu. Guhehe.