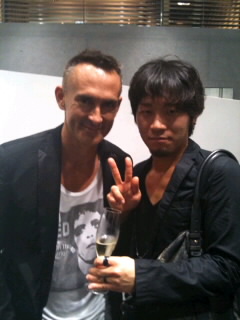 『Oh that's right, let's write a blog.』
Mmm. On this week's edition of "Weekly Shounen Chihiro", I'm sending you a two-shot picture they took together with designer Neil Barrett.
Ah, Chikkun has quite the drunken face going on here. He's obviously had too much to drink. How unattractive. Looks like he's just about to pass out, look, he's going to pass out, look look, he looks tired, looook he's no good anymore– what the, he hasn't dropped dead yet. Hey, get to sleep already. If you close your eyes it's goodbye for you you son of a bitch. Shit! Just die! Fucking fuckkk!!
Alright, good. From next week and onward, we're planning on suspending the publication.
Please do as you like.