I don't like to brag, but fuck me – Λucifer autograph GET'S!
And speaking of buying stuff from Yahoo Auctions Japan, do take a look at what I won from there yesterday (or rather, begged my girlfriend to win for me. ゆみちゃんありがとーヽ(*^ω^*)ノ)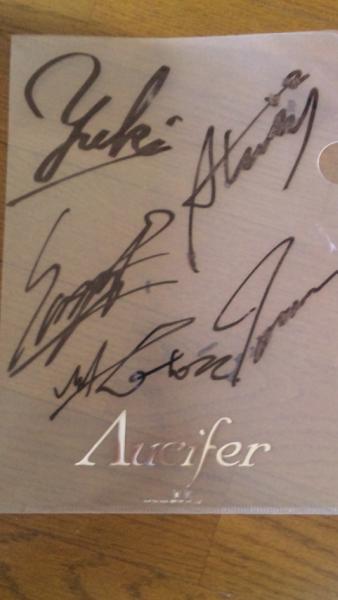 You're looking at a clear file with hand-written Aucifer autographs (ie. not printed). The seller recalls these were done right after their debut for fans who purchased their CD, during their first tour. The best part? I snatched it for ¥500 (~US$6). Yes, there's no typo there. Five hundred goddamned yen. That is less than what I spend on my weekly bottle of vodka.
Look out for my next post where I'll announce the details of the upcoming Henkka's Λucifer Autograph Guided Tour 2011 ~An Evening of LOVE&PAIN~. For fans of Aucifer, it's an event not to be missed! For now, I can tell you that activities during this very special evening will include:
In the absence of hands and thus a handshake event, you'll be able to touch the autograph ever-so-lightly with the tip of your index finger for up to three seconds
Getting your two-shot picture taken with the autograph
Me giving a special presentation on the topic of "Useless shit I could've bought instead of this autograph, but didn't"
Romantic dinner with the autograph
Crying
Getting very very drunk