I attended a professional baseball game with my niece and nephew who were back in Japan for their summer holidays. August 24th (Wed), Bay Stars vs. Giants at Yokohama Stadium. My niece and nephew are now in junior high school. They've been living in Belgium since they were little so they speak fluent French, but they know close to nothing about baseball. This was thus their first time watching a sports game at a stadium. Yes, there's no such thing as "baseball" in Europe. As far as popularity of sports goes, soccer seems to be number one. Aside from that, tennis, bicycle and motorcycle racing as well as skiing and ski jumping in the winter is what they watch on television. Aside from the Eurosports channel, I never once saw any baseball in the two and a half years I spent living in Paris. For the French people, it seems that they usually know that such a sport exists, they've just never tried it even once.
Let me tell you a story about when Morimura, a music promoter I used to work with, was studying abroad in Great Britain in his university days. Quite the rarity, there was baseball club close by where he lived. Morimura, having been a member of a baseball club in his junior high days, timidly went and joined the club. The overall skill level was so low, he was immediately made the pitcher after they played a bit of catch with him, and his team got into a streak of consecutive victories as they were getting strike after strike thanks to his throws. He was written about in the local newspaper with the headline of "The Kamikaze Pitcher Has Arrived!"
I'm getting way off-topic. Even for me, it'd been ages since I last saw a baseball game at a stadium. Thinking about it now, my last time was probably in '93 when I saw Yakult vs. Kyojin at Jingu Stadium, so roughly about 12 years ago.
When you're watching a game of baseball at a stadium, it's best when it becomes a hitters' battle. I mean, if it becomes a pitchers' battle, it's not like you can see their strained faces or anything. No, it's way more awesome if you get to see a game with hitting and running, exciting close plays and, if possible, a disputed judgement that results in a huge fight. Well, a fight isn't going to break out that easily though. Anyway, you're always heading out to the stadium thinking "man, I wanna see a whole bunch of home runs." Also, another great thing to look forward to at stadiums is the "buying and consuming" part. Hot dogs and corn dogs, takoyaki, yakisoba, udon curry… stuff like this tastes unusually good at stadiums. So, I decided on some original rules to make baseball even more exciting. "No eating before a home run," and "when a home run does happen, we have to go and get something to eat." Thus, we arrived at our seats at 17:55, exactly five minutes before the match started.
As I was explaining the basic rules and how to read the scoreboard to my niece and nephew, neither of the teams were getting any hits and the game was progressing towards a slooooow pitchers' battle. I was getting increasingly worried as I was questioning myself, "I have to go home on an empty stomach if there are no home runs?" My nephew, who was getting hungry due to my rules, asked me "hey, can we really not eat if there are no home runs?" "Hey, when are they going to hit a home run?", said my niece. "Even I can't tell you the answer to that when the game is like this", I replied. The salaryman-looking guy sitting in the seat in front of me seemed to be really enjoying his Yokohama specialty "Nagasaki-style pork dumpling bento box" — which I was beginning to smell, too.
I realized that in a Giants without Rhodes, Kiyohara or Takahashi, it was pretty much just Kokubo who might be able to hit a home run. Then it was finally his batting turn in the fourth inning in a no outs, first and third base situation. The exact moment I was going to say "this guy could possibly pull it off…" there was a loud *clack!* "Go, go, go, YEEEESSSSS!!!" He hit a three-run homer right in between the left and center fielders, his 24th of the year. I yelled out "YESSSSS!! Let's eat!!!", unintentionally raising both my hands in joy. "Right, let's go buy something!" We couldn't care less about any of the following action as we headed out right for the stands. We started off with the safe and sound hot dogs with plenty of ketchup and mustard. We made our way back to our seats to begin munching on them. "Ah man, this is good. It's gotta be hot dogs with baseball, am I right? No food before a home run is a pretty darn exciting rule, ain't it?"
The game progressed into the sixth inning as we were thinking about what to eat next, and it was yet again Kokubo's batting turn. "Isn't he the one who just hit that home run?" "Yep, that's him. Oh!" *clack!* "Again?! Go, go, YEEESSSSS!!" (cue me raising my hands again). He hit his second home run to the right of the back screen, his 25th of the year. With an "alright, off to the stands!", we were at it again. This time we took our time looking through the different stands. Me and my niece decided on yakisoba while my nephew went for roasted pork ramen soup. We got back to our seats and ate in relative calmness. Ahh, we ate to our hearts' content. "Baseball is fun!"
The 8th inning. This time Nioka hit his 14th home run in the left stands! "…What now? Back to the stands?" "Well, that's the rule." "… I guess so." As we were having this discussion, it was once again Kokubo's batting turn. "Ah, that man again?" "He can't possibly hit another one, right?" "Yeah, I might be good even if he didn't." *clack!* "No way! Enough alreadyyy!!" They scored their second consecutive home run, a 130-meter one to the middle of the back screen, Kokubo's 26th. His third of the match. Third! I suppose it couldn't be helped when they went this far, so we were off to the stands once again. "What do you want to do?" "Do we have to eat two now?" "I think I'm good." "Wanna just go for popcorn?" "Popcorn's good. Popcorn is proper food, right?" Thus, we gave in and changed the rules. We got our popcorn from the young lady selling it and the three of us munched on them out of compromise.
The next day I was reading the newspaper and it said it was Kokubo's first time in his 12-year professional career scoring three home runs in one game. That's seriously pretty amazing.
Baseball really is fun. Moreover, stadiums that don't have ceilings feel better than ones that do. Well, it must suck for the management if they have to cancel an event due to rain. But for the audience, the roofless ones are great. Who knows, in 15 years there may not even be any roofless stadiums anymore, so you should all go see a game in one while you can. It'll be even more fun if you make up your own rules to go with it.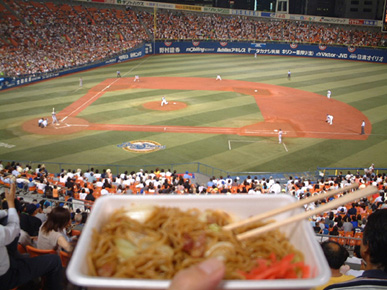 2005/08/26