ABC's second single "Black Cherry" has won a poll for the song with "lyrics that are too sexy."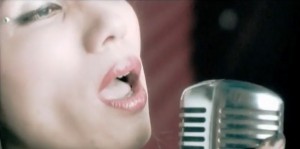 From tokyohive (see link for the full top 10):
Mobile site JOYSOUND recently conducted a poll asking its users what song they thought contained lyrics that are too sexy.

Coming in first place is Acid Black Cherry's "Black Cherry", thanks to its  provocative lyrics expressing a woman's desires. Voters commented, "When I heard sexy, this was the only song I could think of. Or rather… it's completely erotic!" and "From a woman's point of view, I can really sympathize with the lyrics. It's a very painful song."
If you take a look at the lyrics, it's not all that difficult to see just why it won first place. Here's a selection of an English translation, courtesy of JpopAsia:
Don't stop, kiss me! I can't be apart from you…
Don't stop, kiss me! But, I can't forgive you…
Ah~ Come inside me!
Black Cherry… make love to me, give yourself to me
Leave your seed inside of me!
It's all right if you don't love me… since I don't love you
Make me wretched like this!
Black Cherry, give it to me…
Black Cherry, give me more…
Yasu sure didn't bother much with metaphors in that one!