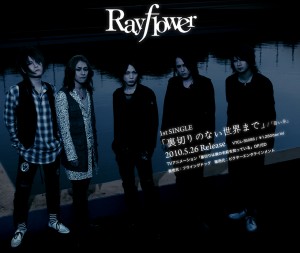 Wow! Looking pretty emo there huh, Yuki?
As if the Aucifer news wasn't good enough, it was also recently reported that Yuki is in a new band called Rayflower who have a double A-side single titled "Uragiri no Nai Sekai Made / Aoi Ito" coming out on May 26th. Their site can be found at rayflower.jp. Do check out this Tokyograph article for more info. What the article doesn't mention though is that the anime in question is of the "boys love" variety. Just thought I'd mention that. There's a preview out that doesn't sound half bad!
Pretty excited about this, actually, as Yuki's been my favorite member to follow after Aucifer. While I'm not the biggest fan of DUSTAR-3 I can't lie about occasionally bursting into "Mckeekee" on my guitar every once in a while, and Acid Black Cherry, yasu's (Janne da Arc) solo project where Yuki plays support guitar, is just great. If you haven't checked them out yet, what better time to do so than right now? Try not to mind the crossdressing at the start too much — unless that's your thing, of course.
Speaking of DUSTAR-3, they have a new album called TRIKE coming out on April 28th. Looking forward to hearing Yuki's soloing! Oh, and this reminds me: if anyone wants to sponsor me with Yuki's bitching custom ESP Lizard Special guitar, I'd be pretty happy about that.
On a completely unrelated note, I'd like to share a quick piece of Atsuro news. Well, it's not so much news as it's just "a quick Atsuro spotting". Atsuro's played guitar for several names that I'm a fan of (Hello! Project, Shokotan, etc.) but this is one I wasn't aware of before. I was watching the Kouhaku 2003 show the other day and look who was playing guitar for aiko of all people: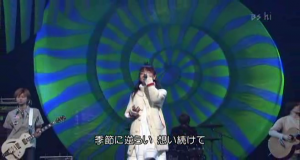 I'm unsure if he's featured on any of her recordings but it's probably safe to assume he's just played in her live band before. In any case, this is cool for me as I've been seriously getting into aiko lately. Another artist I'd highly recommend to anyone, by the way.
Thanks to GN-0015 for letting me know about Rayflower!