Makoto fan meeting in May & Goldberry Japan
Posted on March 22nd, 2011 by Henkka


Categories: News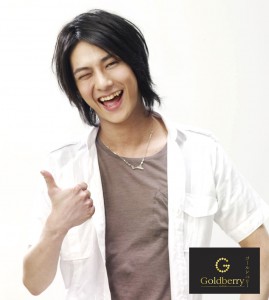 Another Makoto fan meeting announced, info from his website and K-project's twitter:
Makoto Koshinaka fan meeting 「Ebisu Now!!」 (tentative)
Organizer: K-project
Venue: 'es' Italian restaurant, Ebisu
Date: May 3rd (Tuesday)
Time: doors 17.00, showtime 17.30
Tickets: ¥23,000 (~US$280) (includes dinner)
Part of the ticket revenue will be donated to charity.
For getting tickets, if you're outside of Japan, you should probably look around on the Makoto Thai forums whereas people in Japan should keep an eye on Makoto's official site and wait for more info.
In other news, Makoto's the new Goldberry Japan Ambassador. Not exactly sure what all that entails, but at least he's going to be visiting Thailand again:
PS. If you don't know of it yet, I recommend checking out the Makoto Facebook group as they often do a much quicker job of posting all the latest Aucifer going-ons than this site.
Update: Firstly, concerning Makoto's fan meeting, you must email info@kproject-co.jp with (1) your name, (2) address and (3) contact info (phone number/email address/etc).
Secondly, concerning the Goldberry part of the news, Makoto will be arriving to Thailand on 19 April at 16:30pm via flight TG 643. Here are the details for his scheduled press conference.