VISUAL goes JAPAN's report of Λucifer live
Posted on December 20th, 2010 by Henkka


Categories: Translations
An English translation of a live report by VISUAL goes JAPAN. Sorry for the delay — for me and my (low) level of Japanese, this was a tough one to translate. Sorry for the lines that sound weird. By the way, VISUAL goes Japan also did an interview with Makoto. Look out for the translation of that soon.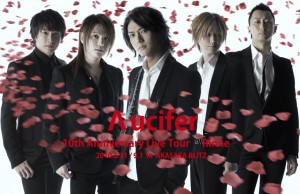 August 2010.
After a hiatus of around 7 years and 7 months, Λucifer returned to the live stage.
The tour entitled "10th Anniversary Live Tour ‐Rinne‐" spanning from 08/25 at Osaka, followed by Nagoya on the 26th, and finally 8/31 and 9/1 at the jam-packed Tokyo Akasaka BLITZ, gave them the chance to pull off a glowing comeback. The tour title meaning "endless cycle of death and rebirth" represents the connection between the members and how even after several years have passed, they will without fail stand on the same stage again. And so, to make that title live up to its name, Akasaka BLITZ was overflowing with dedicated fans on both days as everyone came to feel an affinity with the band and enjoy this timeslip to the past.
At 19:07 as the lights went out, the whole stage was veiled by a thin curtain. One by one, past clips and the members' pictures were projected onto the curtain as the venue erupted into loud cheers.
"Let's go, Tokyo!!"
MAKOTO's voice resounded in the venue. Spelling the end for their long hiatus of 7 years and 7 months, the members' silhouettes could be seen behind the thin curtain…
MAKOTO: "We're back, Tokyo! Today the five of us will go all-out! Λucifer will play with all its love, so you guys, too, send all your love to the stage!" =One song after the other, the venue was filled with loud cheers. During "DUMMY", MAKOTO, carrying a bouquet of roses, handed them out one by one to fans from the stage, and the fans who were lucky enough to get one contributed to the live visuals by swinging them from left to right. "After 7 years, Λucifer is back! Are you all doing fine?" That question by MAKOTO was followed by shouts of "Welcome back!!" and "We're fine!!" from the fans. "What do you think, ATSURO, my comrade?" With that he passed the baton to guitarist ATSURO.
"Comrade?!" he laughed. "Are you all good? Are you excited? Was that alright just now? Oh man, I was so nervous I thought I was gonna pass out, so I messed up!" That nice guy personality from ATSURO threw down the fans like dominoes, as they were shouting "Don't worry about it!"
As MAKOTO said "If anything happens, I'll save you, my beloved fans", ATSURO responded without a moment's delay to change the subject: "Ooh, like I thought, it sure does feel different today with the cameras here." Everyone bursted into laughs. MAKOTO, laughing and saying "It might ruin my character a bit saying this, but we're finally back. In more ways than one, we're back!" the venue again laughed as they were shouting "Welcome back~!" MAKOTO, jokingly showing his datenshi persona once in a while: "The fallen angel's swooped back down again from above. One by one, I'd like to present your hearts with a kiss."
As for the prince YUKI, he'd become a lot more assertive in his MC's compared to seven years ago. What actually caused this was his mother coming to see the Osaka performance and later mailing him, saying "To make the fans excuse you for that singing, you too need to at least talk more." MAKOTO praised him for having become more talkative because of his mother's request.
TOWA, bass, revealed to have become anxious after he saw a dream with just 20 people showing up for the revival live. But in reality, seeing this many people actually come to the live made him really glad and delighted. When he asked "How many of you have been coming to our lives ever since back then?" and around 90% of the audience raised their hands, among them some parent and child fans standing out as well, you could really feel how deep-rooted everyone's love for Λucifer was.
SANTA on drums made everyone laugh by saying "I'm glad we could have everyone gather here like this before our 'best before' date expired."
With the warm, enthusiastic reception of the crowd, the band getting back on stage after 7 years and 7 months really felt like a homecoming. Not resting even for a minute, with each passing song the fans relentlessly cheered and moved around to show support for the band.
MAKOTO: "I wonder if I could get you guys to sing with me? You guys are seriously nuts! You being here makes all of us members happy!" With that, they began the last song of the main set "Midnight Crow" with the audience singing along loudly. During the encore… "Seeing a piano, doesn't it remind you of something? We'll be doing this one again for the first time in 10 years." With that, they kicked off into the ballad "Dakishimeru Hoka ni Nani ga Dekirun darou?" as ATSURO played the keyboard for the intro, drawing applause from fans.
"Thank you very much for coming in such large numbers today. From here on, too, in times of difficulty, times of sadness, times of joy, Λucifer will always be beside you all." With that, they kicked off into "See You." MAKOTO, who was always cheerful and happily chatting with fans during this tour, now had tears flooding his eyes.
To the sound of that melody resounding in the venue, the fans sang the song in MAKOTO's stead.
The performance having ended, TOWA said: "With this tour, it really felt like we'd obtained a time machine. I don't mean that as a time machine made by people, I mean that as in a time machine made by everyones' hearts. 'Rinne' means the 'endless cycle of death and rebirth' — we were born again as Λucifer, and you, too, came here to see us again. We used the word 'reformation', but this time we're not 'breaking up' again. I'd rather strongly prefer to use the word 'frozen'. The five of us were able to get together and with time, I'm sure we'll be able to muster up the strength needed to do it again. So until that time comes, I'd like you to watch over our individual activities."
SANTA: "It'd be nice if this became a band that crosses generations, one that even after 10 years from now, you fans would come see again with your children."
ATSURO: "The fans having come together with the band like this, it felt like 1 + 1 didn't equal to 2, but more like 83%." (Note: …your guess is as good as mine!)
YUKI, explaining what Λucifer and its fans meant to him, said: "Having set the laying foundations for me to become the way I am today, Λucifer's existence is very important to me."
MAKOTO: "From now on, too, please support Λucifer who are working hard towards our individual dreams!" With that, Λucifer finished off with their signature song, "Datenshi BLUE."
Until when might this "frozen" status last?
There's no mistaking it that TOWA certainly chose those words to imply that sooner or later, the day will come. It seems that for 7 years and 7 months, the fans never stopped waiting for the band. No matter when the day of their next revival is, the warm bonds between the members and the fans will forever remain unchanged. That's the kind of stage Λucifer had that night.