Long time no see, Shokotan!!!
I did a TV recording of Shoko Nakagawa's new song "Flying Humanoid".
It was for Nippon TV's Happy Music.
Of course with my NiL guitar ☆
Also, I started using twitter yesterday with the username Daisuke_Atsuro.
I'll talk about both work and private life. I wonder how long I'll use it for…
Those of you interested, definitely check it out!!!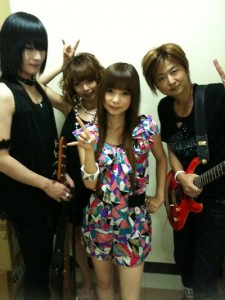 So that's a bit of news for you right there. Atsuro has twitter! Here's his awesome profile translated:
Name: Daisuke Kato
Present location: Tokyo
Web: http://www.an-life.com/atsuro/
Self-introduction: I'm a guitarist and composer/arranger. I was previously also known as ATSURO in the visual kei band Λucifer. I have more than 30 guitars at home with 5 of them being just standard Stratocasters. I enjoy surrounding myself with them in my living room ☆
And here's a selection of his tweets so far: