Rayflower single out
Posted on May 29th, 2010 by Henkka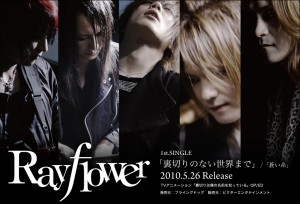 Just as a quick reminder to you guys, Rayflower's single is now out. Still haven't got my hands on it actually, so here's to hoping it'll pop up somewhere sooner rather than later. The full PV can now be found (in disappointingly shitty quality) on YouTube. The tune does sound absolutely rocking though!
One more quick bit of news: though they just barely got their first release out, looks like they've already set a date for their follow-up single! It's entitled Inishie and will go on sale on August 4th. Hope it's as good as their first!

In my foolishness I forgot to post the full line-up of the band. In case you weren't aware, it's:
Vocals – Takayuki Tazawa (SPIRAL MIND, ex-Waive)
Guitar – YUKI (DUSTAR-3, Λucifer)
Bass – IKUO (BULL ZEICHEN)
Keyboard & producer – Keiichi Miyako (SOPHIA)
Drums – Sakura (Lion Heads, Sons of All Pussys, ex-L'Arc~en~Ciel, ex-Zigzo)
(thanks to Neumania!)
In other news, Makoto's site reports that he's planning a birthday concert/event. More info to come in June, I'll keep you updated. Speaking of Makoto, here he is sporting his meganekko style with cool actor Tamaki Hiroshi (Nodame Cantabile, Love Shuffle)!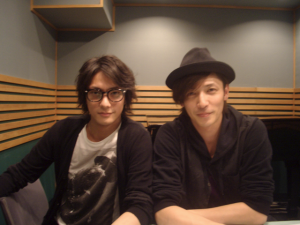 Finally, I'd like to talk a little about the blog. It's been up for three months now and honestly so far I'm really happy with the amount of hits it gets. I mean, when I started out, I knew I'd be sorely disappointed if I expected any real popularity to speak of. Hell, it's a band that's been dead for a good seven years now! Still, even averaging ~5 visits daily (on a good day) is more than enough to make me go "wow." Last month I even had a day with 26 visitors! What the hell! Sure, on my other blog I often have days that surpass the amount of this site's visitors in total, but to me seeing people actually reading this blog makes me significantly happier for some peculiar reason. Especially the fact that I even have a few commenters on this site, that to me just feels surreal. I'd just like to thank everyone who comments here, links this site somewhere or even silently reads up on the latest Aucifer going-ons. I'm happy if it helps anyone keep up with them.
I'd like to ask you guys something. As readers, is there anything more you'd like from aucifer.org? Anything you'd like me to do differently? More news on related artists, or just more focused on Aucifer? More opinion pieces? More, err, eyecandy? Simply just more/less posts? Want more of anything, less of anything? Or if not, if you'd just let me know that what I'm doing now is fine as is, that'd be sweet. Comment and let me know what you think!
One thing I have been wanting to do is reviewing Aucifer's releases one by one. Not only that, but I'd love to also gather up anyone else's reviews on Aucifer and post them here, as I know not everyone can be bothered with setting up a blog and all that. Would there be any interest in that, or would that be just about me satisfying myself?
Finally, have some pics of Atsuro who's rehearsing for Minori Chihara's live tour right now.