Towa blog translation 2010/06/26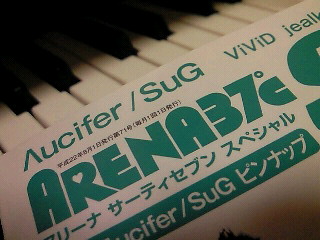 Though I previously wrote on this blog it'd be on 06/27, the Arena37 SPECIAL went on sale today.
Sorry 'bout that.
Those of you who have old magazines featuring us, please try comparing the pictures and see if you can avoid laughing (lol)~
As a bonus since Towa's entry is so short, here are the fan comments to this so far. Do you think I should start translating some of these, too? I think it's always interesting to see what the Japanese fans think as well. Let me know if you care for them.
Commented by Sea at 2010-06-26 22:36
I bought Arena!
I got excited trying to find it in the bookstore.
I'll be looking forward to the live, too.
Commented by さに~ at 2010-06-26 23:25
I bought it as well ☆
I can only attend the Osaka performance but I'm looking forward to the live, too!
Commented by まあゆ at 2010-06-27 00:42
So it was the "SPECIAL" version. At first I was impatiently browsing the normal edition of the magazine going "It's not here? It's not here???" (lol)
In any case, for some reason it made me laugh that your names aren't written as "Taguchi" or "Toru", but as "TOWA" and "SANTA"… Oh well, it's only natural here, right?
I think I'll later carefully compare this with the old magazines and such.
The hairstylist who's always worked with you, she seems to be quite well known, right?
The limited 10th anniversary commemoration live really feels almost like a class reunion, doesn't it? I'm firmly looking forward to anything you might have planned for us. (Note: last sentence is a very free translation! Let me get away with it just this once. 😉)
Commented by かきちゃん at 2010-06-27 02:19
I did try doing a comparison but there was nothing that made me laugh (lol)
Though I've had the privilege of seeing you all live individually, this is the first time I'll be seeing the five of you live as a group, so I'll be really looking forward to it!
Commented by 真綾 at 2010-06-27 17:48
I live in a rural area so we'll be getting it here in around a week…
I want to see it soon!
I'm seriously looking forward to it!!!
Lesson learned: Japanese people love looking forward to things.