Atsuro blog translation 2010/08/05
The Minori Chihara SUMMER CAMP 2 rehearsals are nearing their end!
This week at last, the 7th and 8th are drawing near~.
It's the first time I'm visiting the Kawaguchiko Stellar Theater~.
Seems like you can see Mt. Fuji from there☆
I'm worried about the weather. Especially since it's so close to the mountain…
We can play through all the songs perfectly now!
That's a bit of a relief…
I think I'll thoroughly enjoy this two-day festival♪
A story from a while back when we went to Okinawa to film a PV.
As we were searching for a Seven Bank which is where I always withdraw money, we found that there are no 7-Elevens in Okinawa!
Did you know that?
There were just loads of Lawsons and Famimas.
Be careful about that, everyone!
You can view Minori Chihara's PV for "Freedom Dreamer" on YouTube, so definitely check it out.
I'm the second guy. (Note: that's real helpful, Atsuro!)
It placed 9th on the Oricon chart. Congratulations~!
That's pretty awesome as it it didn't even have a tie-in with anything☆
I was let to take part in the guitar recordings, too, so be sure to listen to the CD as well!
With that, I'm off to rehearsal today, too♪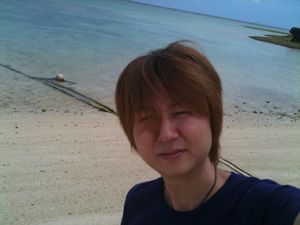 Here's said PV featuring Atsuro. He's the second guy. *chuckle* I assume he'll also play in any and all TV performances of the song. For now, you can see him in the Music Japan 2010/08/01 episode.

While we're on the subject of second guys, Yuki can be seen in the PV for Acid Black Cherry's upcoming single Re:birth. Here's the CM:
By the way, there's reason to believe that Yuki's other band Rayflower is coming out with their yet-unnamed debut album on September 15th. All their stuff I've heard sounds pretty rockin' so I personally can't wait! Rayflower just came out with their second single two days ago and while there's no PV to be found on YouTube yet, there are audio samples of both tracks on the single. The ever-present delicious boys' love imagery they're stuck on top of ought to come as a welcome bonus.

PS. Less than 20 days until the first reunion concert!