Λucifer rehearsal translations
Towa's blog 2010/08/13
Today's rehearsal was a pretty long one so after this I'll have a snack as I'm returning home!
It's bread you see pretty often at train station shops.
Commented by あかね at 2010-08-13 23:28
Good work today. It's Aucifer's live pretty soon eh.
I'm coming to see it from Thailand. I'm looking forward to it. ^w^
Towa's blog 2010/08/14
Today after rehearsal we went recording for a net radio appearance with all the Aucifer members!
The broadcast is on August 17th starting at 23 PM.
Check it! (Note: when the time comes, you'll be able to listen to it here)
Commented by みえこ at 2010-08-14 23:03
Good work at the rehearsals! So you recorded that with all the members! Looking forward to the 17th!
Commented by くの at 2010-08-14 23:18
Evening!
Good job with today's long rehearsal.
Net radio with all the members… Listening to this seems like good warm-up for the live.
I'm going to the tour's opening show.
Santa's blog 2010/08/14
Like a flash, the students' summer vacation is already over in two weeks~
And to wrap-up the summer, Aucifer has rushed into rehearsals.
If I had to explain the feeling at the rehearsals in just a few words
"How did it go again!?" (lol)
I'm blanking out!
I can remember the songs but it's the little details in arrangement and stuff that I've wholly forgotten ( ̄∀ ̄)
Seriously,
I've let my brain get way too congested~
If I don't do some traffic control in there.. (sweatdrop)
But as expected, more than before, we've all respectively become more skilled. I think it's going to be a much more intense live than before.
I'll do my best today as well V(^-^)V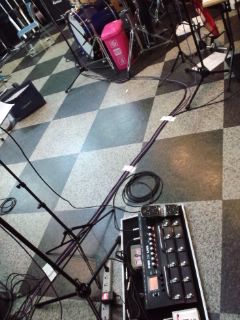 Commented by さな at 2010-08-14 22:00
Good work☆
I can't make it to the live but I'll be cheering you on from afar♪
Give it your all O(≧▽≦)
Commented by hitomi at 2010-08-14 22:09
Santa, good work at the rehearsals!
It's been a while eh~☆
I'll be looking forward to a more intense ∧ucifer♪
(*^o^*)
Selection of Atsuro's tweets 2010/08/13-15
Finally, if you'll allow for some shameless fanboying on my part… Atsuro responded to my tweet! Perhaps learning a bit of Japanese wasn't all for nothing after all. Anyway, just thought I'd mention this to all of you who have twitter. Of course I can't guarantee you a reply, but I'm sure Atsuro appreciates any messages he gets from fans. Again, if you can't do Japanese, simple English will probably do the trick. In any case, here's a translation of my tweet as well as Atsuro's reply:
Me: @Daisuke_Atsuro Welcome to twitter! (lol) I'm a huge Finnish fan of you and Λucifer! It's possible that I'm your biggest fan abroad. (lol) I'm looking forward to the reunion live☆ — 12:44 PM 2010/08/13
Atsuro: @henkka_j Finland!? How do you know about me I wonder?? It makes me sincerely happy to know that my sound has crossed over the sea~☆ — 11:53 PM 2010/08/13