Λucifer Osaka 2010/08/25 setlist & live DVD + photobook release
Posted on August 25th, 2010 by Henkka


Categories: News
Aucifer's first reunion live at CLUB QUATTRO in Osaka happily came to its conclusion some moments ago.
According to mixi, the setlist at Osaka (and probably the other shows, too) looks like the following. This might not be 100% definite as the songs could be a bit out of order.
LEGEND (SE)
Silent Melody
Jealousy
CARNATION CRIME
TSUBASA
JUNK CITY
LUCY
TOKYO Illusion
Kono Te no Naka ni
PLASMAGIC
Orange
LABYRINTH
Poker Face
C no Binetsu
DUMMY
LOVE&PAIN
Egovision
Midnight Crow

1st encore:
Hypersonic Soul
CASTAWAYS

2nd encore:
See You
Datenshi BLUE
(thanks to 濱中@刺身以下 and 裟夜 on mixi!)
What do you think? Pretty damned awesome, is it not?! Even starting off with perhaps my number one favorite, Silent Melody… geez!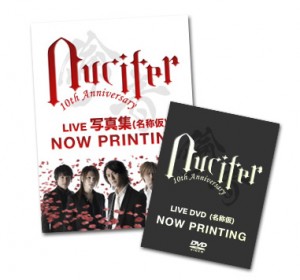 In addition as something that is sure to be excellent news for those who can't attend, Aucifer will be releasing a live DVD of their September 1st live at Akasaka BLITZ in Tokyo. As the description for it eloquently puts it:
"We'll be back!" — the promise Makoto made at the Kokusai Forum is finally being fulfilled."
The DVD is tentatively titled "Λucifer 10th Anniversary LIVE" and is supposed to be around 120 minutes in length. No release date has been set yet.
If that's not enough to quench your Aucifer thirst, they're also releasing a photobook! It's planned to have 56 pages containing interviews with members as well as various pictures of Aucifer before the tour, during rehearsals and in concert, as well as full coverage of their upcoming live in Bangkok, Thailand. Like the DVD, the photobook's release date is to be announced later.
They've set up an online shop where the DVD is priced at ¥6,800, the photobook at ¥3,800 or a set of both at ¥10,000. The DVD has a limited edition jacket that will only be available to those who reserve their copy by 9/30 — reservations from 10/1 onwards will get the regular edition. Unfortunately, as is often the case, those outside of Japan won't be able to purchase from the store.
Time to message those Japanese friends of yours, or in the worst case scenario use some service in Japan to mail you the goods!