Rayflower's Keiichi Miyako back in action
Posted on October 12th, 2010 by Henkka


Categories: News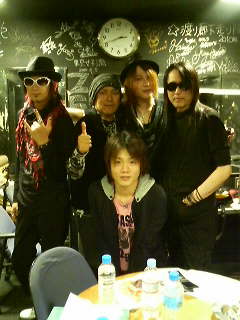 Good news for all the Rayflower fans!
From tokyograph:
Keiichi Miyako (39), the keyboardist of rock bands SOPHIA and Rayflower, officially resumed activities with a public appearance on Sunday. Miyako has been on break since April after he announced that he needed to undergo medical treatment for lymphoma.

The event on Sunday was a talk session to celebrate the release of Rayflower's mini-album "Flower Language" (released on September 15). Miyako thanked his fans, saying that their words encouraged him while he has been fighting the lymphoma. However, he lightheartedly acknowledged that he was wearing a hat to completely cover his head, as the treatment has resulted in hair loss.

Fortunately, Miyako mentioned that the lymphoma has progressed slowly, so with the treatment, he has recovered to the point that the illness does not hinder his daily life. He also mentioned that his wife – singer Ruriko Kubo (41) – and their two children are feeling relieved now. He finished receiving treatment in September, so he returned to Osaka on October 3 to resume his music activities. He is expected to continue visiting the hospital two to three times a month for the next two years in order to prevent a relapse.