The Λucifer news you've all been waiting for
Announcing the best news on the site yet. Without further ado…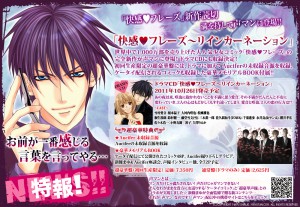 <Information>
Mayu Shinjo 「Kaikan♥Phrase Reincarnation」
The shoujo manga "Kaikan Phrase", having sold over 10 million copies worldwide, is back with an all-new production for Koeman (who do mobile phone comics with added voice contents)!
There's also going to be a drama CD!
For the super special limited first edition, the drama CD also comes with a new song by Λucifer and a gorgeous memorial book containing the entire comic distributed on the mobile site.
<Summary>
【Main story】
Ever since that night, Aine has been saddened about not being embraced by Sakuya.
Now as that sadness is gradually turning into anxiety, the hearts of the two are slowly drifting apart.
Aine and Sakuya — just what course is their love going to take from here!?
【Bonus story】
It's Aine's birthday soon.
Thinking about what to give Aine for her birthday, Sakuya consults the members of Λucifer…!?
The comic will start publication on the mobile comic site Comic Cmoa in September 2011.
■ Drama CD 「Kaikan♥Phrase ~Reincarnation~」 (super special limited pressing)
☆ Super special contents:
Unreleased, brand new song by Λucifer
Special memorial book (72 pages in total), including:

The whole comic released released on the mobile phone site (42 pages)
Λucifer photographs, taken at the request of the publisher
Shinjo Mayu & Λucifer round-table discussion
Interviews with the voice actors
Release date: 2011/10/26 (EDIT: new release date) 2011/11/23
Stock number: FCCC-0199
Price: 7,350 yen (includes tax)
■ Drama CD 「Kaikan♥Phrase ~Reincarnation~」 (regular edition)
Featuring only the drama CD.
Release date: 2011/10/26
Stock number: FCCC-0198
Price: 2,625 yen (includes tax)
<Cast>
Aine Yukimura: Atsuko Enomoto
Sakuya Ookochi: Masaya Matsukaze
Atsuro Kiryuu: Ken'ichi Suzumura
Yukifumi Todo (Yuki): Shin'ichiro Miki
Kazuto Sakuma (TOWA): Susumu Chiba
Yoshihiko Nagai (Santa): Takahiro Sakurai
(same cast as the anime!)
◯ Kaikan♥Phrase Official Site: http://mayutan.com/kaikan/
◯ Koeman Official Site: http://koeman.jp
◯ Comic Cmoa Official Site: http://www.cmoa.jp/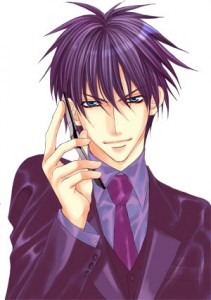 I'll be honest with you guys. I didn't think this day was ever going to come.
Thankfully I can now say I was mistaken.