Λucifer to play two consecutive shows in February!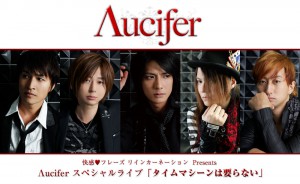 Λucifer are doing another two live shows in February! Here's the announcement from Towa:
The frozen Λucifer has decided to momentarily defrost to play live!
2012.2.28 and 29, two days at Shibuya O-EAST!
A special website will be set up on December 8th.
The advance ticket reservations will begin there from the 10th.
Details on the website will be announced here shortly!
We're hoping for your support!
Also, here's a tweet from Atsuro:
To respond to the many comments we received from people saying "I want to hear Time Machine wa Iranai played live!", we've decided to do a 2-night comeback. Since it's kind of sudden, we'll have to work hard to make this two-night run happen, but it's really a miracle we were able to book EAST for two days in a row. We're looking forward to seeing everyone!
We're another step closer to that new album… </wishful thinking>
Edit 12/8: Updated the post with a badass picture (above). Here's the link to the special site: lucifer-timemachine.com