More on TRICK
Posted on August 13th, 2010 by Henkka


Categories: News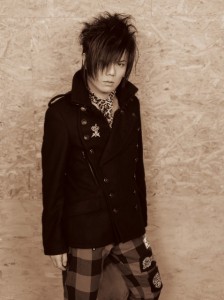 Some more info on Makoto's new band TRICK.
SHUSE of La'cryma Christi and Acid Black Cherry has shed some light on TRICK on his blog. He's revealed that he's going to be the bassist of the group. As reported, their first recording will be on a Seikima II tribute album. Said album is going to be released on September 15th and is titled Tribute to SEIKIMA-II -Akuma to no Keiyakusho-. Here's the complete tracklist in an A to Z order:
「アダムの林檎」 (Adam no Ringo) – Jigoku Quartet
「ARCADIA」 – RX feat. John Wetton
「EL DORADO」 – EARTHSHAKER
「FIRE AFTER FIRE」 – SEX MACHINEGUNS
「HOLY BLOOD」 – GALNERYUS
「JACK THE RIPPER」 – THE Kanmuri
「怪奇植物」 (Kaiki Shokubutsu) – TRICK
「蝋人形の館 」 (Rouningyou no Yakata) – SHOW-YA
「SAVE YOUR SOUL~美しきクリシェに背をむけて 」 (Utsukushiki Cliche ni Se wo Mukete) – X.Y.Z→A
「STAINLESS NIGHT」 – Sadie
「1999 SECRET OBJECT」 – Grand Illusion
If you'd care to buy it, CDJapan for one has it.