Rayflower album out & TRICK debut
Posted on September 15th, 2010 by GN-0015


Categories: News
Rayflower, Yuki's new band, is releasing their first mini album today, it's called "Flower Language". The album is released in regular and limited editions (as usual, the regular one has only a CD and the limited one has a bonus DVD). Here's the tracklist:
1. Runaway Brain
2. Inishie
3. Shinjitsu no Mori no Naka de
4. Social Network Generation
5. Uragiri no Nai Sekai Made
6. Hanataba -From Rose With Love-
The DVD from the limited edtion contains (only…) one video, which is the PV of Uragiri no Nai Sekai Made.
And if you were questioning about what happened to their official website (yeah, it has been down for weeks), actually they are moved into a new website, which in my opinion is cooler than the old one.
Also, just as a reminder that Makoto's new band, TRICK is also debuting today. Like it was reported before, they are participating in SEIKIMA-II tribute album, which is out today. But the strange thing is, the full line-up of the band is yet to be revealed, with SHUSE, the bassist of Acid Black Cherry is the only other member revealed other than Makoto himself. I think we really got to have the CD first to discover the full line-up.
And for all you fanboys/girls, my friend who lives in Thailand went to J-Channel Office last week to meet Makoto in person!! Yes, he was there to promote their upcoming (and sadly, the last) show. She took a video, which was very short but I think kinda good enough. Here's a picture signed by him for her: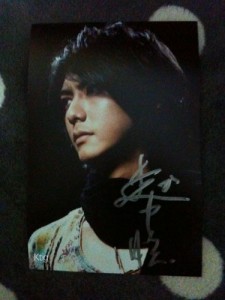 Oh man… if I was her, I'd go and rape him XD
The Thai show is just 10 days away, maybe there are still tickets available, so try your best to be there!!