Cosmos Blackness 2010/11/20 setlist
Posted on November 20th, 2010 by Henkka


Categories: Blogging
The previously reported event Cosmos Blackness organized by Sakura of Rayflower just finished.
Special guests included Rayflower's Miyako among others.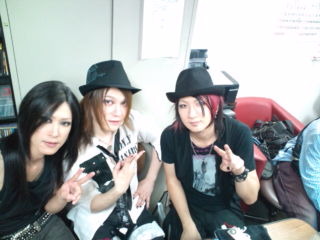 Setlist:
Lion Heads:
1. Show for them, Sally's mind
2. Zepet
3. Hitonigiri no Hana
4. Squall
5. Fujyuu Fujizai
6. Boku to Watashi to Jishin
7. Sora Kimi Umi Chi

Session with Kaoru:
1. Kami to Hitsuji to Gasoline Stand
2. Rosario
3. Kumo wo Tsukamu You na Hanashi
4. Penthouse

CIRCUIT9:
1. Usu Akari de Mitsume Ai
2. U Turn
3. Sanctuary
4. Ware ni Buki Ari
5. Go to the Emotion
6. miracle

Session with IKUO & YUKI (Rayflower):
1. YYZ (Rush)
2. The Spirit of Radio (Rush)
3. Led Boots (Jeff Beck)
4. Scatterbrain (Jeff Beck)
5. Rosemary (original Yuki composition)
6. 21st Century Schizoid Man (King Crimson)

Session with RYO&DEN (BY-SEX):
1. Phase Phase
2. breeze
3. Memai
4. Risoukyou
5. Need Your Love
6. Blackie Angel
7. No
8. Strawberry Shampoo
The Rayflower session was mostly comprised of covers of Western bands but as you can see, they also played an original composition by Yuki entitled "Rosemary". I have the audio here that I managed to capture myself, missing just the brief piano intro.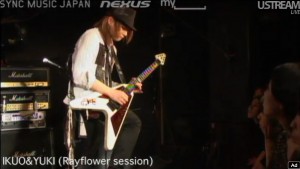 Also, do watch their awesome cover of King Crimson's "21st Century Schizoid Man", including a bit of on-stage rehearsal before actually kicking into the song. This was definitely the highlight of the whole show for me. I'm telling you, Yuki's getting pretty damned good.