Shin Rizumu is another great new artist who I hope will find lots of success in his musical career. Here's an interview regarding his debut album NEW RHYTHM that came out in May. I hope this translation can be of some small help in finding him some English-speaking fans, too.
Original interview & text: Hotaru Kato (original interview)
Photography: Junko Yoda
English translation: Henkka
Shin Rizumu on the web: website, Twitter, SoundCloud, iTunes

Note: You can buy NEW RHYTHM physically from CDJapan or digitally from iTunes.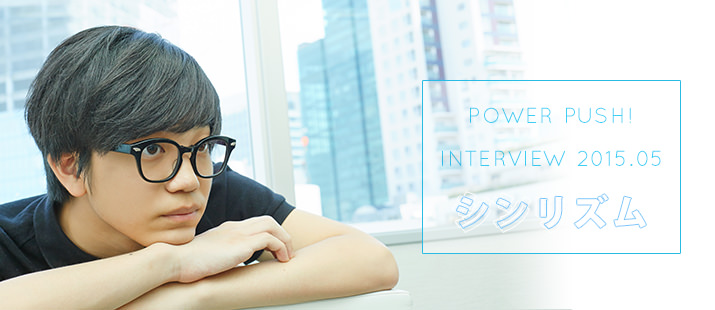 A third-year high school student born in 1997 and living in Kobe. A singer-songwriter and multi-instrumentalist who not only writes, composes and arranges his songs, but also does all the vocals, guitars, bass, keyboards, drums, synths, trombone, and programming by himself. In his first year of high school, he began uploading music on SoundCloud that he'd written since he was in junior high school. These tracks started spreading on the internet, and sharp-eared listeners and musicians alike were quick to note that another musical genius had appeared. In January 2015, he released his first independent analog recording.
New wave, indie rock, roots rock, soul, funk, R&B, pop, and more — his music and sound which have the essence of all these genres know no boundaries. It's music that has a freedom and sensibility that could've only been achieved by someone in his teens, and yet, the level of polish and perfection is something you'd never expect to hear from someone his age. This new-generation pop maestro is quickly starting to gain more and more prominence.
Text: Hotaru Kato & photography: Junko Yoda
— Are you starting to get used to this new lifestyle of having to constantly commute to Tokyo for your many interviews and recording sessions?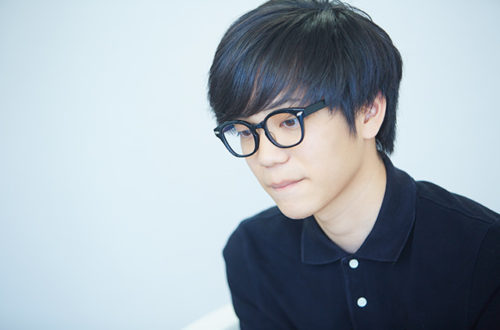 Shin Rizumu: Today I'm going to be busy with rehearsals for my first tour beginning in July. I don't get to visit Tokyo often, so the activities I have to do while I'm here really start to pile up fast. (laughs) I've only done a few small shows, but this tour, beginning with Shibuya CLUB QUATTRO, will be full of big venues. That doesn't feel real yet.
— You first started writing music in your third year of junior high school. Is your high school one that places emphasis on music education?

Shin Rizumu: It isn't, no, but I chose it based on the fact that I knew it was possible to choose a course focused on music theory there which gives me time I can dedicate to music.
— You originally started making music thanks to your father's influence, right?
Shin Rizumu: Right. I first touched an instrument in my first year of junior high and I was constantly covering songs I liked. When I learned how to play one song, it gave me such a feeling of accomplishment that I immediately started learning the next one. As I was doing that, I started thinking it might be fun to also write songs, and so I originally started doing that just for fun. I didn't know anything at first and I was just learning by watching others, not caring what I was coming up with, but one day when my dad heard what I was making, he told me that I'd written an actual, proper song. That's when I finally felt serious about wanting to write songs.
— Judging by the fact that "Shin Rizumu" is actually your real name, I would venture to guess that your father is quite the music fan himself.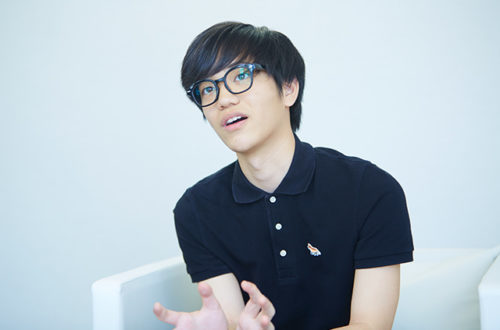 Shin Rizumu: I've been told that my dad had a really hard time trying to decide whether to name me "理澄" (Rizumu) or "音太郎" (Ototarou). It's not that he's working in music or anything himself, but my dad, too, started writing his own songs in around junior high school. Whether his songwriting methods are correct or not, I don't know — he, too, was self-taught — I was just lucky to have someone teach me that skill from a very young age. I've had my dad listen to all the songs I've written up until now so I could receive feedback from him, and my mom, too, while not quite on the level of my dad, loves music as well. I think being raised in a household like that had a big influence on the music I write today. The biggest thing for me has always been just writing music that sounds good to my own ears, but still, that environment I was brought up in must've been pretty significant for my musicianship.
— Are there any artists that you feel particularly inspired by?
Shin Rizumu: There are many, but amongst them, I think I would name Kirinji first. It feels like I've only further realized how amazing Kirinji are after I began making music myself. Like, "I can't believe they used this phrase here!" or "they're going to take this song that way?!" There were so many new discoveries to be made with each successive listen. I still always feel that greatness when listening to them.
— Just out of curiosity: do your classmates have similar taste in music as yourself…?
Shin Rizumu: No, not at all… There's no light music club in my school, so there's hardly any kids playing in bands or listening to Western music either. In fact, not many of them listen to much music at all. Some of them do have an interest in guitars and such, though, so I invited those friends to play in a band with me while trying to brainwash them by making them listen to all my favorite music. (laughs) I actually had some pretty good success with that strategy.
— So could it be that many of your classmates don't even realize you've made your professional music debut?
Shin Rizumu: Thanks to being chosen for "Power Push!", several of my classmates happened to catch the "Shinri no Mori" music video on Space Shower and that's when they realized it was me. Since then I've had people come up and talk to me and stuff — people I'd never chatted with even once during our three years in the school. But making my debut didn't have any real impact on me to speak of. I still lead an average life in school.
— How was the shoot for the "Shinri no Mori" music video?
Shin Rizumu: That was the first music video shoot of my life, and of course it had to be terrible weather on that day! We had to wait a long time for it to stop raining, but eventually it did clear up. It was all shot in one long uninterrupted take so that was fun. Watching it now, my dancing on the video is quite awkward, but according to my dad that's what makes it so good. (laughs)
— Most of the tracks on this album — "Shinri no Mori" being one of them — are songs you'd previously released independently, which you then re-recorded for this album, right?
Shin Rizumu: At the beginning of spring last year, I made some self-produced CD's and left just five copies or so around CD shops in my town, along with uploading the songs on my SoundCloud. That's how a person from my current label found me. Or, rather, one day he just sent me a message on Twitter of all places, completely out of the blue. And to be perfectly honest with you, it all happened so fast I thought he was kind of suspicious at first. (laughs) But him, me and my dad started talking, and he wanted to have me debut right away so he suggested I should re-record the songs I'd written so far for my debut album. I was kind of worried to see just how much my songs would change, going through professional hands and machines, but half of that was also excitement to find out.
— And how do you feel about the end result, listening to it now?
Shin Rizumu: The warmth of the sound and the atmosphere from all the musicians performing on the album really shine through. I think most people found out about me through "Shinri no Mori" so I'm curious to know what those people think about the rest of the songs on the album. Nine out of the ten songs are old; only the ninth track, "Yume Miru Futari" is a new composition. I wanted to write something that would lead into the last track, "Beautiful Sunday Morning," and that was the first time I'd written a song while thinking about its music and lyrics in terms of the bigger picture of an album. The sixth track, "Cocktail no Uta," features guest vocals from my cousin who's the same age as me, and those are the only lead female vocals on the album. I'd love to have others singing on my songs in the future, too.
— Is there anything else you'd like to challenge in the future, musically?
Shin Rizumu: Right now I can play guitar, bass, and — to a lesser extent — trombone and the keyboards, but I feel that the more instruments I become able to play, the more fun I'll have. Also, there's this Taiwanese artist called Crowd Lu who looks a lot like me. I first found out about this when one of his fans saw the "Shinri no Mori" music video, thought it was him singing it, and tweeted me about it. I looked him up and indeed: our faces look really similar, but more importantly, his music is really cool! I think it'd be fun if one day we could meet up and do something together.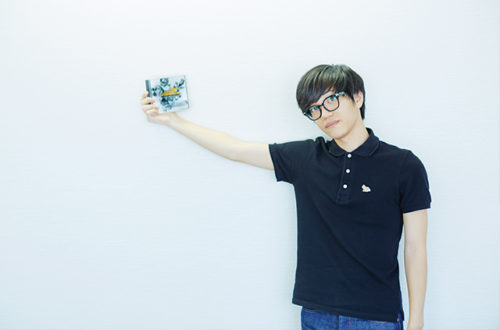 The Musical Roots of Shin Rizumu: The Style Council's Greatest Hits
This is the first CD I ever bought, back when I was in sixth grade. I only knew the song "Shout To The Top" thanks my dad, but I happened to see this CD when I went to Tower Records, so I gave it a trial listen and instantly liked it. That was pretty much my first time at a CD shop, too. I still remember how good it felt personally buying a CD I myself wanted to have. So, in that sense, this album is my roots music.
Note: You can buy NEW RHYTHM physically from CDJapan or digitally from iTunes.