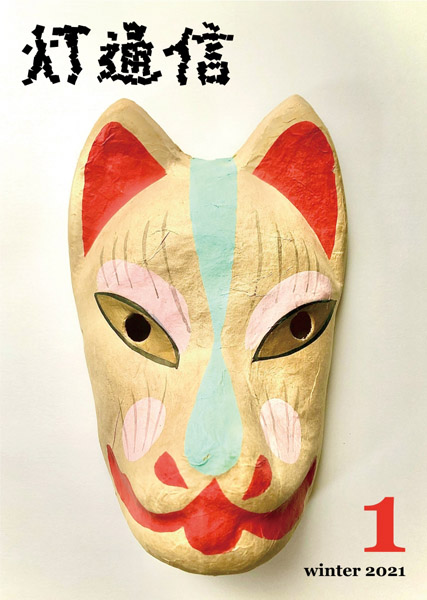 I have an exciting announcement to make.
Akari Tsushin is the name of Lamp's digital magazine, previously available only in Japanese. Today, I am very pleased to be able to announce the publication of the English-language edition of its first issue, now available at Lamp's Spotify store.
Akari Tsushin is created by the members of the band, with the English translation by yours truly.
Contents
■ Lamp in Conversation: "4 AM Chat"
■ Endless Rain Into a Paper Cup: "Language and Music" (Someya Taiyo)
■ Unaddressed Letter: "It Was Time Travel" (Sakakibara Kaori)
■ Pajama Travel Journals: "Winter 2009 Sado Trip" (Nagai Yusuke)
■ Casual Best 5: "The Beatles"
■ Yume Utsutsu: "First Encounters with Music and Instruments"
■ Photo Studio Reminiscences
■ Editorial Postscript
That's 15 pages of Lamp goodness!
Lamp and I have worked closely together to produce a faithful English language edition of Akari Tsushin for their non-Japanese-speaking audience. I'm personally very pleased with the results, and it is sure to be of much interest to their listeners everywhere.
For a sneak peek, below is a small sample from the five-page opening conversation.
---
♫ Writing Lyrics

Someya: Busy writing lyrics as of late, Kaori?

Sakakibara: Mmm. I've never really thought of it that way though.

Someya: Me, I've been doing my best recently. I only wrote a little bit for our last release. It used to feel like writing lyrics was becoming more and more difficult with each passing year, but just as of late that feeling might've lessened a little bit for me. How about you, Nagai? How's it going with the lyrics?

Nagai: I'm starting to really struggle with lyrics, too.

Someya: (laughs) By the way, how do you write them?

Nagai: I don't even remember anymore.

Someya: (laughs) You'd better start remembering. Lots of your songs have good lyrics.

Sakakibara: Didn't you used to write them pretty much simultaneously with the melodies?

Someya: Doing it that way usually works out for the best. That's true for my songs, too.

Nagai: In recent years it's like I've only been trying to connect the lyrics to the song image-wise. I don't particularly have anything I want to say.

Someya: There's absolutely nothing I want to say either.

Sakakibara: Me neither.

Someya: On the contrary, I'm not a big fan of lyrics that have something to say. With songs like that the music itself always tends to suffer for it.

Nagai: Harsh.

Sakakibara: I like writing lyrics because it allows me to create worlds of my liking. I dislike reality.

Someya: I like reality for what it is.

Sakakibara: Must be nice. I envy you.

Someya: I actually enjoy social life, despite how I may seem. But then you two both seem like the types who would enjoy life, too. Like, despite your surrounding  circumstances you two can always find something you like and make your own happiness.

Nagai: I used to be that kind of a person. But now it just feels like life's crashing down on me, so I can't say that anymore.

Sakakibara: I'm pretty good at escapism.

Someya: How do you write lyrics, Kaori?

Sakakibara: I just write what I imagine through the melodies. Or is that too obvious?

Someya: Me too. Nowadays, I try to write lyrics together with the song for the reasons we were just talking about. My main way of doing it is, I'll throw in random words that best fit the melody sound-wise, using my intuition, and then I'll just replace them later with actual words that fit. That comes first. Then I'll just try to give it a bit of a story, and then it's done. I personally think it's a very "musical" way of doing it. Why don't you give a shot at doing it that way too, Nagai? I recommend it.

Nagai: …

Someya: He's not listening.

Sakakibara: (laughs) For a second there I thought he was sleeping.

♫ On Talent

Someya: We're now entering our 21st year.

Nagai: I have a hard time believing that. It feels like it couldn't possibly have been more than ten years. But then we've only actually been active for around ten of those years, right?

Someya: No, it actually is 21 years. At the very least we've proven that we're pretty good at keeping on at something for an extended period of time, right?

Nagai: I guess that's the one talent we do have.

Someya: Just a minute ago you were laughing and saying you couldn't believe how we've "been at this for 20 years despite having no talent." (laughs) Don't worry though, there's plenty of people out there who think you're talented.

Nagai: I'm not just being modest. I really don't think I've got any talent.

Someya: What about you specifically makes you feel that way? Like, in what setting?

Nagai: Anything and everything. I've barely ever felt that I had any talent. Maybe in high school or something, I might've thought I was better at singing and playing the guitar than my classmates. That's about it. Although talent is a hard thing to measure anyway.

Someya: You're usually pretty rational and objective as a person, but when it's about yourself you get all weird.

Nagai: The reason we're still going (as a band) is obvious though. Can you guess what it is?

Someya: …If I had to guess, I'd say it's mostly because of me. I'm one of the main reasons anyway.

Nagai: Right. It's because this band had "Someya Taiyo." This guy is the embodiment of "talent for keeping at it."

Someya: Well, I always did enjoy school trips, and at night when they turned off the lights I was always the last person awake. (laughs) But the other thing is just sheer luck. We just happened to find ourselves in an environment where everyone allowed us to do this. Also, us three all being people with no desires is another reason we've managed to keep going.

Nagai: It wouldn't be strange at all for me to have already quit ages ago.

Someya: Without me there you wouldn't have lasted a year.

Nagai: Probably wouldn't have started to begin with.

Sakakibara: If even one of our families had been against the band, we probably would've given up already.

Someya: Right. Environment is definitely a factor. Parents, family, the surrounding circumstances…

Nagai: Lamp being chosen for "No Music, No Life" for some reason…

Someya: I don't think it'd be any different even without that offer. Although it was definitely an honor.

Nagai: And another big reason we've kept going is thanks to the overseas listeners. Especially as of late.

Sakakibara: Nagai just doesn't enjoy anything apart from the music making bit. And you can't focus on things like "efficiency" or "prioritizing" when you're making music.

Someya: Right.

Sakakibara: But then outside of music you're like super efficiency-oriented. Everything is about cost effectiveness with you.

Someya: That's true.

Nagai: Not at all. I'm not good with any of that stuff. It always just gets me feeling down.

Someya: From my point of view it's not that you "don't have talent" in regards to music—you're just not good at demonstrating it.

Nagai: Well, at the end of the day music is all just a matter of taste anyway. Talent or whatever? I don't know about any of that.
---
In addition to the above there is so much more interesting material in this issue, including hints about Lamp's upcoming album, the band's thoughts about their overseas fanbase, the members' individual essays on topics of their choosing, rare pictures, and more. I should also mention that the design work for the digital magazine is all done by Sakakibara Kaori.
Please head over to the Lamp Spotify Store and show Lamp your support with a purchase. It sends a clear message that you want to hear more from them in English.