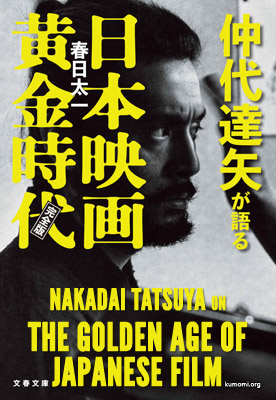 Synopsis
Nakadai Tatsuya on the Golden Age of Japanese Film (仲代達矢が語る日本映画黄金時代, Nakadai Tatsuya ga Kataru Nihon Eiga Ougon Jidai) is a book that was originally published in 2013, with a revised Definitive Edition that followed in 2017. It is a book compiled from extensive interviews between Nakadai Tatsuya and film history researcher Kasuga Taichi.
The "Golden Age of Japanese Film" is widely considered to have taken place between the 1950's and 60's. It was during this time that the main subject of this book made his debut.
Nakadai Tatsuya. With a career spanning over six decades, now in his eighties and still as active as ever, this man — a living witness to Japanese film history — looks back on his work.
In the book, Nakadai Tatsuya talks about everything from his first meetings and his works with renowned movie directors such as Okamoto Kihachi, Kurosawa Akira, Naruse Mikio, and Kobayashi Masaki, to private behind-the-scenes anecdotes and stories of legendary actors that he has collaborated with, including Takamine Hideko, Hara Setsuko, Natsume Masako, and Katsu Shintaro. Furthermore, he discusses the ups and downs of Japanese film history, the current state of the world of cinema, and his theory as to what it truly means to be an actor.
Table of Contents

Chapter Three: Kyoto Film Studios and Period Dramas
Chapter Four: Kihachi the Buddha
Chapter Five: Naruse Mikio, Kinoshita Keisuke, and the Actresses
Chapter Six: Expanding Overseas, Avant-Garde, The Left, Haiyuza Training School
Chapter Seven: Gosha Hideo and the Passion of Great Actors
Chapter Eight: Kurosawa Akira and Katsu Shintaro
Chapter Nine: Kobayashi Masaki and the Sunset of Japanese Film
Extras: Present-Day Nakadai Tatsuya & On the Set of a Nakadai Tatsuya Film

Conclusion
Note: If you like this book, do consider buying it.