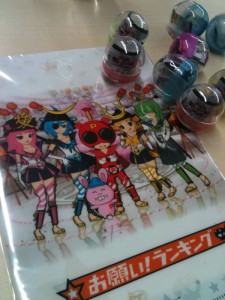 I love Onegai Ranking too much.
I finished my collection of their gacha.
Exceedingly nice, yo.
「2 days: Revolutionary release and live broadcast」
The album has went on sale safely. Yesterday, the 9mm team celebrated the safe delivery of our new work upon society. I'd just like to say thank you to those who picked it up. Please enjoy the music we created.
Tonight we were greeted by a beautiful woman and her hermits on a live broadcast of Supesha, met up and exchanged albums with THE BAWDIES (same release date!) and clamored about a bit. Afterwards as we were thinking about getting back, we were told that we came first place on the program's chart. That surprised us. We left Supesha whilst thinking "yep, the video for The Revolutionary was pretty good indeed". For those of you who missed it, it seems it's going to get re-aired. Next weekend we also have a V.I.P. special, so you ought to check that ought. And then, we have Music Station lined up tomorrow. I didn't think we'd get a second appearance. When you appear on the show, you're given these Music Station tissues (in a box). I'd carelessly used away all the ones I received last time, so I feel relieved to be able to get a refill. There won't be a studio audience present tomorrow, but we're still going to play just like always. Everyone, be in front of your TV's at 8 tomorrow. See you then.
「The album release is near」
The stormy HEEFEST ended safely and very soon, finally, "Revolutionary" will be released. We get to finally give it into people's hands, have it reach their ears. We're doing so many interviews this time around, I can't even keep track (as to what media they'll be published in, you'll find all that info on the homepage, so for those of you with an idle curiosity and nothing better to do, please try counting how many there are. I think you'll either get sleepy, or you'll just want to stop halfway through. Which is basically how we always feel when doing intervie– the following has been omitted).
Leaving aside the fact that doing them will probably get the name "9mm Parabellum Bullet" across to many people, the good thing I get out of doing interviews is that I get asked about things that the interviewer perceived on the album that I wasn't even aware of, and as we talk, I may realize things about it, too. To a certain extent, I get an objective point of view about myself at the time, and it's only now that I understand lots of things. It's pretty common for me to think "I don't even know why I did it that way". There are good things and then there are things that — from the very start — just aren't. It's tough when our personalities with the person I'm talking to don't match at all. There are people with whom I don't get along no matter how many times we talk (we just can't hold a good conversation to begin with), and there are people with whom that happens on our very first meeting. There are people who you just know came to do the interview without having listened to the album at all. And most of all, if I continue talking about the same stuff for an entire day, my head gets all funny. Your brains start to boil, seriously.
But to tell you the truth, I did the same myself, too. This time, I just talked about similar stuff, or rather, I made a conscious effort to talk about the same things everywhere. We're going to have our interviews on magazines, radio and free newspapers, but we're basically talking about the same thing in all of them. It's not because someone told us "it's good", it's because we feel so ourselves and we want to convey those feelings: it's a cool album. We made it with honest feelings, and thus we also talked about it honestly. Not having anything to depend on and calling something "good" is a very difficult thing to do. Taking responsibility for that statement, you know. Calling something "bad" would be even more difficult. But "Revolutionary" is good. It's cool. We're near its release. I mean, it's tomorrow! Look forward to it! With that, later.
「From the radio」
My Monday. Staring at the ceiling in my house, I was thinking "I wanna listen to something but I'm not in the mood for CD's, let's make it radio today" and as I turned on the component stereo, I couldn't believe my ears when I heard my own voice. "Hmm?" It was then followed by Kazuhiko's voice. "I see, our corner on RADIO DRAGON started broadcasting today."
Like that, I went on listening to SCHOOL OF LOCK, reminiscing about my middle school days, and reading books. I haven't gotten my hands on Koutarou Isaka's new work yet. That reminds me, Book 3 of 1Q84 comes out this month. Lately I've been listening to The Beatles' Mono Box and Nirvana's In Utero. Also, Ken's new record and, oh that's right, the White Stripes live disc is awesome. Also, right now we're in the middle of making a band score.
And then, next week we head for Hiroshima and right after that it's Gifu. A little after that, it's time for our new album. That's our April. With that, later.