「Just spreading some propaganda.」
Hello all you morbid boys and girls. Far from being just an "ally of justice", I am justice itself. This is Chihiro. Everyday it's all justice, justice!
Tomorrow's the release date of my much loved avengers in scif-fi's new album "Disc 4 The Seasons", you know. Man, it's so good, it's already sure to be an item placed in a World Heritage Site. Even though I wasn't asked by avens, I'll be reviewing all songs just for my own self-satisfaction. Even though I didn't even advertise our own act 4, right?! Aren't I just a complete ungrateful, condescending hypocrite?! Aaaahhh, I don't even know, kyahahaha!
1. Yang 2: A killer tune with a B-melody that's way too pretty. From the very first listen, your excitedness as well as various bodily fluids start to overflow.
2. Psycho Monday: The pleasant delay will put you under its spell. It makes you go crazy with the "tekumakumayaron"¹-like chanting!
3. Two Lone Swallows: The harmonies by Taro and Inami are like thieves of love. Teacher, you make all the young girls fall for you.²
4. Stairway To The Sun.I: Just hearing the E-D#-B, E-D#-B in the chorus is enough to make me feel glad to be alive.
5. Stairway To The Sun.II: Hey, this sounds like a foreign band.
6. Sonic Fireworks: Isn't this just way too good? Every time I hear that intro, I can't help but smile broadly.
7. Skywalker: There's the feeling of a universe characteristic of Avens here. I will again make you my prisoner tonight… come then, let's begin our night of sin…
8. Pearl Pool: The way they use accents, the subtractions and extractions… stylish as always. I don't know what to say… though they are my rivals, these guys are pretty splendid.
9. Lady Organa: Starts off with a tribe-like approach and scatters off from there. My brains are in this state of insane festivities… and something's leaking out.
10. Wish Upon The Diamond Dust: Taro's guitar makes you feel so good, even its legality is questionable. His fingers are luring me into romance…
11. The Planet Hope: I surrender myself to the beat, so just let me enjoy this moment even for an instant, brother. Avens are so cool that pretty much the only freedom left to us anymore is to pick boogers out of our noses…
Verdict… while you can expect to get really fired up when listening to this, it's at the level where there are no adverse health effects! Please have a peace of mind and go buy this. I'll buy it, too. Let's listen to it together!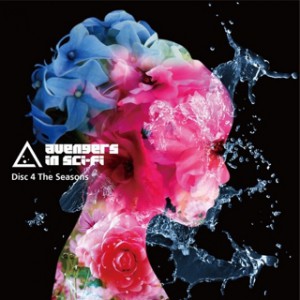 ¹ Catchphrase of Akko from Himitsu no Akko-chan.
² …don't ask me.

「Kazuhiko Nakamura's 28th birthday!!」
After the Osaka campaign, we all had dinner together.
Naturally, there was a surprise celebration seeing as 4/24 is Kazuhiko Nakamura's 28th birthday! With the assistance of the Osaka staff, we were able to celebrate both the release of "act 4" & Kazuhiko's birthday at the same time!
We had a wonderful cake prepared for us.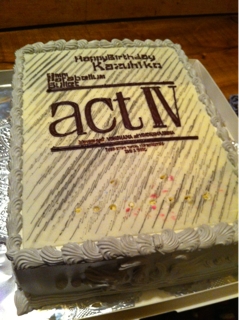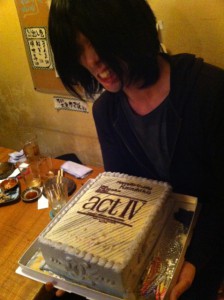 Congratulations, Kazuhiko! ☆
Not only is this cake huge, but all the text is written with a chocolate pen, and they even used the same font as the 9mm logo!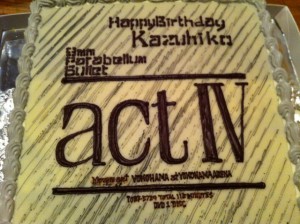 The cake left a huge impression on the members!
Thank you very much.
The fact that the surprise was spoiled by the fact that we could hear the sound of the candles being lit in the other room… we'll keep that a secret, okay? (laughs)
「Osaka campaign! The other three edition!」
Following that, the three of them arrived at FM802 to do an acoustic session!
After recording their comment, here they are in rehearsal!
A commemorative picture after successfully getting through their performance.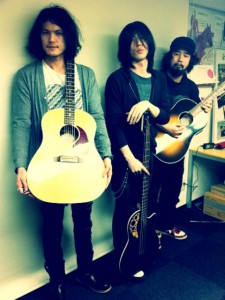 The Osaka campaign ended a success!!
Thank you!
Bonus picture.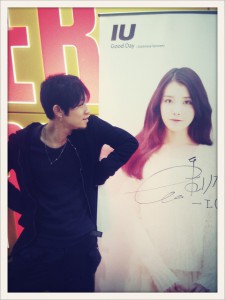 「Osaka campaign! Kamijo edition」
Next, the members split up into two teams!
First up, the Kamijo edition.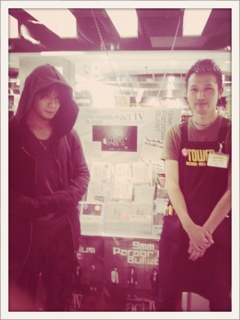 At Tower Records Namba.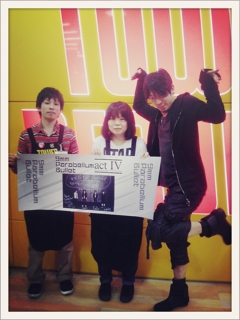 At Tower Records Umeda NU Chayamachi.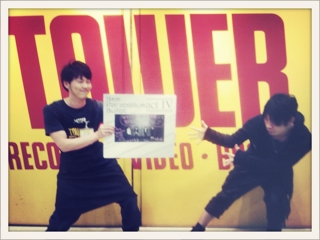 At Tower Records Umeda Osaka Marubiru.
Thanks to everyone at these stores!
We're hoping for your continued support with "act 4".
To be continued…
「Osaka campaign!」
We're in Osaka to do promotion for "act 4"!!
We're on a really hectic schedule!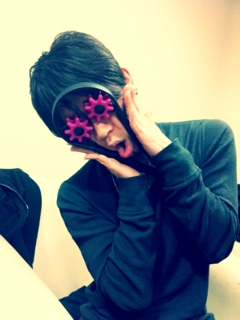 Introducing Munck Kamijo! (laughs)
Firstly, appearing on radio with the four of them!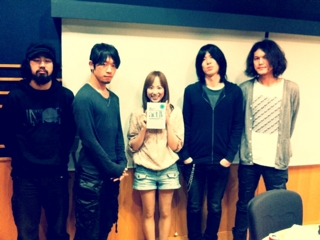 FM OSAKA 「Realize!」
Commemorative picture with DJ Mori ( ´ ▽ ` )
Next…
Recording a comment.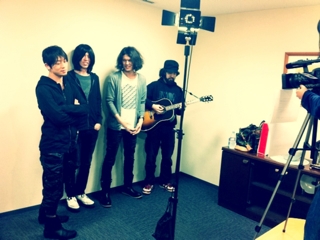 Looking so harmonious…
To be continued…
「act4 PR」
We'll be doing promotion for the live DVD "act4" that went on sale 4/18 (Wed)!
Today! There's going to be another live performance!!
4/23 (Mon)
FM802 「ROCK KIDS 802」 (21:00~23:48 )
DJ Masao Nomura (21:00~23:48)
We'll be reporting on more media coverage regularly.
Also, the "act4" special site has been opened!
Did everyone have a look yet?
There are things you'll only be able to see and obtain from there, so it's a must-see!
「Acoustic live @ School of Lock」
The live DVD "act4" went on sale with a bang on 4/18 (Wed), and yesterday 9mm  appeared on TFM's School of Lock for a live appearance & performance!
The acoustic live performance was broadcasted simultaneously on Ustream.
Only the performance part was broadcast on Ustream, so during the down-time…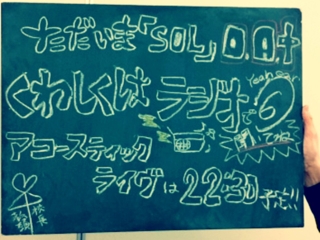 This blackboard was used! It's Takuro Sugawara's own handwriting.
The man himself: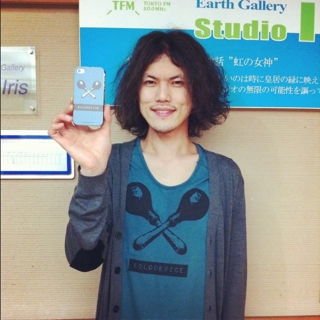 A picture to commemorate the successful live performance!
Another one with the principal and vice principal. ☆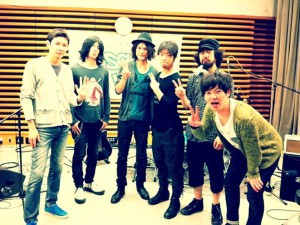 「act 4 is on sale! 9mm, the professors of technique, will be doing a live performance lesson!」
"act 4" has safely gone on sale, and today 9mm will be appearing on TFM's "SCHOOL OF LOCK" to give a lecture on technique in the form of an acoustic live performance. You'll be able to see the acoustic live part on Ust, so definitely check that out!!
http://www.ustream.tv/channel/emi-9mm
You can watch the Ust acoustic live while listening to School of Lock!! We realize everyone's very busy, but there's no doubt that this is going to be something fun, so definitely do join us please! ☆
The members of 9mm are all fired up, too!
Thanks to the strawberries they received, they're getting in high spirits! (laughs)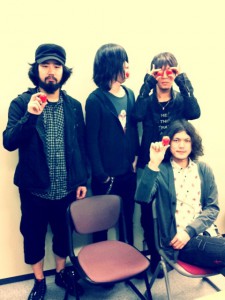 「Concerning act4」
Our 4th live video "act4" is released on the 18th. Aside from the DVD, we're releasing a limited first edition Blu-ray as well. They both come in the well-known case typical of the act-series. The booklet isn't all pictures, as it also has individual interviews with the members. We haven't been interviewed for any magazine directly this time around, so I think this'll become the main source for reading about our sentiments on "act4".
The live footage consists of the entire "Movement YOKOHAMA" event that took place on June 16th 2011 at the Yokohama Arena. Aside from the people who were at the show and those who came in possession of the take-out CD, this'll be the first time you'll be able to get the whole story of the show.
We did things limited to that day only, such as different arrangements on some songs, a section with acoustic instruments only, lighting that can only be pulled off at an arena… there's plenty of highlights! To begin with, this was the first time we played all the songs off of Movement. Straight from the oven!
In addition, we've also opened a special site where we're trying out our first paid contents (available for a limited 3 months). They consist of footage that lets you know the story behind the DVD. In this month's "making of the commentary audio track", questions such as "were we really drinking?" or "just what caused that sound?" will certainly be answered. However, there's something I really want to put emphasis on here. That is…
"The first edition DVD and Blu-ray look quite similar." (laughs)
Be careful, everyone!! To explain just how much alike they look… to give a womanly example, Manakana, or a manly example, Touch. That's how similar they look. (laughs) For people who've been tired lately due to club activities or work, possibly people who are drunk, people who are wearing glasses and not contacts that day… or even just people who are a little bit careless (such as myself), it's going to be easy to mix them up. Thus, I'm going to write how to tell the two people products apart, so those of you who haven't reserved a copy and are obstinate about just walking into the store and grabbing your copy from the shelf — as well as for the CD shop staffers who are going to put "act 4" in those shelves in the first place — please pay attention. Ready?
The one with a black sticker on the front is the DVD.
The one tied with a black obi strip is the Blu-ray.
OK? Please recite this like a mantra when entering the CD shop. If you recite it to the point where you just end up mixing the two after all… well… it does actually say on the package which one it is if you look carefully. ("Whaaat!?") Be careful, everyone! Do your shopping in a calm and collected fashion, yes?
Uhm. The regular edition is in a CD size case as per usual. As for the bonus footage that is the same in all the editions, they include the must-see for everyone, the shocking "going through all 42 venues of the "Movement Moment Tour 2011" in 99 seconds". There's another version of it on the special site which is pretty awesome as well! Also, another one that some wildly enthusiastic fans were hoping to see again since last time, the rumored "venue construction and demolition" thing is also featured. Maniacs! (Wait, wasn't there something like that in "Hirake! Ponkikki"? "Maniacal brain power" or something?)
It won't be long until it goes on sale. Wait for it!
「DIAMOND HEADZ」
It was a hell of tour this time.
For both Hawaiian6 and 9mm, the voltage on both stage and in the audience grew only higher and higher the closer we got to the finale at Shinkiba. Though it didn't feel like it, it was only a three-show tour of Tokyo-Nagoya-Osaka, but it was like… how should I put it… a really satisfying one. (laughs)
As we were going "we can't let it end with just this!" at the wrap-up party, we talked about how we'd use the title "DIAMOND HEADZ" again were we to do shows together. So even if we played a one-off show together, it might be called "DIAMOND HEADZ". (Not that it'll be for a while, not for the summer anyway).
At any rate, we made a promise to "definitely do this again!", so for those of you who couldn't get enough of the tour this time, you can look forward to there being a next time. Anyway, it feels like there might be quite a few 9mm fans who are going to want to attend Hawaiian6's shows from now on, too. Same goes for last month's BOOM BOOM.
And here's something that isn't limited just to this particular tour, but most of the bands we play with tell us how "9mm's audience gets so fired up even when the other bands are on stage, so playing for them is awesome!" (It's weird, but for band guys, you'll know who your fans are when you're standing on stage. And no, not just by looking at their T-shirts. (laughs) If you don't believe me, you'll know what I mean if you try playing in a band yourself.)
Among the people that like your band, seeing people in there seemingly loving and enjoying the very music you're playing is truly a proud moment. Please pass those good vibrations to the people around you, too. For those of you that like to mosh and go wild, please don't go too far and get yourself (or someone else) hurt. For those of you who'd rather just watch all cool-like, that's completely OK, too. I want all kinds of people to watch us.
I'd like to take this chance to once again thank everyone who enjoys 9mm's shows. Thank you very much!! We'll be hoping for your continued support!! And for those of you who've yet to come and see us, we'll be waiting for you!! (…looks like this wasn't all "thanks".)
P.S. 「act IV」 finally goes on sale next week!