「Midway Progress Report」
Hello everyone.
The recordings are progressing nicely. Today was a difficult song again, but we were able to record it without issue. The feeling somehow reminds me of when we were recording our 1st album. Can't really put it into words.
Still need to finish recording several songs, do the vocals, put them together, slap a cool jacket picture on it, and we'll be done. It's still going to take a while but if you want to catch a glimpse of how it's going… the staff took some pictures of us working, so do wait and look forward to those. Also, for all the gear freaks among you, we'll upload pictures of our pedal boards. We'll get started on another song at daybreak. I'll talk to you later.
The song we're recording today…
It's quite the battle song.
by Kazuhiko Nakamura
That's the one we're recording.
It's a song he came up with way back, all the way back since I first met him. I really love it.
Looking forward to it!
Yesterday we also had a photo shoot.
Look forward to seeing what kind of pictures we took~.
I'll show you just a bit of the scenery at the shoot (lol)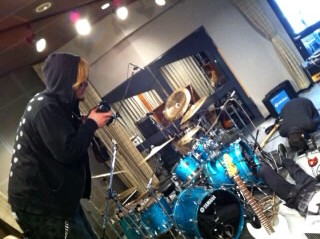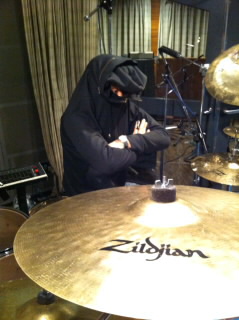 『Her exploding waste』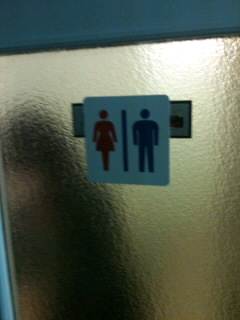 Inside my stomach, yesterday's dinner had today changed into shit. To go and re-re-relieve myself a bit, I made my way over to the comfort station at the studio. And so, the previous visitor was this cute staff girl. And, you know, she got done just as I entered.
Seriously, it really, really smelled. The bathroom.
It smelled so bad, I got partial memory loss. With such a cute face and everything, I wonder what the hell she's been eating. For various reasons, I want to have dinner with her. To replace my lost memories, I want to create dirty ones. Let's make some!!!!
This kind of heart-warming tale, the winter's number one heartful story, I wanted to share it with all of you.
Go away, smell.
…Yeah. It stiiinks!!
Recording day today as well.
The recordings for today's song have ended… Kamijou, your comment please!
It's genius stuff!!
This song, everyone's gonna love it. Yep!!
… (chuckle)!!!!
I, too, think it's cool enough for everyone to love it!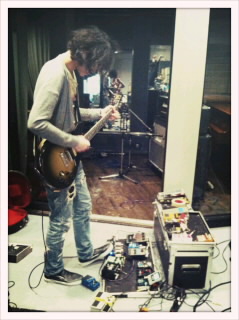 『Yoshii Kazuya』 (THE YELLOW MONKEY vocalist)
The song we'll start recording now will be played with a guitar Takuro received from Yoshii Kazuya!!
It's a song written by Kazuhiko, by the way.
Getting excited~!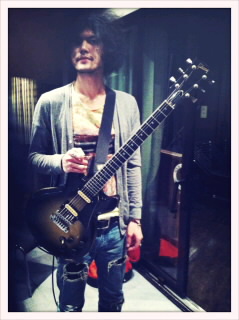 That shadow on the left…
Those of you who often watch 9mm's off-shots will of course know this already.
That'd be Kazuhiko.
Taking clear pictures for us as always.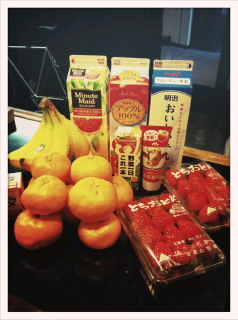 『Large Scale Fruit War Campaign』
From today, the studio catering changes!
Sweets are a mainstay in the catering so we've prepared them as usual, too.
However!!
When you continue on that for a week, your body and mind grow heavy and slow which is no good (-o-;)
Thus!
A change of strategies!
Excessive oils eliminated
Natural sugars assimilated
The catering
Changes from sweets to fruit!!
There's still more to come with the recordings, so we'll do our best while keeping health our foremost priority~.
The recordings are proceeding fine today as well.
Takuro → Jagariko and vegetable juice
Taki → Oronamin C, cheese and meat sausage
Kazuhiko → Red Bull and Oronamin C
Chihiro → Red Bull and gum
…is what will take them through the day!! (lol)
Of course they're also eating proper meals as well but the days can gets as long as 12 hours or more, so these additional supplements are necessary in order to help their bodies and minds work at 100%.
Self-producing is fun to the extent that it lets you have full control over what you want to express… but watching the members work, I feel that they do have a sense of responsibility and pressure which can be difficult.
Well, normally if all you ate was this, you'd get fat in an instant.
On a side note, all of 9mm are the "losing weight easy" type, so I have to buy them lots (lol)
Contents of 9mm's recording studio's refrigerator revealed, part one!!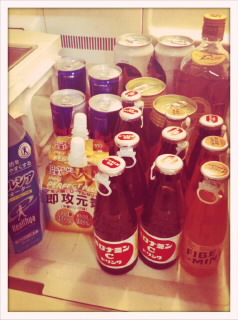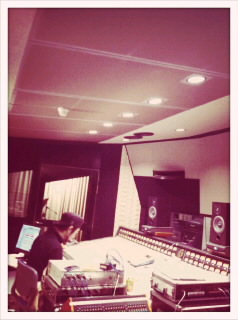 That's Taki engineer~ (lol)
K¹-san is doing much better than yesterday!
With K²-san having assisted us, the recordings proceeded as planned, and K¹-san will return today… continuing on nicely!
I'm glad, I'm glad!
We still have a long way to go with the recordings so I'll take care of my body and work hard!
『China Overtakes Us In GDP, Uh-Oh Japan.』
Yeah, yeah, beacoup merci beacoup.
Happy New Year.
A raging man, gigantic as the mountains of Nagano,
Also known by the name of "Dynamite Shinano", I'm Chihiro.
Really, my apologies, this character I do is my only redeeming feature.
Since I felt like it, I thought I'd post a blog.
…I-it's not like I'm doing so because I felt down during the recordings and wanted to escape from reality by writing a blog or anything like that, just so you know!!
But really though, somehow I already kind of feel exhausted.
I want to escaaape. KyaAAaaA.
Mmm? What's that? Proper adults shouldn't complain, you say??
It's fine, it's fine.
I'm just relieving streeess.
Trying to act like an adult without speaking what's on your mind will sooner or later destroy your spirit. That in turn will end up causing trouble to those around you. More than those people, the one who's actually the greater adult is meee, ahahahaa.
It's MEGA bothersome but,
after all this gaudy lazing around, I think I'll try getting up.
Alright, I'll struggle to do so.
In 2011 as well, don't take your eyes off 9mm. Or something. I don't know.
Kyahaha.
Shit, shitit, shititit.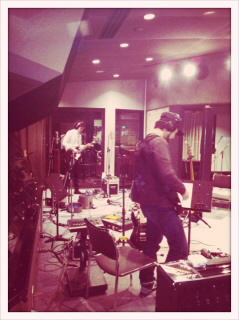 The 9mm recordings are proceeding nicely!
…is what I wanted to say, but as influenza's rampant right now, engineer K-san went and caught it!
※ The members themselves are healthy!
At that time, the saviour stepped up! Zangyo's studio engineer K²-san could make it in his stead with no problem, so the recordings are advancing as per schedule.
Here's to hoping for K¹-san's speedy recovery…
Unfortunate accidents like this are rare, so there's no doubt it'll be a great album!
The members are facing forward, fired up and working harder than ever before!
The cold weather continues, so everyone please take care not to catch a cold or influenza!