「Today: a day of photo shoots and interviews」
9mm Parabellum Bullet, hard at work during a break from touring! Their photo shoot has ended favorably! Since he's just the right size, Takuro was taking a break in between there. (laughs)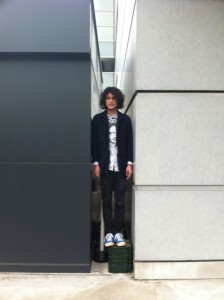 After that, the number of people in the band grew to 5. (laughs)
JAPAN's Yamasaki joined them with no signs of feeling out of place!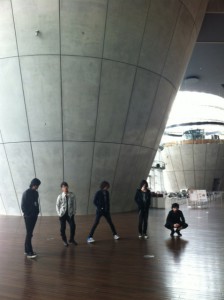 The interview was about their tour!! This month, (ROCKIN' ON) JAPAN will publish what the state of affairs on tour with HORMONE were like! In next month's issue, it's their first published photo shoot in a while. It's a must-see!!!!
「We're in Kagoshima」
MMT2011 extra edition, the Kyushu leg w/POLYSICS. People have been really fired up. To those who came to see us in Nagasaki and Saga, thank you. They're both places we hadn't been to in a while, so I was really happy we got to play there again. It was fun, too. It'd be nice if our next time there was a bit sooner. POLYSICS are actually also in the middle of touring for their album ("Oh! No! It's Heavy Polysic". It's getting popular! Taki's taken quite a liking to it.), so they're quite an exciting band to play with. It seems there are still a few tickets left, so those of you still hesitating, definitely do come and see us. If you have friends who are hesitating, grab them by the neck and bring them along, too. It'll be fine. We'll make it so that you'll go back all buddy-buddy. Let's have fun.
Oh, and I also want to write about our show with Atari, but my head's all filled with thoughts about tomorrow which is making it difficult so I'll save it for later. But I want to use this place to express my gratitude to Atari Teenage Riot again. Thanks!! Alec and Atari's manager (who's Japanese was really good) were saying "Won't you go to Europe with us? We're touring there so just give us a holler. Let's go to Germany and Denmark!" Of course! We'll definitely be in touch!
With that, see you tomorrow. We'll meet at the live house!
「The night before opening for ATR」
If we're talking in worldwide terms, tomorrow begins the season for Beaujolais nouveau. But for us, it's about Atari Teenage Riot's first ever performance in Japan. Come on!! Let's go!! Are you ready!! Activate!! (That's all for yelling as I type.)
Alright, let's turn LIQUIDROOM inside out tomorrow!! Yeeeah!!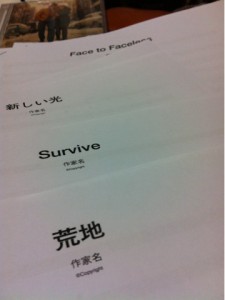 「Checking the band score」
We're in the home stretch! I want to get it done before the Kyushu November sumo tournament. However, there are mistakes I didn't notice on the first time around… here and there… Alright! Let's get this done!
「Preparatory meeting for new goods」
With the tour having ended, we had a meeting with the band today to discuss a renovation of the goods. Right now the members are heading for their rehearsal studio.
The designs are once again great. It was so hard to choose!! We unintentionally made the variety much too abundant. (laughs) More and more post-tour shows are being decided on and announced, so along with the new goods, do check those out!!
We'll be publishing the designs soon.
* PC http://9mm.jp/
* MOBILE http://9mm.jp/mobile/
「The end of MAXIMUM THE HORMONE Movement → return from Hokkaido (it's another long one)」
We're back home from touring five venues around Hokkaido together with MAXIMUM THE HORMONE on the extra edition of MMT2011 (my first time using the abbreviation, meaning of course "Movement Moment Tour"). After the last show in Hakodate, we did a primary wrap-up party, a secondary wrap-up party and then headed for the morning market without sleep after that (still surviving at this point were only me, Taki, Kazuhiko and Nawo. Daisuke was supposed to come, too, but he tragically retired). I was so tired, the middle part of our commute was quite warpy. I was thinking it'd be nice if this was how all commuting was like on tour… but I guess that'd be a little too much if if was constant.
The Hakodate show. Described by everyone from HORMONE as looking "totally looking like a foreign club!", Club COCOA has a spacious stage and a high ceiling so the air doesn't get thin, either. It was a hot performance that showed the results of our tour. We were waiting for our turn while watching HORMONE put on their MAXIMUM-level show like always, thinking "Alright! They're amazing today, too…!". HORMONE's setlist each night was completely prepared with the intent to just crush 9mm. It was a completely different HORMONE from what we'd seen at festivals. When the band who's playing with you is aiming to downright crush you like that, there's no way a band man wouldn't get all fired up. It's not like it was just the finale that was special, but we were definitely way excited. With everyone watching us from the side of the stage and with the excitement of the audience of our first ever performance in Hakodate, 9mm just kept getting more and more into it, and the show was over in a flash. In the end, each of us got off the stage looking like hell.
Each and every show we did in Hokkaido became an unforgettable memory. To everyone who came to see us in Wakkanai, Kitami, Kushiro, Obihiro and Hakodate, thank you. It was thanks to MAXIMUM THE HORMONE who accepted our invitation, the excitement at each venue, all the delicious foods we ate (along with HORMONE getting psyched over them), the staff at each venue for saving us at every venue and blowing away our anxiety over if our equipment would arrive safely or not… it was thanks to everyone that we could accomplish this tour. I can't promise it'll be quite next month or anything, but we'll definitely come again. When that time comes, let's create another huge uproar!!
With this spirit, we'll be heading over to Kyushu with POLYSICS next. Actually, as we were touring Hokkaido, it was as if we were following in POLY's footsteps as they'd just been touring all the same venues in Hokkaido themselves two, three weeks before us. We might just be talking solely about Hokkaido backstage. (laughs)
Ah, and one more thing I shan't forget!!
We're playing with Atari Teenage Riot at Ebisu LIQUIDROOM on the 17th!!
This is great!! We might have a chance to hear "Digital Hardcore" live, the song 9mm uses as their intro music!! Getting to hear the same song within an hour twice, with the second time being performed by the original artists themselves, isn't something you get to experience very often. This is just pure speculation, though. (laughs) Nevertheless, we're also looking forward to performing in front of pure Atari fans. There are a lot of Atari fans among our acquaintances who are from a generation a little bit older than ourselves. My arms and throat are going to be hard at work — no, I'll make them work. That's about it for now. Later.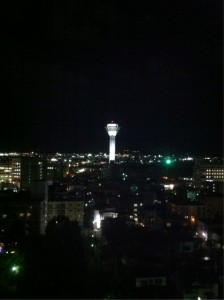 「Obihiro → Hakodate finale」
The Obihiro show was super hot, too! It's the only venue on the tour we've played before. There were people who'd been to our previous show who came again this time as well. Thanks, everyone. However, on our commute to Hakodate, I couldn't seem to fall asleep, so I just endured it by playing guitar inside our bus. What's strange is that I don't seem to get car sick when playing guitar. We then safely arrived. The finale is starting soon! Best regards!
「Kushiro show→ in commute to Obihiro」
Finishing our show at Kushiro, we're now in the middle of our commute. The rain halved in the evening. The moon is running side-by-side with our bus. Thanks to its light, the bus is a pretty yellow color.
Kushiro club green, the venue for today's show is usually a club just like the name implies, and because of that, it seems they didn't have the equipment a rock band would need to do a show. So, as to how we were able to play then, it was thanks to the initiative of Mr. Wataru who's managing a studio in Kushiro. Lots of rock-loving youngsters gathered up the necessary equipment, built a stage on the stage-less floor and let us perform on said stage.
Knowing all that… if we hadn't been able to make it into a hot show, we wouldn't be real men!! HORMONE relentlessly whipped the audience into a frenzy tonight as well. We were watching them from the dressing room and the side of the stage. The level of humidity was gradually getting higher and higher, and by the time HORMONE got off stage and it was our turn, it'd already reached 100% ages ago. Water was trickling down the backstage walls. The guitars and drum set were colored pure white from the steam. But none of that mattered during the show: hands and feet slipping from the sweat and humidity and stuff like that happening is nothing out of the ordinary. It was a great, enthusiastic show!! Kushiro's excitement was amazing. People weren't just being riotous: I could tell everyone was listening carefully to the more intricate songs, too. The show ended with the venue being completely soaked. We had a great time.
I was watching the stage-builders deconstruct it afterwards, and they were really working hard. I think they enjoyed themselves just the same as the other audience members. Like the other two venues, I feel like I want to come back here. Thanks to everyone for coming. Let's meet again! Stay healthy until then.
Now then, the bus should be arriving at Obihiro shortly. Tomorrow's the fourth show! Looking forward to our second show at MEGA STONE. With that, later!
「Kitami → Kushiro」
We've just arrived at the club in Kushiro. It's noisy everywhere as people are preparing our stage settings which are getting rave reviews. It looks like the speakers are a bit loose and shaky today, so you need to go crazy today and push back so they don't fall. club green has three stories, but I'm feeling worried that there might not be any left after HORMONE's done… what do we do if they just crash on top of each other like "DON! DON!"… that'd be quite legendary… yeah. Well, 10-FEET played a rocking show here as well, so it should be fine. We'll play to our hearts' content!!
To get back to our Kitami show. Watching the footage from it with everyone yesterday, I noticed I said in an MC that "Obihiro's the only city on the tour I haven't been to", but it's the opposite. I have been to Obihiro. (laughs)
Onion Hall is a venue with an extremely heavy atmosphere… "you'll be completely beat when you play here!" is what HORMONE told us, and we started preparing for the worst. But once we started playing, the atmosphere felt really pleasant (…is what I say now, but all the cool air immediately changed to hot steam because of the heat, and drops of water were dripping from my head aaall the way through (laughs)). Thus, we narrowly escaped Onion Hall with our lives.
The venue, with adults and children jumbled together, was full of good vibrations. Wakkanai was like that, too, but everyone was so into it, you wouldn't believe it was our first time there! Thank you to everyone who came to see us. We'll definitely come again. The backstage was like a bar as well, so after the show we unconsciously started partying. We all got completely wasted and thus didn't get to exchange final greetings with the staff there, so I'm taking this chance to say thank you. Seeing the parking lot having gotten all three-dimensional afterwards… that was another thing that surprised me.
Now then. As the tour goes on, the shows will be different as well. I'm looking forward to tonight as well. See you again soon!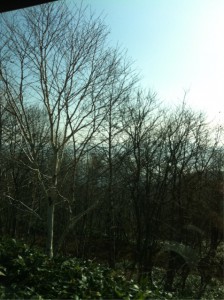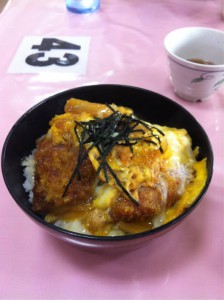 ※ Pictures:
– 9mm vocalist, bathing in onion soup (the drops of water that came down at the venue)
– The scenery I captured while on our way from Kitami to Kushiro
– Yesterday's lunch, mashuubuta katsudon (it was delicious!)
「Wakkanai → Kitami」
Our first show in Wakkanai yesterday was really intense!! The building was shaking! The snack bar next door to the backstage was still in operation, including their karaoke… they must've been afraid… There might not be many Tokyo bands coming here, but we'll definitely return so wait for us. Stay healthy until then. It'd be nice if we met somewhere before then, in concert. Not limited to just Hokkaido, I mean. To everyone who came to see us, thank you.
Today it's a commute day. After getting together in the morning and then going to Souya Cape… there's something I thought about when seeing the picture posted in the previous staff blog. No, it's not about the hair. That was just the wind. It was strong, man.
First, look at the picture once more. Do you see it? Look carefully. Reading this on your phone? I'm of course talking about the group picture with us, 9mm Parabellum Bullet, and MAXIMUM THE HORMONE. However, it's like…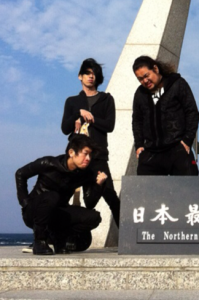 First, these three…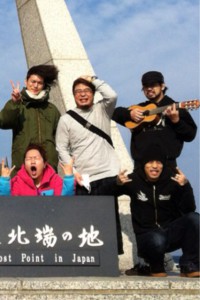 Secondly, these five. It looks like it's two bands. Their names would probably be "The Northern" and "most Point in Japan"… judging from the picture, anyway.
So don't be surprised if those are the formations you'll see on stage tomorrow! (laughs) We definitely won't do that though! Nuh-uh, not a chance! Geez!
With that, see you tomorrow. We'll meet at Onion Hall!