Next year is the Year of 9mm!?
Keeping that in mind, we conquered it!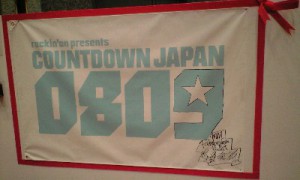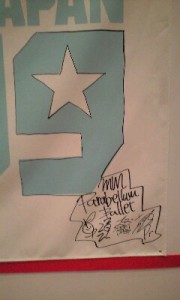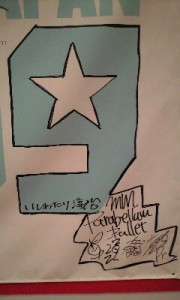 ↑ (lol)
「Name change at the last moment」
Hello, this is Takuro from 8mm Eiga Kenkyuukai¹.
Those among you with good perception might've noticed this already, but we finished our show at Makuhari 2008. It was a staggering view. A spectacle. Thank you to everyone who came to see us. I'm hoping 9mm gets to play there next year, too. Nfufu.
With that, see you at Shibuya Quattro!
This is probably the last update of the year.
Thank you very much for this year.
Hope you all have a good New Year!!
Takuro
¹ "8mm Movie Research Society"
「It's the second to last day, huh」
I completely stopped blogging it seems.
Oh dear. Tomorrow's the last day of 2008, huh.
If you include today's CDJ Osaka, we're playing three shows in two days. What a wonderfully extreme schedule, ahaha~. Well, I say that while it seems the telephones have three shows tomorrow in Osaka → Shibuya → Shinjuku, and our company president is doing two shows at CDJ both today and tomorrow. Everyone sure is having a hectic December. Of course 9mm, too, will be playing live a lot in order for next year to be a good one as well. We're hoping for your support, everyone.
Finally, and this is very late already, but to all of you who attended our Zepp solo tour, it was really fun. Thank you.
With that, see you tomorrow. We'll meet at the respective venues.
Happy New Year's Eve!!
「The people up on stage, they look bigger somehow, don't they?」
We went to see CAJUN DANCE PARTY the day before yesterday. With vocals that somehow give off this aura of being really out of the ordinary and everything they do making they seem pretty as a picture, it was a really really cool, thrilling show. Junji, who was there with me, was excitedly going "Awesome! Crazy! Awesome!". During 9mm's tour with them I used to watch them from the side of the stage, but today was a pleasant evening that made me realize how shows are really something to be watched from the audience side.
It made me look forward to our next show, too.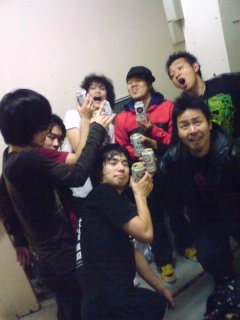 「Oisaa oisaa oisaa」
Thank you to the guys from 10-FEET!! It really feels like a waste that we only got to play two shows together~. Let's definitely get to that mischief we were talking about, nfufufufu……
Hokkaido, see you again in two months at BIG AIR!!
The two shows in Hokkaido have ended safely.
We got 10-FEET to wear our parkas! It's the same one Kazu was wearing (he likes purple), so we got them to form the violet security team.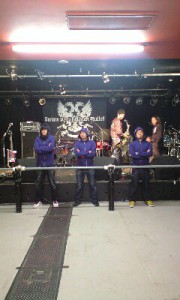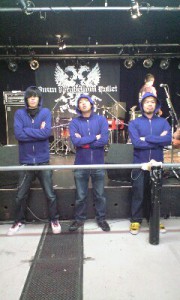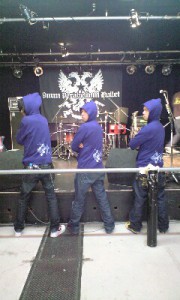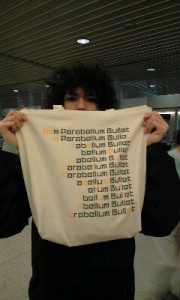 Arrival at Sapporo!
A companion for journeys, the 9mm tote bag. You can fit a lot in it so it's a necessity for tours.
Takuro has the natural color one!
『Chance』
Hello, this is Kaazu Nakamura. Long time no see. It seems it's almost always "long time no see" when I'm writing a blog.
I cut my hair today. Well, I didn't really cut it that drastically or anything. Before when I was playing live, my hair would always get in my mouth and I'd be constantly spitting it out, or it'd enter my nostrils and I'd be blowing it out. I've now said goodbye to that kind of a life. Ah, such a relief. Well, I didn't really cut it that drastically or anything. My head does feel quite a bit lighter though. It'll be nice if I can headbang more effectively with this. Well, I didn't really cut it that drastically or anything. This reminds me, lately I've been having bad experiences with monsters. Before I've noticed it, they've cut my fingertips and stuff with blood coming out. Well, they didn't really cut me that drastically or anything.
It's already December, huh. We're nearing the end of the year. It's gotten colder lately so let's do our best to not catch a cold. Especially after shows when you're all sweaty and it's easy to get chilly, make sure to change clothes and get warm before returning home. On a day when you've gone to a show, your body's surprisingly prone to catching a cold, so be careful. When back home, let's be sure to properly wash our hands. Prevention is important.
Thanks, this was Kaazu Nakamura.
This is Taki.
We're in the middle of our tour and it's really fun. Being forced by the telephones to come and play "sick rocks" with them, conversely having them come play "disaster", requesting B-DASH to play "Yakyuu"… there's been a lot of stimulus. During our time with Midori, we had a hot show with Hajime forcing me to hand over my guitar so he could do some speed picking.
This time around we were playing with OGRE. Watching the shows of bands playing with us from the side of the stage, it always makes me excited. It's really nice. Reminds me of what's great about touring.
Lately we've been touring Tohoku and Hokuriku a lot, so we've been having some very tasty nihonshu. Local delicacies sure are nice as they make you feel glad to have come there. I look forward to Kyushu and their delicious Iichiko. The other day, we received some Iichiko Shinkun(?) from this radio station and as we drank it with Kamijo, I thought it was so delicious I might die. With a taste that even any premium shochu or other rarities can't beat, I, I was deeply touched.
I'll keep on doing my best on the tour. Those of you coming to see us as well as those of you who aren't, my best regards.
This was Taki.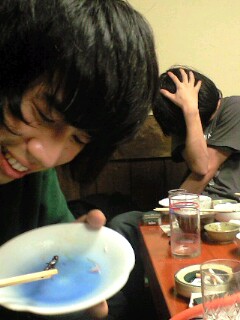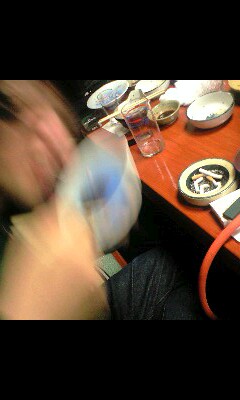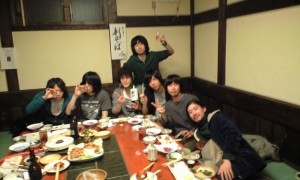 「As I thought, the chorus is…?」
When I returned to my hotel after our party and turned on the TV, "Living Dying Message" was playing (it's the ending theme of this program) and I just unintentionally laughed, like "nhahahaha!" Everyone from Shinshuu, thank you. Good night.