「Media news updated!」
Lately we've been doing nothing but loads and loads of promotion for "Heart ni Hi wo Tsukete." Yesterday and today, too, were spent entirely on recording appearances. We've updated the media section, so check that out on the website. There was also an appearance together with THE BAWDIES with whom 9mm are doing the school festival tour, so look forward to that!
The appearance for Monster Rock was done in completely harmony: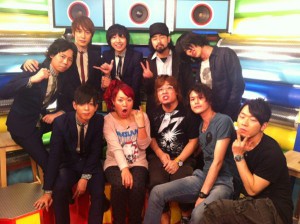 「A new profile picture!」
The new profile picture for "Heart ni Hi wo Tsukete" is done!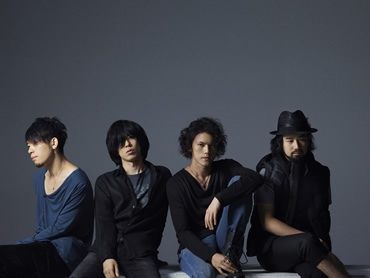 Here's a bit of making-of.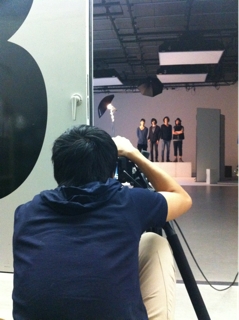 We also had some shots taken from reallllly far way.
The cameraman backed up all the way to the corridor outside the studio. (laughs)
「It's 9mm Day tomorrow」
Good evening everyone. Tomorrow is finally the 9mm Day of the year. Two shows, the one at noon being just for women while the one in the evening is just for men!¹ Just what is going to happen?!
This is the first time for 9mm to be doing this kind of thing. An unknown world. I suppose some of you who are coming might be wondering what to expect. To those people I would say to think of it like how the men's and women's sections at public bath houses are usually separate. Come to Shimokitazawa tomorrow expecting to enter into a sort of strange onsen. 9mm are the clerks, so there's no need to feel embarrassed. Just, please refrain from loitering around wearing only a towel. Be careful about that and have fun.
PS. I've heard that our new song will be broadcasted live on Nico Nico. But! I have no idea how you tune in to watch, so please look into that yourselves. (laughs)
¹ Find setlists for both shows in the comments.
「Today's 9mm Parabellum Bullet」
Doing some promotion today for "Heart ni Hi wo Tsukete", released October 24th!!
There was a photo shoot and interview for ROCKIN'ON JAPAN.
The photo shoot took place on a rooftop so Taki — who's weak against heights — was acting all jumpy. Although Takuro was saying he's afraid of heights, too… there he is, looking down with Kamijo. (laughs)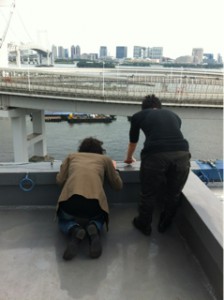 We got through the photo shoot without issue. Look forward to the finished product!
A commemorative picture taken on a break.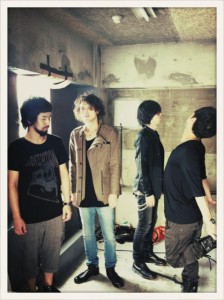 Then some polaroid shots!
Jumping and bending their bodies backwards like shrimps… 9mm acting freely as usual.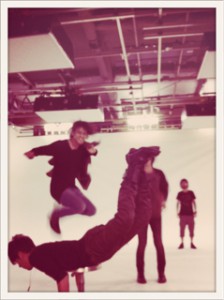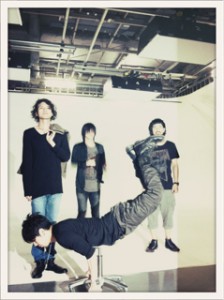 There's going to be loads of interviews and photo shoots this month. We'll do our best!!
This weekend is also the so-called 9mm Day, 9/9!! There's going to be two performances, one at noon and one in the evening. One is women-only while the other is men-only… look forward to the shows!
「Zankyo Matsuri @ Iwaki SONIC」
Zankyo Matsuri is a yearly custom, with this year's performances taking place in Iwaki and Sendai. Thanks to the really warm reception from the audience, all the bands were able to have fun with their shows.
9mm Parabellum Bullet: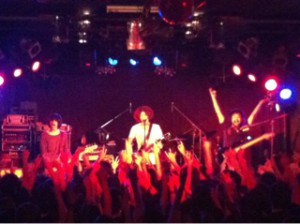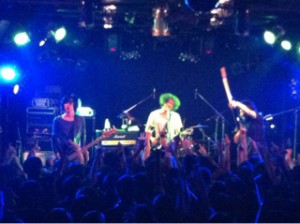 Here's Taki warming up with Masayuki Takeda from HERE who's playing session guitar for mudy on the Sakuban.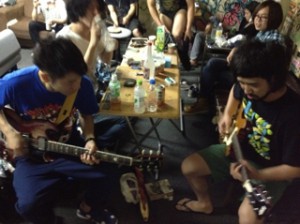 We'll do our best in Sendai tomorrow, too!
「Zankyo Matsuri」
It's Zankyo Matsuri @ Iwaki SONIC today!
These Zankyo-managed bands all headed out on one bus!!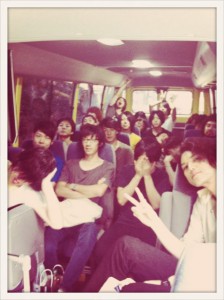 9mm Parabellum Bullet
te'
People In The Box
mudy on the Sakuban
cinema staff
It's a large family, huh.
Though we were off to a fun start, it wasn't long before something happened… there's really something about Zankyo. We suddenly got a flat tire right there on the highway! We were just left waiting there.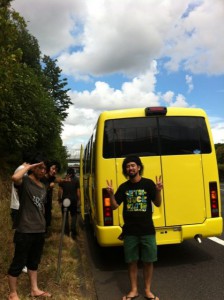 …But there's Taki all happy-go-lucky with hiro from te'!!
The repair service came to our rescue quickly, switched our tire and we were soon back on our journey to Iwaki!
And that's how Zankyo Matsuri @ Iwaki SONIC started for us!!
We're hoping for your support!