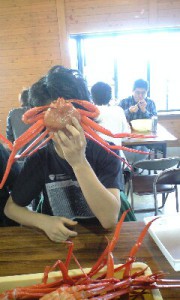 ↑ Crab Taki
Commuted from Niigata to Matsumoto today.
We ate ourselves full with crab at Niigata.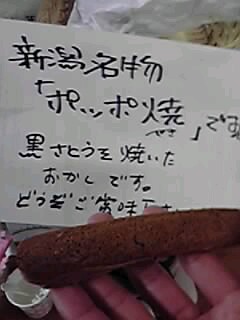 「Second half of the Tohoku leg」
11/23 Sakata (Yamagata)
B-DASH played with us. It was our first show in my hometown. Not only my family and friends, but even my teacher from senior high school was there as well (I spotted him mid-song) so I was really happy and so and so.
11/24 commuting
Ate at my parents' house to my heart's content!
"This nihonshu sure is tasty. Okay, see you later."
11/25 Kooriyama (Fukushima)
Another town I was playing at for the first time. The staff all knew each other so it was like one big team working that day. I decided on the spur of the moment to join B-DASH on stage and I reverted to my 17-year-old self (during 9mm's set I was back to normal).
11/26 commuting → Niigata
The food was delicious!! The words from our taxi driver, "anything you eat is bound to be delicious~" turned out to be true. Also, the first ride costing us only 300 yen surprised everyone. In Tokyo it'd easily be twice that much.
11/27 Niigata
From here, we'll be playing with OGRE YOU ASSHOLE. I like their songs "Sakasama" and "Coin Laundry" so I was really lucky when they played those two songs on a day I was watching their show from the side of the stage.
The picture is of a confectionery we received as refreshment. A simple flavor.
We're visiting Takuro's parents' house today. There's going to be a "you want to visit Takuro's small house?" type of clip to be aired on "Monomane Kokontouzai", so look forward to that!
Here's some scenery from when we were filming it.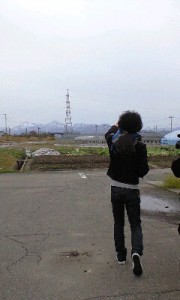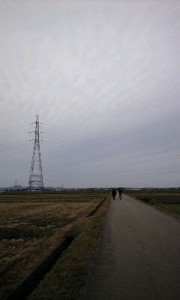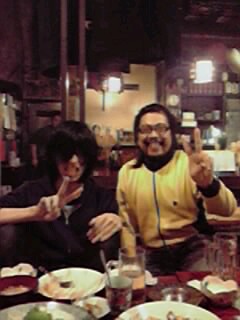 「First half of the Tohoku leg」
11/19 Sendai
9mm always tends to run into bad weather when heading towards Tohoku. But the show was wild. Sure is fun with Midori playing with us.
11/20 Sendai → Aomori
Had dinner with Midori in Aomori. It was this warm and fluffy family-run bar. We had some really good sashimi and jappashiru and (for some strange reason) curry. Pictured up there are the two bassists.
11/21 Aomori
Ms. Mariko told me, "that was the best show I've seen by you guys~"
I thought it was a really good one, too. Hajimetal made an appearance……
11/22 Morioka
We reached the last show with Midori in no time. When it's the last show for the other band, they usually play a little bit different. But, we did our show like usual. Hajimetal made another appearance…… An absurdly fun three shows!!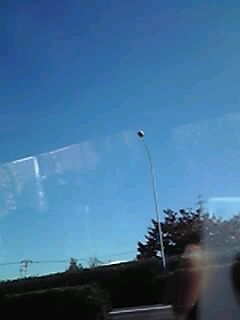 「Now then」
We've completed the Kantou leg of the tour with the telephones and are now entering the Tohoku area. We're currently going north, heading for Sendai. Just like Tamo said yesterday, "Japan's getting chillier. That's right. There might even be snow in Sendai. That's right. It's also coming down in Aomori, Morioka and Yamagata. That's right. Looks like it'll be heavy snow tomorrow in Tokyo, too. That's right. …Not! (lol). This is Matsuo." (That's how he introduced himself. Wonder how he'll do it Wednesday¹). Anyway, today we're playing with someone for the first time since Arabaki 7 months ago. They introduced, or rather, offered to play with us themselves: Midori! Wow! Wow! Wo……… we don't seem to be reaching Sendai.
¹ Not sure who/what program he's citing here.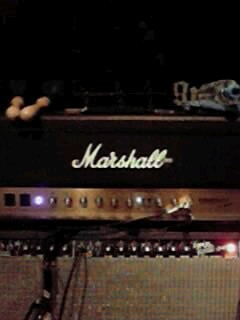 Sorry for not keeping contact!!
VAMPIRE EMPIRE TOUR 08/09 in Kumagaya. When I wrote the blog saying I'd bought a new amp, I forgot to include a picture so here's one for you today. The LED's a lovely violet color. I haven't given it a name yet.
Now then, today's our last show with the telephones!! Let's do this!!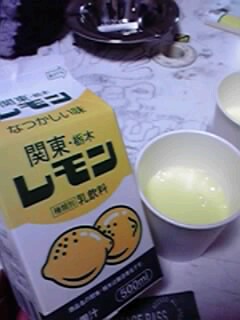 「Kantou, Tochigi」
Third day of the tour!
I'll do my best after first having some lemon milk! My first time seeing it~!!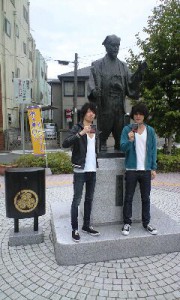 Nobu from the telephones and Takuro often wear the same clothes.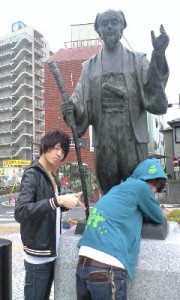 That didn't happen today though as Takuro's wearing a 9mm emerald parker.
But after giving one to Nobu… there's sure to be some overlap again. (lol)
On this tour, we're doing pre-show sales of goods at all venues.
The booth is open from 1½ hours until 1 hour before the show.
Definitely do come and get yours before the show, please.
「VAMPIRE EMPIRE TOUR 08/09」
The tour finally kicks off tomorrow! I'm already excited.
The air inside the live house, the actual building itself and the eardrums and bodies of the people inside the venue, we're going to make everything ring with our music and make every show a special one.
The first one is at 9mm's home town of Yokohama.
Let's enjoy ourselves!!
「We're in rehearsal」
I bought a new amp, so I'm full of motivation.
Our tour's starting soon~!