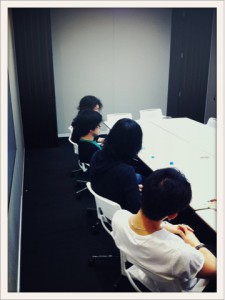 「The backs of the interviewees」
9mm Parabellum Bullet, being interview for an article filled with high praise.
What might they be talking about…? Look forward to the publication~
The interviewer this time is a former member of a band with ties to our company, AFRICAEMO. The last time we met he was a fellow band comrade, but this time he's a writer. It's a really strange feeling but as he's an acquaintance of 9mm as well as a band man, they seem to be having a really relaxed and harmonius interview.
『Tour announcement』
"Atarashii Hikari" has been released and as the release date of "Movement" approaches, the members are busy concentrating on promotion. Of course, they're doing just that today, too~. Look forward to it, everyone~
Amongst all that, we're announcing a live house tour!
We're really psyched about it~
■ "Movement Moment Tour 2011" announcement!
A nation-wide solo live house tour has been decided!
It's titled "Movement Moment Tour 2011"
It's going to be wild, no doubt about it!!
『Movement Moment Tour 2011』
■ Schedule & venues
・7/4 (Mon) Yokohama club Lizard
・7/6 (Wed) Shibuya La.mama
・7/11 (Mon) Kobe HELLUVA LOUNGE
・7/12 (Tue) Tokushima club GRINDHOUSE
・7/16 (Sat) Sakata MUSIC FACTORY
・7/18 (Mon/Celebration¹) Sendai enn 2nd
・7/20 (Wed) Sapporo KLUB COUNTER ACTION
・7/22 (Fri) Niigata LOTS
・7/24 (Sun) Inashi GRAMHOUSE
・8/2 (Tue) Morioka CLUB CHANGE WAVE
・8/3 (Wed) Aomori Quarter
・8/5 (Frid) Akita Club SWINDLE
・8/9 (Tue) Iwaki club SONIC
・8/16 (Tue) Mitoshi LIGHT HOUSE
・8/18 (Thu) Kyoto Takutaku
・8/22 (Mon) Miyazaki SR BOX
・8/24 (Wed) Shuunan TIKI-TA
・8/25 (Thu) Okayama PEPPERLAND
■ 9mm Parabellum Bullet is the only band performing
■ Ticket prices
Advance tickets ¥3,500 (includes tax, drinks not included)
※ Same price for all venues
※ Aside from Niigata on 7/22, drinks are not included
■ Tickets on sale
6/19 (Sun) for the general public
※ Same date for all venues
Also!!
Before that, there will be a drawing held for a chance to buy tickets early!!
Please see details on the homepage!
* PC
http://9mm.jp/
* MOBILE
http://9mm.jp/mobile/
¹ I'm guessing this is in reference to it being Marine Day.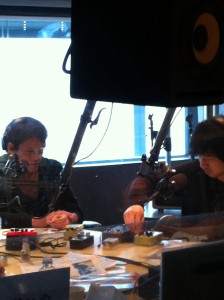 Broadcasting live on J-WAVE!
Takuro and Taki are making a live appearance. Due to popular demand, Taki's introducing his self-made effect pedals as he's producing all kinds of squeeing sounds with them! Doing that on program for adults… I wonder if it's alright…
But it looks fun!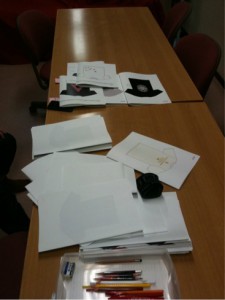 「Countdown!」
Only a month to go until the rescheduled "Movement YOKOHAMA"!! We're gradually deciding on the setlist. Combining songs from the new album as well as our other songs up until now, we'll come up with a new way to present our music. With that said, Movement will of course be the main dish of the night. It has 11 songs after all. I know you guys haven't heard it yet, but I want you to please wait just a little bit more. The album cover's out already so you can fixedly stare at that if you'd like. The real thing's even better and the shot was taken just for this album's sake. Though it's a bit unusual, don't you think it's a beautiful picture? Once you listen to the album, I think you'll see that the cover's a perfect fit. Just wait a little bit more.
This reminds me, it seems "Atarashii Hikari" debuted at 9th on the Oricon chart. I thought it was some kind of a joke but it looks to be for real. From the bottom of my heart, I'd like to express my gratitude to everyone who went out and got it. Thank you. I wonder if everyone downloaded the EMI ROCKS recording, too. Once you I hear it, I think it'll make you want to come see us at Yokohama Arena. Our CD's, it's fine if you share them with your siblings or the rest of your family, or if you loan them to friends or borrow them from TSUTAYA or something. I don't mind. If you listen to them, that alone will make me really happy.
Well then, the countdown starts today. Pictured up there are the remains of our planning for the designs of the limited edition goods for sale the Arena concert. You can see something resembling a T-shirt as well. Look forward to that, too!
「Onryumon starting any minute now」
Today 9mm is appearing not only on radio, but also on Fuji TV's Onryumon (and next week too, actually). According to rumors, they're going to show live clips. I'm going to watch it as it airs, too.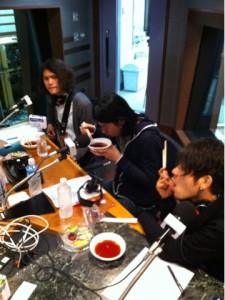 In the middle of a live radio broadcast!
They're having nagashi soumen!!
Looks good.
Taki's absent as he's playing guitar at a live charity event.
「MJ (today) and RD (tomorrow)」
Well then everyone, I wonder if you all watched MJ? 9mm only had a musical performance featured, but it doesn't matter. It's enough that our new song got aired. I think it's awesome all the AKB48 fans got to see us. Lately, you hear a lot about people supposedly losing interesting in music, losing interest in rock and how CD's don't sell as much these days and so on. I think that just means those people are now interested in something else, doesn't it? The people who'd up until now been captivated by rock, I wonder what they're into in 2011. Is it maybe jazz or hip hop, maybe architecture or volunteer work, or possibly even cooking or politics or comedy? There should be some in the line of writing haiku about idols, railroads and calligraphy, too. Within that group, I expect that some get really excited about 9mm's songs. At least one or two people.
That's what I think. And if they come to our shows, then that's even more awesome. That's where it all starts, they've come somewhere where they found something they think is as awesome as jazz, hip hop and so on. Tomorrow we have a radio appearance scheduled, "RADIO DRAGON" on TOKYO FM. Check it!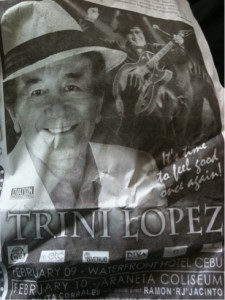 Picture: Foo Fighters' Dave Grohl is supposed to have the same guitar as someone called Trini Lopez, I wonder if it's this person? It's from this crumpled up English-language newspaper I discovered.
We're live!
While they were playing Atarashii Hikari, we took a commemorative picture with everyone!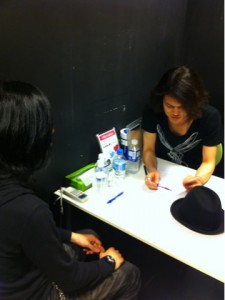 At Spainzaka Studio
Doing a live appearance after this!
In stand-by mode now.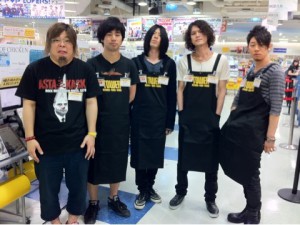 「SSTV Monster Rock」
Today we spent the whooole day shooting for Monster Rock at Shinjuku Tower Records.
We managed to capture a lot of pretty funny stuff, so look forward to it.
More details to be announced later.