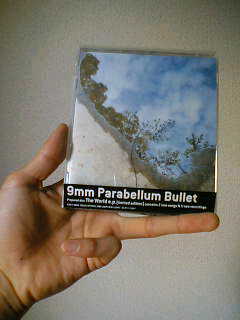 「I want even those who don't care about it to buy at least 5 copies」
…is what Junji Takada had written on the wrapper of one of his own works. In any case, today marks the end of distribution for "The World e.p."!! What that means is that the copies of "The World e.p." still on the shelves at CD shops will be the last ones. There won't be any more pressed. And with that, to the people who don't have it yet, but also the people that do, we'd like to have you buy at least 5 copies to give as year-end gifts and as all sorts of other gifts.
I don't have Mr. Takada's book yet, by the way. This was Takuro.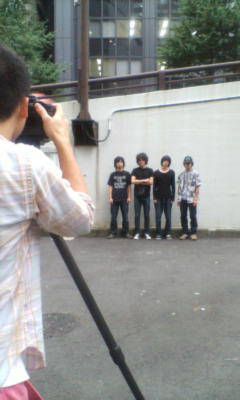 We did a lot of PR today!
It was for something that goes on sale 10/10★
For more details… get them on the official homepage later on, please!
They're still going at it.
They'll do their best!!!
The guys of 9mm ε=ε=ε=(┌  ̄_)┘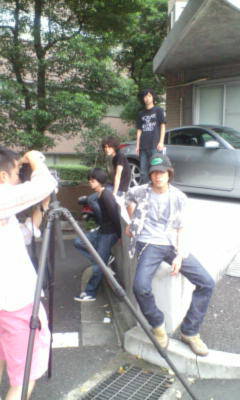 The scenery from the photo shoot with "Ongaku to Hito."
Look forward to it★
『Aura aura aura aura aura aura…』
We went to record an appearance for "Atmos no Numa". Even though the last time we met with Shinpei must've been like a year ago at GG, his greeting was along the lines of "hey man, what's up~". I guess it was because of him that we were able to relax and get through shooting without a hitch. Just, I think he might've asked us too many questions.
Look forward to the broadcast of the essential parts of the interview. It's just me and Kazuhiko.
One more thing: those of you coming to our shows from now on, look out for your belly buttons.
Now then, until the end of the year, 9mm has a lot of exciting events and shows coming up!
This is not the time to be feeling summer fatigued! I want to eat eel! This was Takuro!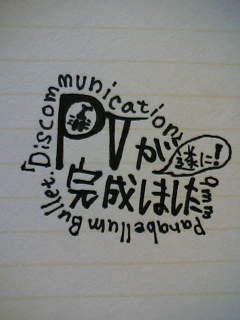 『PV finished』
Today we went to do a final check of the new PV.
SSTV's "Atmos no Numa" that airs on 9/5…
We went to record a guest appearance for them!
※The PV will first air on "Atmos no Numa"!
Look forward to it★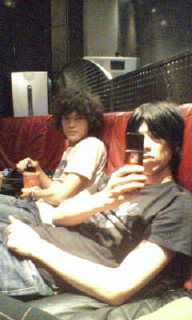 The two waiting for recording to start.
It's just these two today.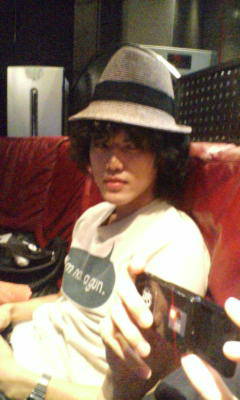 As we waited…
Takuro (Summer Guy Ver.)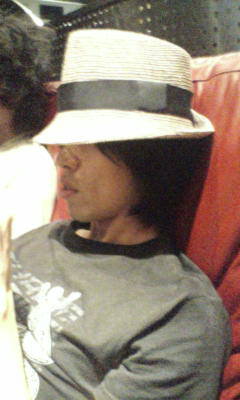 Kazu (Summer Guy Ver.)
In order to become proper Summer Guys, we loaned the hat from a manager.
Thank you for borrowing it.
The PV… isn't bad at all!
Look forward to it★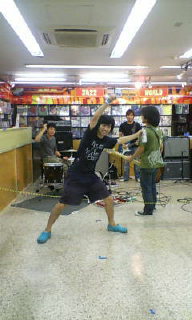 It's 9mm's day off.
They're…
doing shopping
visiting their parents' houses
sleeping (lol)
Amongst all that, 9mm's senior artist at zankyo, te' are doing an in-store show right now at Shimokitazawa's disk union. Taki went over to hang out (or just to window shop?!)
Anyway, te' sure are cool!
The fact that they're an instrumental band… even cooler!
Since they're zankyo, I kinda started sounding like a doting parent. (lol) My apologies.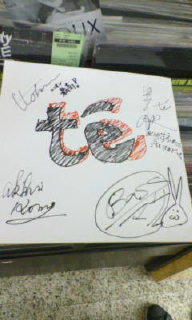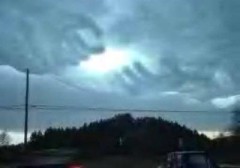 『After all, in the end it's que sera sera.』
It's too hot, ain't it.
So much so, I feel like repeating that.
It's too ho– actually on second thought, I'll hold back.
…
Goddammit, it's way too hot.
Sun, SUN or Sun-Sun or whatever the hell you call it, it sure looks like summer hates this guy.
This is Chihiro, wondering if that's really so.
This one trick pony, always showing off and producing such scorching heat, could you quit being such an asshole and stop with your constant nuclear fusion bullshit?
I'm telling you, it's hot as hell.
But I suppose that's the only thing you're good for: continuing to bully this tiny Earth by constantly giving it a fever. As expected of someone like you who's inflated with pride.
Because it's too hot, I kinda got in an unsightly mood and tried picking a fight with Mother Nature.
But as I was looking at the sky with these eyes full of scorn and disdain…
"Oh wow, now what is that…" (refer to picture)
So those are the hands of the all-knowing and almighty god.
I should've known my place.
I took all of nature too lightly.
Us who've grown too self-conceited, I wonder the planet is going to do with us from now on?
I wonder if it's already impossible for us to give up our pride.
As I thought, the ones to be weeded out are us humans, aren't we?
It's so hot, I was possessed by an evil spirit and started having such grave thoughts.
Buuuut now I stopped. I'll think about something indecent instead.
Hey.
That's kinky.
『Holiday』
Good evening. It's Kazuhiko.
For the first time in a while, I had a day off today. 9mm is feeling pretty exhausted after the heavy schedule of these last few days. There's one who caught a cold, one who got tendonitis, one who got tendonitis right after the first person… various things. And with that, today was a vacation day whose purpose was to enable us to continue our daily musical life in a meaningful way as well as to bring the band back to full health.
To cure my fatigue after yesterday's show and give my head, lower back and joints a break, I was doing repairs on my instruments, watching live videos from way back, reading books and eating ramen, making it actually a pretty worthwhile day off. From tomorrow, I'll again do my best without overdoing it.
I wonder what the others did today.
It's hot so I want autumn to come fast.
When autumn comes… when autumn comes, our new CD is coming out.
Ah, I can't wait. Not that it's done yet, though!
Oh, and today was 9mm producer Junji Ijiwatari's birthday.
Congratulations to him.
Well then, good night.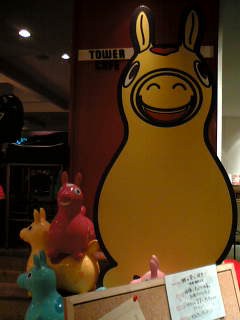 「Boys enjoying the summer」
3 liters of water per day, carry your own bottle with you.
Hello hello, this is Takuro.
My bottle's red. It's got LAKEN written on it.
Now then.
Today was our first time playing at LIQUID,
Kazuhiko wore a hoodie,
and pictured up there is a TOWER CAFE turned RODY CAFE.
Our show at LIQUID was really fun. Went without a hitch.
We played a bunch of new songs which also came out rather nice.
We were able to make a forecast regarding doing the new songs live.
We're going to play them more and more from now on.
We've also alluded to it once or twice, but 9mm did indeed record them.
That is to say, those very songs. Yep.
As to information on just what will happen to those songs, we'll let you know more every now and then. Please stay patient,
loo
ooo
oon
ger.
We're already past summer but let's still take care to stay hydrated.
It's seriously scorching hot every day.
Well then, let's be careful of heatstroke, dehydration, Doyou no Ushi no Hi, summer fatigue and what-have-you. This was Takuro. Goodbye.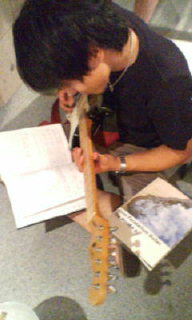 This is Taki.
A while back, the band score for The World e.p went on sale. Some of our managers and directors immediately picked up copies and are all excitedly playing our songs. I thought I'd try playing the Taki parts, but it just sounded miserable so I gave up. In any case, "sector" is the best. All of you youngsters who play guitar, please let me know if you cover our songs, I'd love to hear some. And definitely do "sector" please, it's seriously fun.
Some advice if you're thinking about playing covers. First, go to a park near you and mimic the behavior of your local guitar guy. I did that, too. Also, it's recommended that you just stop looking at the score and start dancing for all you're worth. Note that dancing is simple, but be careful that you don't ruin your human relations in doing so. Finally, make as many bands as you can and play with everyone. Playing in bands is really fun.
Though the score just came out, the distribution of The World will end in just ten more days. We hope you'll get yours while you still can.
This was Taki.
『Hot hot.』
Hello, it's been a really long time. This is Kazu. I'm doing great.
Now then, we've updated the picture on our homepage. It's awesome cause there's, like, this slugger.
It looks like the number of people collapsing from heatstroke are increasing throughout Japan. Let's all take care to stay properly hydrated and eat Garigari-kun on the hot days.
It'll be hot tomorrow, too. This was Kazu.