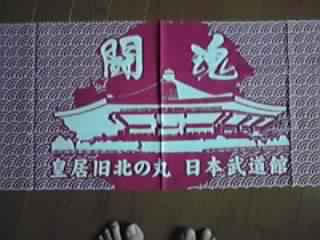 「End of the summer festivals」
The typhoon is giving Tokyo rain, but I think I'll head outside anyway. That's my current idle thought.
It felt like both SWEET LOVE SHOWER and RUSH BALL took place within the same day. Therefore, the, um, please overlook the fact that I've yet to write anything about them. (laughs)
We easily avoided rain at both festivals and thus managed to conclude the summer festival season in an appropriate manner. Because we do a different setlist every show, these two felt like twins. I learned a lot this summer. Like I wrote before we entered the season: I'll take what I've learned with me as we head towards 999. Those of you who only know the 9mm before M-sta or Memai Taisen, to those of you who are seeing 9mm for the first time in a while at Budokan, let's just say that we might be somewhat different from before. Pictured up there is a souvenir I received from 9mm team's I-shita, a Budokan towel. It says "fighting spirit". Guess I'll just have to give it my all, huh.
With that, later.
Won't it stop raining?
The summer festival appearances ended with today's show. There were lots of appearances this year as well. Just like that, summer is starting to draw to its close. We're returning to Tokyo.
The last memory…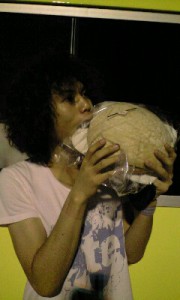 Mega melon bread!
「BBQ」
We're already at Yamanakako. We ate BBQ to our hearts' content, so our preparations for tomorrow should be perfect. I'm hoping it'll be nice and sunny. With that, later.
「SLS and RSB」
Looks like I've lost my sense of time. Why did I write the date as 25th on the last blog? Most likely it's because our long streak of summer festivals is two dates away from being over. One of them our 3rd consecutive appearance there, one of them our first, looking forward to both. It'd be nice if Mt. Fuji showed its face again at SLS (last year it showed us not only its face, but everything all the way to the top of its pinky).
Oh. We were checking the PV today. It's still being edited. I'm sure you already know what song it is~.
With that, later. See you at the venue.
「Good Goods」
What's the origin of the word "goods", I wonder. Does it come from the fact that you're calling them good items? Like, "hey, this is some good stuff." I have a feeling that's not it.
Yeah. That's right. The goods for 999 are complete. I think they'll be announced on the website soon. The staff, too, are excited about 9mm Day at Budokan. The ideas kept on coming: there are the standard goods like T-shirts, towels (this time they're a bit different, especially the material!) and stickers, but also things we've never had before. For me, my recommendation would have to be that thing that comes in a set of 3. Well, I'm sure they'll be announced soon, so look forward to finding out what we have.
Ah. I think I'll be abstaining from a number of things starting today. Nfufufu. Only two more weeks!! It's right around the corner~. With that, later~.
「Already」
I forgot to write. (laughs) Ahahaha~. Of the things that fit the theme of yesterday's blog… I finally found an authentic version of this guitar I've been searching for for ages, and I was walking around outside eating a donut from Mister Donut. That's about it.
I wonder what I'll go for today. I might get a Mac Shake from McDonald's and walk around drinking that. Or something.
With that, later.
I'll write again today. Probably. (laughs)
「Back from Monbash」
We played MONSTER baSH first thing in the morning, so it felt like it was over in no time. Of the outdoor events we've played this year, this one is battling for the first or second hottest place. After the show, we satisfied ourselves by udon and cuisine made with raw Shikoku ingredients. Everything was seriously delicious. I feel bad that we had to leave before seeing SKAPARA and chat.
The scenery around the road to Takamatsu Airport with its smallish mountains and fields caught my attention. It's lovely, like in "Manga Nippon Mukashibanashi". It reminded me of my home town of Yamagata, only without the mountains.
Getting on the scale for the first time in a while today, I weighed 64kg. I've lost a little weight. In the beginning of spring when we were lodging together, my highest weight was 67kg (but that was because the food was so delicious). Usually I'm somewhere between 63 and 65kg. Well, that's pretty good. I won't go below 60kg (if I lost any more muscle, I wouldn't be able to do the shows). When we have big shows coming up, I seem to have a tendency to lose weight for some reason. So maybe my body's started getting ready for the upcoming Budokan. It's almost September, too. So, I think I'll be writing on the blog daily. I just feel like it. Sorry if the entries are short or boring. With that, later.
「Road to MONSTER baSH'09 (air lane, actually)」
Takamatsu Airport has a nice atmosphere, being surrounded by greenery. It's still summer, huh. I immediately headed out to Takamatsu in the evening to enjoy a cup. Oh, I'm talking about udon. Naturally.
Since then I've been sleeping all this time. Waking up a bit just now, there's this music thing attached on the hotel bed. Sort of like a radio thing. I had it set on this film music type channel which I was enjoying listening to, until it started making weird noises. I'm sure that means I gotta get back to sleep.
We're the top batters tomorrow and as we're different from the high school baseball players who are glistening with sweat like stoics, we'll be having fun while drinking to our hearts' content after our show. Udon, I mean. Naturally. With that, later.
「RSR」
Our first show at Rising was really really good. To all the Ezo rockers who came out in such numbers that there were people having trouble even fitting inside the tent, thank you. Like I said in the MC, I definitely want to perform there again.
Returning to Tokyo a little after midnight, I was hungry so I went somewhere I seldomly visit: Yoshinoya. I hardly had the time to think "ah, you sure can't beat gyuudon" before I had a plate in front of me. As I begun to eat, the BGM changed to JUDE's "Atarashii Kaze". I used to listen to an album I like with that song on it, so I was remembering those times as I happily ate.
Now then. The recording work we did the other day resumed smoothly and is now finished. To tell the truth, it's a song we'll be giving out to everyone at 999. Less than a month to go now, huh. For the time being I guess I'll eat some unagi to keep away the summer fatigue.
With that, later.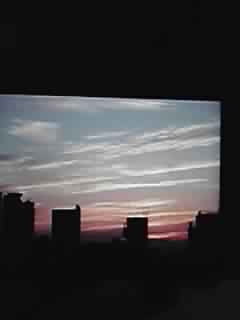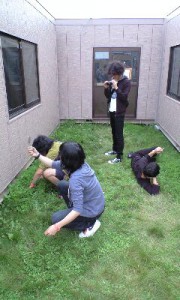 Arrival at RISING SUN!
First…
The four of them, desperately looking for four-leaf clovers!!!