「NO NUKES!!」
We appeared at NO NUKES, from which you can see live and off-shot pictures on our website.
I guess it'd be good to talk a bit more about that. We were there not to hold a speech, but to do a show — just the fact that we appeared at the event is a declaration in itself. I could see everyone way out in the back watching us perform. Thank you to everyone who was there to see us.
Like I said in the MC there, just the fact that we oppose this isn't enough. That doesn't solve the problem. What I mean is, I want to make it so that at some point the phrase "NO NUKES" itself will no longer be necessary.
I'm trying to imagine the day when this event is a festival where we only have to enjoy the music, after the real era of "NO NUKES" has arrived in our country. What kinds of bands will be there? What kind of expressions will the audience have on their faces? And how many more people must see the bands performing there until that day?
I wrote how 9mm is the youngest band among the lineup, at the good age of 28-29… and what I want to say is, I want this band to be as cool as possible. That's it. It's not just about nuclear power plants. It's about what we take from the previous generations, determining the things that we mustn't pass on and somehow putting a stop to it with our generation. What do you want to give to those who come after us? What do you think? I'm asking you, the people from the same generation as myself.
I'm going to crack my knuckles and get back to writing lyrics. I can't tell you the details, but we have a recording session next week. I'll talk about that at a later date.
「NO NUKES 2012」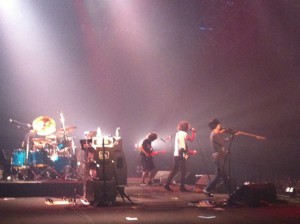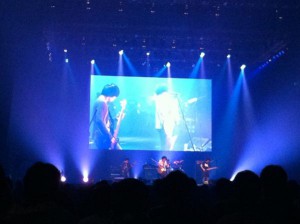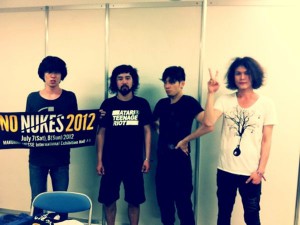 「NO NUKES 2012, bonus edition」
After finishing up at NO NUKES with its staggering lineup, we took commemorative pictures with their lovely mascots!
Monja-kun and Takuro.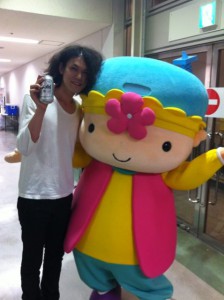 Rydeen Robot-kun and Taki.
Taki got way too into Rydeen Robot-kun…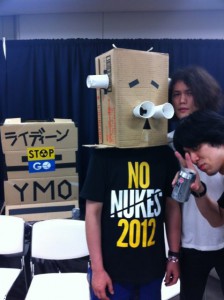 So he secretly tried that on. (laughs)
To those of you who were at today's event… we sincerely hope the message got across to you…
9mm Parabellum Bullet's sentiments.
Thank you.
「The night before NO NUKES 2012」
Kyoto Daisakusen. The rain kept getting more and more intense as we got to the venue but once it was our turn to go on stage, you could feel the sunlight starting to shine through the clouds. By the time BOMB FACTORY went on, it was clear weather. So although eventually it got to be the pleasantly hot Kyoto just as we'd pictured it, we had to reluctantly leave the venue as we had to commute onwards. I'm sure it remained just as hot afterwards. We hope the whole two days is a big success.
We'll be appearing at NO NUKES 2012 tomorrow. I wonder what kind of a day it'll turn out to be. For those of you worrying over us being the only youngsters performing there, try to enjoy it without any worries. I'm just glad that there's a band from our generation included in the lineup. I'll see you at the venue.
「The night before Kyoto Daisakusen」
Kyoto's still in the midst of rain with the occasional rumble of thunder. It'll be our third time at Daisakusen, but probably the first time for us to perform there when it's raining… I'm sure everyone's hoping for the weather to improve though (I'd think?), us included.
O' Great Sun, by daybreak please take the rain away, O' Great Sun.
「LAST ZEPP SENDAI」
For their first show in a month… 9mm played at the last event of the memory-filled venue of Zepp Sendai!!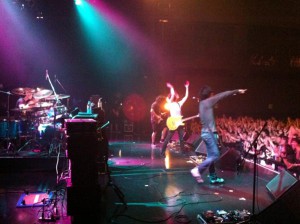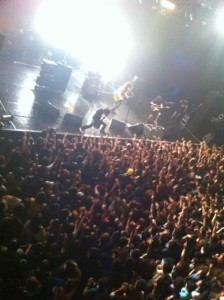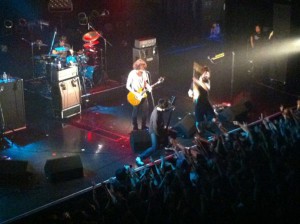 Starting today, we have new goods on sale!
The snap ring that can even hold a plastic bottle is a necessity at live shows!!
We also have a hooded bath towel this year!
And in anticipation of the summer, check out the fun surf-themed T-shirt!!
We arrived in Sendai a day early and immediately headed to the avengers in sci-fi's show at Sendai MACANA!!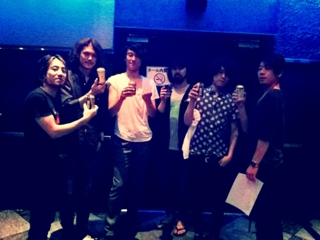 Even though we just barged in on them without warning, they didn't mind at all… rather, they even let us try out their drums!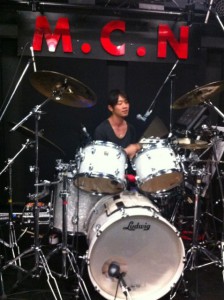 It really is too bad about Zepp Sendai closing shop, but we look forward to seeing everyone from Sendai again soon.