「Movement YOKOHAMA is behind us」
It ended up a huge success. Thanks to all who came. With that, our tour will begin. First up, it's Yokohama for a second time. Wait for us, Japan!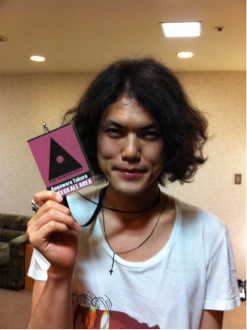 「Movement YOKOHAMA」
We'll do our best!!!!
『The night before the decisive battle』
Komazawa Joshi Daigaku (Komazawa Women's University), or 駒女 in short.
When written in roman characters, that's "Komajo."
It's unfortunate how "Kamijo" looks so similar. This is Chihiro.
At last, 6/26 is nearly upon us.
My heart is pounding.
It feels like my chest is so tight, it's making my heartbeat irregular~!!
The Arena tomorrow…
It's sure to be awash with girls whose crotches are protected by their battle shorts.
Remember, if you all just memorize the following, everyone's crotch area will be able to make friends with the wealthy…
There are only two types of girls in the world.
…That's right. Girls who wear battle shorts, and girls who don't.
You don't choose the panties you wear.
Your panties chose you.
For me, it doesn't feel so much as I'm wearing underwear, rather, it feels like I'm wearing righteousness.
Me, I love truffles and foie gras, along with caviar.
Also… that's right. I love my battle shorts as well.
Crap, I was supposed to write about my enthusiasm for the show, yet I (un)intentionally turned this into an advertisement for battle shorts instead. Ah well.
The show… yeah. I'll do my best. I'll give it all I've got.
Anyway, we'll be waiting for you tomorrow at the Yokohama Arena!!
Did you all remember to brush your teeth?
Then, let's dream up some wonderful dreams!!
I'll meet you there!!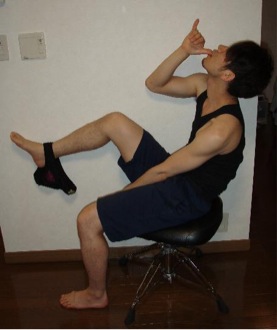 「The night before Movement YOKOHAMA」
How many more hours left? I hope all of you coming tomorrow don't forget about conserving electricity before leaving your homes. Actually, it'd be nice if our equipment (guitar amps and such) got delivered here on the electricity all of the people coming save, and the overall power level would thus go up… just a thought. Oh, and also, how about if all the hot air you guys make at the venue could be used for power generation? Mmm. When one's ideas get this difficult and the jokes this dull, sleep might be a good idea.
No matter how big of a venue you play in, there's sure to be people who can't see you even though they want to, people who can't come no matter how badly they want to. I'm hoping I'll somehow get to meet even the people who can't come tomorrow. Did you see our tour schedule? Those of you who've known 9mm for a long time should've noticed there's something unusual about it. Just what that something is, I can not say. Fufufu.
In any case, it's party time tomorrow. Let's make it grand. Those of you who can't come, too, fill your thoughts with Movement. I invite everyone to come. With that, I'll see you tomorrow.
「Strike down the rainy season」
I thought I'd take a picture of our big rehearsal yesterday and upload it, but I forgot about it entirely. Inexcusable.
Anyway, Movement YOKOHAMA is finally the day after tomorrow. Like I thought, this moment came in a blink. I'm gradually getting more and more restless. It'd be good if it didn't rain. Though it seems to be straying from the Kantou area, there's also a typhoon about. Even though everyone's making the effort to come and see us… I beg of you, be good, typhoon. Since it's come to this, let's all kick the rainy season's ass at the Arena. I hear some of you saying "but if you do that, summer will come!" While it is true that a really hot summer wouldn't be very welcome this year, but we do have the power of our imagination, don't we? Let's use that to our advantage and make the hot summer into a good thing. Let's wear our yukata. Let's frolic in the water. And above all, since 9mm's touring throughout the summer, let's make each day one that evaporates our sweat, our tears and our blood. Nah, that'd be too much. Whoops, looks like this turned into talk about the tour. We still have the Arena before that. We'll meet there. From now on I'll be imagining the moment our performance starts. Everyone else should do the same, too. With that, later.
「Null completed!」
The sample of Kazuhiko's collaboration item "Null" arrived today!
It's looking reaaally nice.
The material's really soft so you get in a good mood. (lol)
Here's the finished product!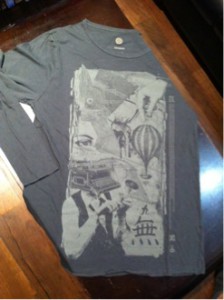 And here's how it looks when worn.
…modeling here is the man himself. (lol)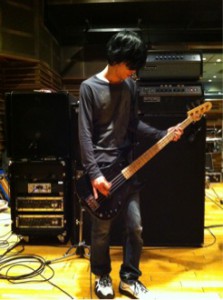 Everyone, be sure to get yours at Yokohama Arena!
「Lunar eclipse ~ summer solstice」
It's been a week since the release of Movement. There was a lunar eclipse in that time. Anyway, I wonder if you've all heard the album. I was really looking forward to getting it out there and, with any luck, having it blasting from everyone's speakers. The staff posted pics of this already, but they had Movement properly lined up on sale in CD shops all over. I even saw people buying it in front of my own eyes. I'm sure the same happened in places we didn't get to visit, too. I'm very happy about that. I feel grateful. A friend of mine from the countryside went through the trouble of getting tickets to our live house tour. That's another thing that made me feel grateful. We're going to be immersed in live shows for the rest of the year. Oh, and we finally have Movement YOKOHAMA coming up later this week.
Tomorrow and the day after we're going to a bigger studio, bringing just a little more equipment than usual and doing a big dress rehearsal just before the real thing. Doing so frees us to basically just do the final check-ups on the day before the show. It seems there's a bunch of people who read the message from 9mm the other day and decided they're coming to see us at the Yokohama Arena after hearing Movement. To tell you the truth, I'm actually kind of glad that the tickets didn't sell out immediately… there's bound to be people attending who first heard us with Movement. And indeed there are. In any case, there's still time. Are you going to let someone else have the seat meant for you?… If you do… hmm?… Well, that's enough of that. (lol)
The 9mm team is working as one to ensure that Movement YOKOHAMA is a great success. Let's continue luring the people still hesitating into coming to see the show. Did you think Movement was an awesome album? Then lend it to people who haven't heard it. Stealthily putting it in their bags or desks works, too. That's all for today. Looks like it's summer solstice tomorrow.
『9mm charity tin badges to go on sale』
Starting from 6/26 at the Yokohama Arena, the 9mm charity tin badges will be on sale.

Price: 100 yen
Colors: red/orange/light blue/green/navy
Size: diameter 32mm
They will also go on sale simultaneously at the Zankyo record online store.
http://zankyo.shop-pro.jp/
※Funds generated from sales will be donated to the Japanese Red Cross to help with the Tohoku Earthquake aid. We're hoping for your assistance.
『Trying out the goods~』
Our merch for 6/26 @ Yokohama Arena is all here~!
With that, we tried wearing them.
Orange sherbet! It's a really nice color!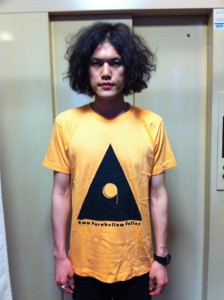 When you look at the Yokohama Arena from above… it looks like a turtle!
The rest is a natural white color.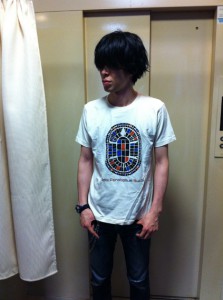 This one packs the typical 9mm punch.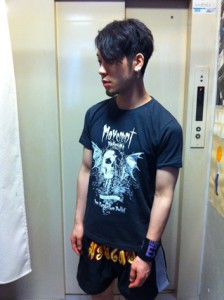 Facing the front.
This one's a light gray color.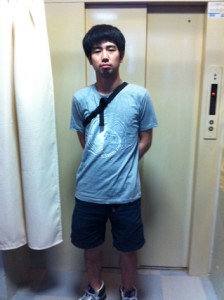 And from the back!
This one's also good for people who commute by bicycle. And of course we'd like for you to wear it at our shows.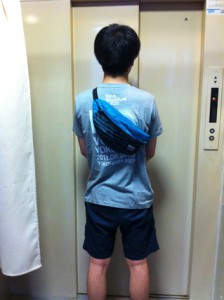 As a bonus…
Kamijo panties!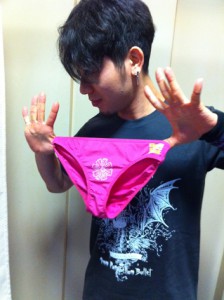 The pre-show sales of the goods on 6/26 will be from 13:00~16:30.
There's other pictures of them on Zankyo's online store.
Please have a look and do come and get yours on the appointed day!
『Movement at various places on its release!』
Chihiro Kamijo's Movement in Fukuoka!
First up, he was off to Tower Records Amuplaza Hakata!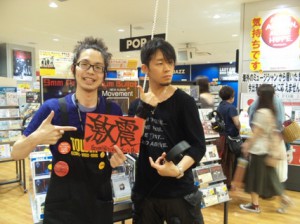 Movement to Sound Giga Tenjin!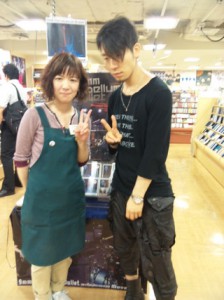 Movement to Tower Records Fukuoka!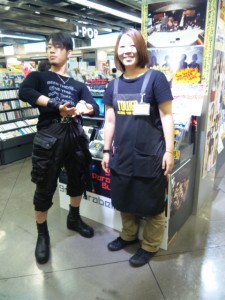 That was Kamijo's Movement by plane.
We had daytrip Movements to various places. Thank you for having us featured on display so much! We're looking forward to meeting all of you at Yokohama Arena, or the following tour.
To all the staff at the record stores we visited, thank you very much!
We're hoping you'll have us on display all the way until our tour.