「DOTMANZ」
Like Takuro wrote the other day, 9mm performed on 3/18 at SOUND SHOOTER vol.7 as O.A. DOTMANZ! They became the DOTMANZ thanks to Rui Hashimoto's remodeling operation!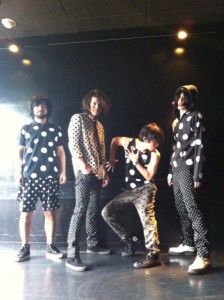 Commemorative picture with the one who brought them into the world!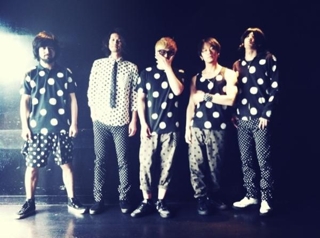 I wonder who will go through the operation to become DOTMANZ next year? (laughs)
「BOOM BOOM SATELLITES × 9mm Parabellum Bullet!」
Fukuoka & Hiroshima!
Thank you!
It was the awesome!!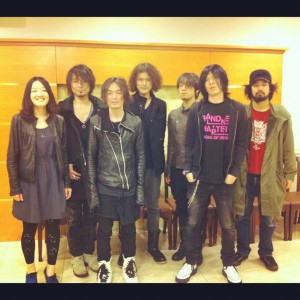 「@ Hiroshima QUATTRO」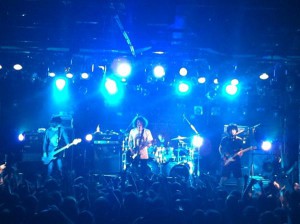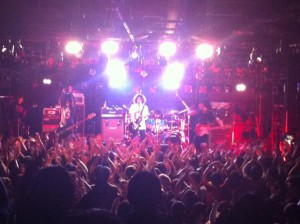 We're taking part in BOOM BOOM SATELLITES' tour 「BRANDNEW CHAPTER -GARDEN OF DELIGHT-」, of which it seems like the staff are already uploading pictures from. 9mm are only appearing on the Fukuoka on Hiroshima stops of the tour, but we're just really happy to be able to play with them. I said this on stage, too, but we have lots of respect for them. Today was awesome and though I'll be looking forward to tomorrow, too, it's sad that we have to bid farewell to the delicious cuisine of Kuyshu.
I'll go backwards in time a bit and talk about March 18th. 9mm appeared at SOUND SHOOTER vol.7. Without announcement, too. As to why, it's because we appeared as O.A. DOTMANZ. After a remodeling operation by SOUND SHOOTER aka Rui Hashimoto (we changed into dot-pattern clothes he handed over to us), we performed as DOTMANZ, playing several 9mm covers as well as a purported new song by them.
If there was someone at the venue that day who was thinking "this band DOTMANZ, they sure look like 9mm — they're playing covers of them, too!" and they still think that to this day, I definitely never want them to change. (laughs)
However, just to set the record straight, 9mm does not equal DOTMANZ. If you want to call DOTMANZ something, call it an enormous aggregation, a sort of organization that changes according to Rui's remodeling operations (dot-pattern clothes, etc). After the operation is done on everyone — be it men or women — they thusly become a part of a band called DOTMANZ. So, from next year and onwards at SOUND SHOOTER, when you hear about DOTMANZ performing, please realize that 9mm is not necessarily a part of them! Actually, I wonder just who it's going to be next time. Let's look forward to it.
Anyway, after our performance, I enjoyed watching the other bands' shows to my hearts content. The beer was great, too (it's from Fukuoka and even more delicious than usual. I wonder why?). I think I might go next year even if I'm not invited. (laughs)
That's about it. I think the crowds for both 9mm and BOOM BOOM are demanding a time that makes both your mind and body go crazy, so let us make tomorrow a day just like that, shall we not? Wait for us, Hiroshima! Goodbye, Fukuoka! We'll definitely meet again!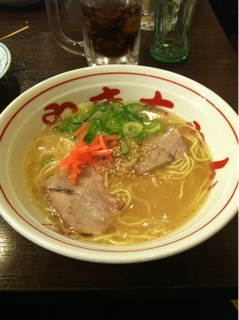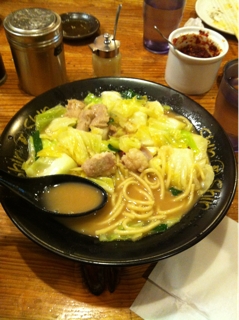 Ramen CITY!!
「@DRUM LOGOS」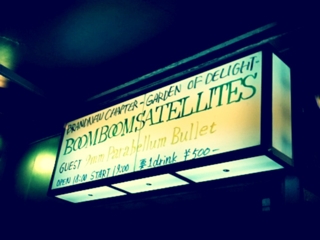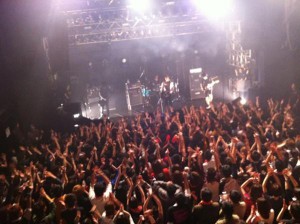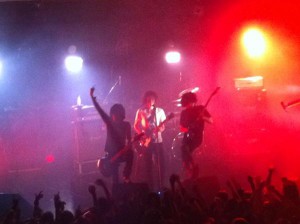 「March 17th is…」
…the anniversary of 9mm Parabellum Bullet's formation. I'll be honest: I was about to forget. It's not like we really celebrate it every year or anything, so it was this close.
Yes. To all our fans, to all our future fans, thank you. Congratulations to both us and all of you.
By the way, today's our 8th anniversary.
That means that next year it's……!
We're hoping for your continued support~!!
「3/8 @ Shinjuku LOFT」
At Shinjuku LOFT again, for the first time in several years!!
Both the band and the staff were eagerly looking forward to this day.
We had dinner together and got to know the event planners HERE beforehand, we had Pierre Nakano do the DJ'ing, got Hajimetal to be the support keyboardist for HERE… it was a really good day!
This is something that you could also see in ROOF TOP magazine and their interview with HERE, but they had this picture with them reaching out and having these triumphant faces that everyone in 9mm are really fond of. (laughs) 9mm also took part in one song of HERE's set! Everyone on the bill coming out on stage during "Amore Amore" was a must-see!! Look forward to the live report in the next issue of ROOF TOP~.
After the show…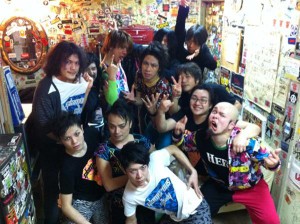 Everyone has a nice facial expression!!
And then, something that's customary at the LOFT…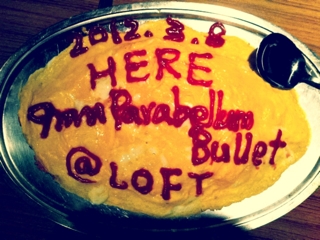 Omurice!!
Sooo good.
Everyone from HERE and everyone from LOFT, thank you very much.
「A good day」
Last year on March 11th, 9mm was about in a meeting, deciding when to have another meeting regarding the jacket of our new album at the time. The meeting was stopped, and like lots of other people, I walked my way through Tokyo to get home. Since then, our album was released as planned, we celebrated its release at Yokohama Arena, carried out a country-wide tour, did our annual end-of-the-year show and greeted the New Year.
Tomorrow, 9mm is planning to be in the rehearsal studio and spend our time practicing. Just practicing with the four of us, like always. With us so deep in concentration, we could be playing at 14:46, too. At that time, I think I'll change my performance into a silent prayer.
With that, later. I wish you all a good day today.
PS. Tomorrow and the day after there are going to be all kinds of events all over the country. They have the "Shooting up to Heaven!" fireworks event at the Imperial Palace tonight, and though right now it looks to be snowing, I'm going to send strong cheers of support their way.
「After GLAMORUS STUDY」
One week after the Shibuya O-nest 15th Anniversary on the 29th, the GLAMOROUS STUDY event we were challenged to do by HERE was a huge success. At the afterparty, we talked and talked until we could talk no more… laughed at the fact that we ended up conversing more with Hajimetal rather than HERE… and decided that we're sure to play together again in the future. You don't get to see that very often, you know. Thanks muchly to everyone who came.
As for 9mm's March, we'll be taking part in BOOM BOOM SATELLITES' tour at Fukuoka & Hiroshima, and then at the beginning of April, we have a serious showdown with HAWAIAN6 in the form of a tour of Tokyo-Nagoya-Osaka, so look forward to that as well! (Because we are! (laughs))