「School campus festival tour, school two」
■ 10/28 @ Konan Women's University
「Umi ga Mieru Oka Matsuri ~Pop to Maam no Koi Monogatari~」
The second show was at a women's college!! We thought the venue would be just this mass of girls… (laughs) but there was a large number of men in the audience, too, working as staff. The tickets were all designated but it ended up as such a hot show! Kanpai!!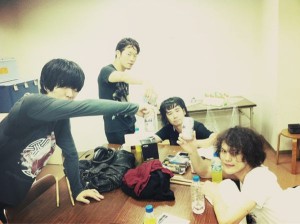 And again with THE BAWDIES.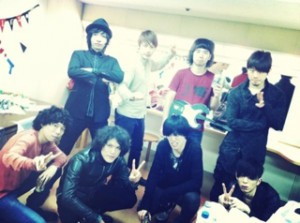 And of course the way back in the car felt like another field trip all the way home.
Photo by Rui Hashimoto.
The next one's on 11/1 @ Chuo University!
The goods can be purchased without a ticket so even those of you who don't have one, do come around.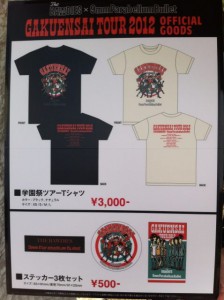 「School campus festival tour, school one」
Featuring THE BAWDIES and 9mm Parabellum Bullet, this two-band school campus festival tour spanning five locations began on October 27th!!
■ 10/27 @ Nagoya University of Commerce & Business
「Sagamine Matsuri ~ Utae! Jigoku no Kazoe Uta!!」
The opening day of the tour!!
The collaboration goods got a good reception.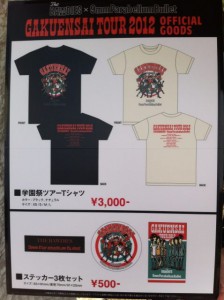 The show was wild, too.
Good job on the first day, everyone! Kanpai!!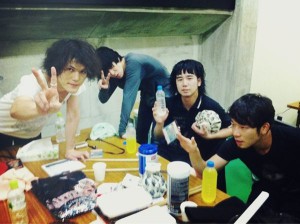 With THE BAWDIES.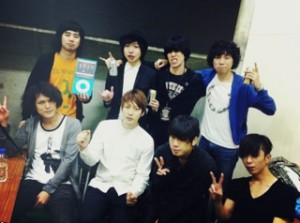 There was a great atmosphere both in the dressing room as well as on stage, and both bands had fun from beginning to end! Everyone set their seats facing each other during the trip to Kobe… it was like a field trip. (laughs) And everyone with a beer in hand of course.
The cameraman for this commemorative picture was Rui Hashimoto!
Both the bands and Rui all looked chummy.
「Performance at MUSIC STATION!」
9mm made their 3th appearance on Music Station today!!
"Heart ni Hi wo Tsukete" also came in at 10th on the show's own charts which we were happy about.
Here's 9mm Parabellum Bullet just before the show!
Seriously just before.
And as for the live broadcast…
Did you guys all watch it?
Their performance had quite some impact!!
Our school campus festival starts tomorrow.
We're competing earnestly with THE BAWDIES on this two-band tour, so look forward to it.
We have some collaboration goods available, too!
Check out the website for details.
http://9mm.jp/
We were happy to be on Music Station again!
We're hoping for your support next time, too.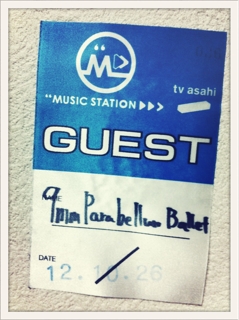 「Alright! Heart ni Hi wo Tsukete」
Our 4th single "Heart ni Hi wo Tsukete" was released yesterday. It came in at 6th on the Oricon Daily Charts. To those who bought it, those who listened to it and those who are going to going to get theirs soon, thank you very much.
It seems the first press limited edition with the band score is well-liked. If you know a band guy who didn't manage to buy one, please lend yours to them. I (and probably the other three, too) feel that band scores are something you ought to be lending and borrowing. That's how I practiced playing guitar. I wonder if they have any at libraries?
Tomorrow we're appearing on Music Station. A live performance on a live broadcast!! Definitely do watch it, everyone!!
「LESSTHAN*RIOT vol.3 @ AX」
9mm played their first show in a while yesterday!
It was an event organized by LESSTHAN, to whom we're always greatly indebted to.
9mm Parabellum Bullet had their stage clothing especially made for LESSTHAN*RIOT vol.3.
As per the band's wishes… they all got suits!!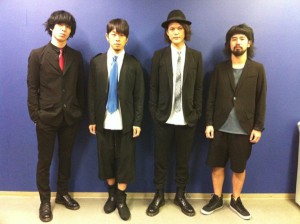 Takuro is wearing a normal, sharp suit!!
Taki is wearing half-pants, a T-shirt and a tailcoat!!
Kazuhiko is wearing a mod suit with a red necktie!!
Kamijo is wearing short pants and a collarless jacket with a blue necktie!!
All these cool original suits were made by LESSTHAN according to the band's ideas!!
Of course, they also wore them at the performance itself.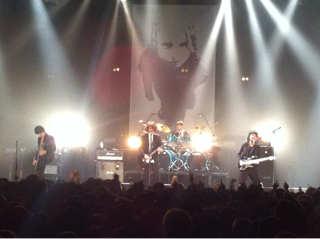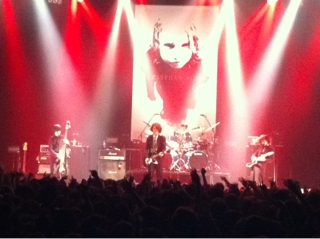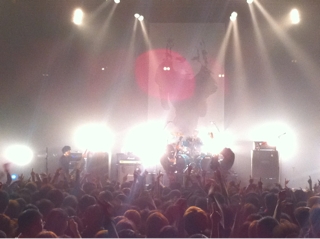 It was a fun day!
Thank you to everyone at LESSTHAN!! We look forward to working with you again.
「Well comeback」
Long time no talk. How have you all been? Though our new single hasn't even been released yet, we continue writing new songs (it feels like I've been saying this all year) and that keeps us busy every day. I know making excuses isn't very manly, but when I'm putting all my effort into writing lyrics and composing, that doesn't leave me with much energy to do anything else. That in turn then leads to me putting off writing for the blog.
Since our new single is finally released next week, it's suddenly becoming noisy around us. We're making three TV appearances (two of them have already been recorded and will air next weekend, and then we're doing a live performance on a live broadcast on that show — check out our website for more info), so it's like we're getting back into promotion at the pace of three steps forward, two steps back. (laughs)
We'll be getting on stage for the first time in a while this week at lessthan Riot, so we're busy with the rehearsals for that. Then after that we have the school campus festival with THE BAWDIES, and after that the EAST COAST TOUR, so it's really not "sudden" at all, this noisiness. Let's have fun with all of that, shall we not!
With that, ladies and gentlemen, here is the limited edition first pressing of Heart ni Hi wo Tsukete that comes with the scorebook! Even for the you who's going "but I'm not a band guy!", just get ahold of the CD — I guarantee you that it has impact. This is what you'll find lined up on the store shelves next week. This sort of stuff is rare, so first you ought to just go hold it in your hands! Whether you buy it or not is something you may decide later! Though it'd of course be better if you did. (laughs)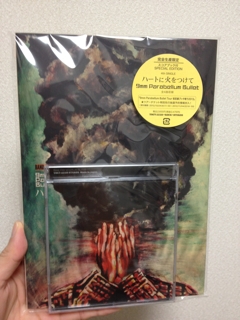 The media appearances for "Heart ni Hi wo Tsukete" keep increasing in number!! There's also going to be three broadcast TV appearances this time around, so definitely do check those out!