「Another notice」
The news section on our homepage has been updated with a note from the 9mm team concerning our secret two-band tour. Those of you subscribed to our newsletter should've gotten it already. Whether you're coming or not, please read it.
In short, the news expresses condolences for the recent events and says they're going forward with the tour. At the 04/08 show at Shinkiba STUDIO COAST, they'll be conserving electricity by limiting the off-stage lighting and having lessened air conditioning. They also ask for understanding in the case of possible power outages which may lead to the show being interrupted.
We're having a rehearsal for the tour today. It really is a pleasure to get to play again. The tour's sure to be such a blast, it'll feel like it ended in the blink of an eye — but isn't that what music in itself is supposed to be? Anyway, we're still in the middle of our rehearsal. Both regular attendees and those who haven't seen us live yet, let's meet when we make our return back to stage. I'll see you later.
「Notice」
Just passing on a bit of news.
Our tour of Tokyo-Nagoya-Osaka in April will go forward as planned.
As this announcement came quite late I think we made some people grow worried, but please rest assured. Let's make it a wild show, even more so because it's a time like this. Your reactions to the the top secret co-billing bands and to 9mm's new songs, I'm looking forward to it just as eagerly as you guys. Well then, I'll see you at the show.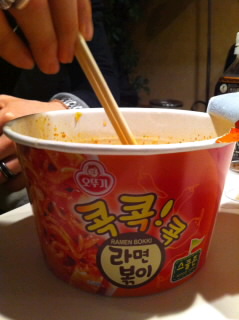 Kamijou bought some Korean cup ramen.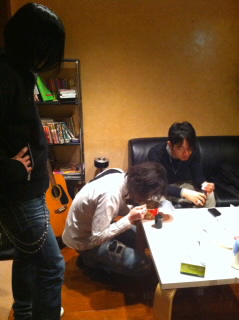 Everyone trying it out~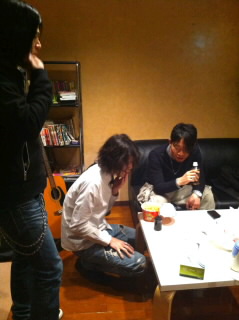 It was so spicy, you couldn't taste anything else… A weird atmosphere took over the room…
Good evening. Today I went over to the studio in order to change around my effects board and got the chance to play with my own amp again. Assisted by my two guitar techs, jaki~n, goja~n, gyogyogyogyo… and similar nonsense sounds were tested and tried out, with me also playing a bit of B.B. King (just the first two bars of one of his solos) whom I've been listening to since three days ago. Occasionally also remembering to play 9mm songs, it was a really satisfying day. A little bit of fooling around, but this sort of warming up is for the band's sake you know. My board is now perfect and I'm planning on changing into using all Oyaide brand cables.
For these past several days, I've been suffering from post-earthquake motion sickness, or that's what my techs say it is anyway. I wonder if others have it as well. Just watching the TV sitting down and suddenly you'll feel that it's shaking, but it turns out to be nothing. Just the pulse in your leg or something. Or, you'll go "it's shaking again! … nah, it's just the alcohol" or something. Or, the following which has already happened to me two or three times: going to the toilet and sitting down to do my business, I'll think "is it shaking? … nah, just motion sickness again… " only to find out later it really was shaking. Ahahaha, I'm an idiot. However, I think I'll be cured once I get to play live again. Not that I have any basis for saying that though.
Though I was in high spirits, as soon as I made my way back home another unpleasant feeling came over me. The fact that this feeling was brought on by the usually calming, dripping rain felt somehow ironic to me. The earthquakes and the radioactive material scare are both frightening. Traffic accidents, murder cases, the pain of being separated from loved ones are all terrible things that can't be helped. However, I won't listen to people who are saying "If you do this you'll be fine! Do what you're told! If you don't, you're making a big mistake!" It's like I'm listening to a lucky charm advertisement.
In any case, today I was reminded of the fact that band men are supposed to make sound (to state the obvious), and today was preparation for just that. Picking practice and luck is what it's all about… right? Let's all do our stretches, take a deep breath and pray as we go to sleep. Good night.
Postscript
There were good news, too. I received word that ASPARAGUS' Shinobu got his guitar delivered back to him. Seriously relieved to hear that. Hoping the rest of the equipment gets delivered safely as well.
It's been raining the whole day in Tokyo. I didn't take one step outside.
Little by little, in many ways it feels like things are starting to get back to normal. On the other hand I think that's a good thing, but on the other hand I think it's a bad thing. It's complicated.
At the disaster areas, there are still places where they're not even able to read this blog.
I was thinking about the act of praying and why one must be quiet when he prays. It must be in order to hear the voices of those who have passed away. If you don't listen carefully, you won't be able to hear those who are no longer with us. Even if you have nothing to say to those who you're praying for, is simply listening to what they have to say not what praying is?
Those are the kind of things I think about when I'm not busy with the 200 other trivial things I'm usually doing. Good night as always.
Seems like they're still working hard at the power plant tonight. Just like yesterday, I'm praying today.
I went on a walk this afternoon. Don't really remember exactly what I did, I just stared at the skies and at the dogs as I prayed silently. I was at a park, you see. Was a sunny Tokyo today as well. I think you know this already, but our planned appearance at Rock no Gakuen on the 21st has been cancelled. Very unfortunate. I was looking forward to our first performance in over 3 months as much as you guys were. I look forward to playing Rock no Gakuen the next opportunity we get. Right now we just don't have the means to. Can't be helped for the time being. There's nothing we can do, even though we'd really like to perform because at the end of the day, the best thing a band can do is to play live. Although I talked about saving our strength for later and all that, I'm also itching to play live. What "saving our strength" means in essence is, for example, practicing both slow tempo and fast tempo picking, and for me as the vocalist, well, doing my situps, practicing playing while singing, etc. The new album is going to have a whole new set of challenges as far as all that physical stuff goes. My body needs to be prepared, too.
As it got completely dark, I prayed for those working at the Fukushima power plant. This is a good chance for those who've never prayed before. Let's pray together. You can do it whichever way you'd like, it'll be fine as long as you think good thoughts. Probably. I'm constantly thinking about the people who were at the disaster areas and how we'll definitely meet one day. Both the people who've been to 9mm's lives before and those who I haven't come across in my life. In the surely not-so-distant future when you're all ready to stand up, when you're thinking you're short of a few really loud guys who'll make you get you in a crazy party mood, please let us perform for you. Our power on stage is our only redeeming feature. I'm certain we'll cheer up everyone. Let's meet there for sure. Time for me to head off to sleep together after a few silent prayers. Good night.
Japan's self defense forces, stay strong!
Ah man, I should have Twitter for this stuff. From tomorrow I'll try my best to properly go for sentences with less than 140 characters. I wonder if the power plant's calmed down. The people of Fukushima and the neighboring prefectures must be full of worry. Here's to hoping they could at least get their things delivered to them. Continuing to pray for the people who passed away. See you tomorrow.
It seems Tokyo's now in electricity conservation mode. I'll turn this off.
All those who exhausted and making their way back home, be careful and return safely.
Clear weather in Tokyo today, too.
I was thinking about this when I woke up this morning. Right now, all of Japan has priority seating. The rule is, "give your seat to those who need it more than you." It's affixed to the window. Those of us who can stand on our own legs, let's give our seats to those who can not.
Let's give our seats to pregnant women and the elderly, people who are hurt, little children and people carrying heavy luggage.
It's possible there are people who might think, "Who the hell are you to tell me that? There's no one who needs a seat more than me. Give me yours." Let's give our seats to these people as well.
The people who say these things… rather than the people in the shaking train who are light-headedly fighting it out until the next station, the people who say such things are weaker. Perhaps their intentions are to never get up from their seats again, because it sure feels to me like they're headed nowhere.
We can all have times of great weakness. However, I dare say that no matter how bad it gets, there are people out there worse off than you. The people who announce that "more than anyone else, they're at the edge of the world"… that's exactly where they're nailed down to.
"Give your seat to those who need it more than you" is a guideline I think I'll live by. I think that's what even the people in extremely harsh living conditions are thinking right now.
It seems today will be a long day, too.
Hoping for there to be at least some good news.