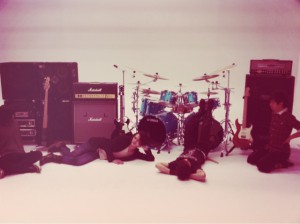 Today we did a couple of photo shoots for some magazines!
First off, GIGS.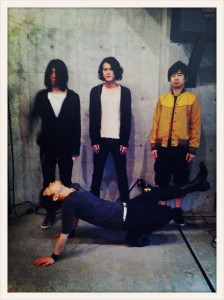 Next up, JAPAN!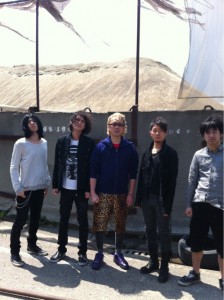 We had a photo shoot today for Tower Records' NO MUSIC NO LIFE! We'll give you the details on it later on the official site! Here's a commemorative picture with Mr. Yanai!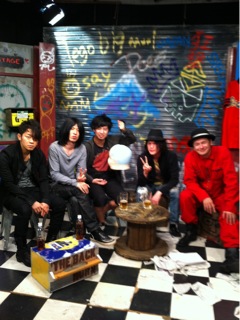 Today we recorded an appearance for M-ON's "GGTV".
The broadcast date is May 21st.
Look forward to it~!
「Atarashii Yokohama」
So fast! It seriously feels like this day arrived in a blink.
Tomorrow the tickets for our solo show at Yokohama Arena, "Movement YOKOHAMA", will go on sale to the general public.
Though I haven't seem them myself yet, it seems like they have huge posters for it on display in Shibuya and Shinjuku. I wonder how they look. If they've scribbled graffiti or stuff on our cool picture, I think it'll turn out even better in many ways. You might as well make them funnier if you feel the need to, but take care not to scribble on the information about our new single and the Arena show eh. My worrying about this is completely unnecessary ain't it?
What the band is presenting to you is an arena filled with music. You, our dear fan, or the people who haven't even heard 9mm's music once, or the people who just heard a snippet of one of our songs, or the people who have never been to a concert in their lives, of course we're warmly welcoming you all as the 9mm team has prepared a place where lots and lots of people can get together. I'd really want you to come and see us. Like all of you, we too are looking forward to it. Well then, let's meet at Yokohama Arena.
I think I'll write something about the three shows I played last week.
On the 12th I took part in a TRICERATOPS event. The four of us performed the song I contributed to on the album, as well as a song by Kiyoshiro Imawano. I feel very fortunate for having gotten the privilege to perform with those three. I also got the rare chance to play a pretty long solo during our jam.
Then on the weekend, we played Saitama Super Arena and Hibiya Kokaido. On one side, SKULLSHIT was to a large extent a gathering of close friends performing on stage, whereas Zanzibar Night was in many ways a combination you won't see again, being a two days full of admiring others' performances. There was rock, pro wrestling, comedians, idols… well, rather than an event, it feels more appropriate calling it a display of the whole spectrum of show business. (lol)
I was thinking this same thing during our secret tour. Regardless of the venue you're playing or what the atmosphere there is like, when you just simply perform music (or pro wrestling, or comedy, or idols, since we had basically everything aside from acting up on the stage)… how should I put it? I can't find the right word for it but it's like, these kind of unusual line-ups we had this time, I felt like people were really wanting to see something like that.
I got this kind of friendly vibe from the people up on stage, too. I'm talking to different people about what to do in the the situation we're in right now, but first of all I should be doing what I can myself, as much as I can.
Though it felt like I spent these past two weeks in concert, from here on we'll again be preparing for Yokohama Arena. We had a meeting yesterday, too, about things like how many songs we're going to do, or if we're going to bring out any special instruments on stage or not, or what we're going to do with the lighting and the goods. Little by little we're finishing up our plan. Next month as "Atarashii Hikari" goes on sale, I think we'll be appearing on TV, radio and magazines a lot, so I hope you do check us out. That reminds me, it seems the tickets for the Arena go on sale this week. So fast!
「Album details」
The other day, information on our 4th album was announced. It's called "Movement". The song titles are out, too.
To tell you the truth however, the album isn't actually finished yet. There's still mastering left to do. So, the finishing touches. The mastering this time is being done by a foreign sound engineer and as "Atarashii Hikari" is sounding really good, I've no doubt we'll be able to finish the album nicely.
Also, to commemorate the album's release we'll be having our solo live at the Yokohama Arena, titled "Movement YOKOHAMA".
Finally announced it on here, too. Right now we're planning the schedule for the nation-wide tour we're going to have after that. We had a meeting on it today. We'll be going to the Tohoku area, too. We don't have a detailed schedule yet, but we're definitely going. Please do pass on the news to your concert-loving friends in the Tohoku area.
We'll have shows tomorrow at the SKULLSHIT presents concert at Saitama Super Arena, and the day after that at the Zanzibar Night concert at Hibiya Kokaido. Well then, later.
「Secret tour finished」
We've completed our tour of Tokyo, Nagoya and Osaka.
I'm grateful for getting to have shared the moment with 9mm's audience when, known only as "guest band" before the curtains rose, it became known there were actually three completely different bands: SPECIAL OTHERS, 10-FEET and BRAHMAN. Once again, let me express my sincere gratitude to the staff who who did their best in maintaining the thorough secrecy at the events and the fans who came there and had fun. Thank you.
Next month our single is released and furthermore, we're getting ready to put out our album. I got a lot out of doing this tour and I wonder if the way 9mm performs and does things will change as a result. Please continue supporting us. Next up, the event next week. Later.
See comments for tour setlists.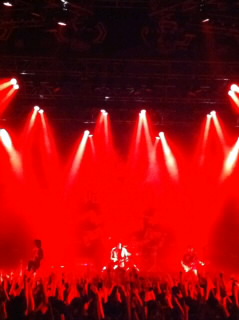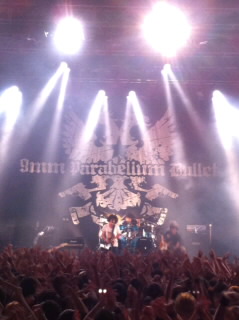 9mm Parabellum Bullet Secret Tokyo-Nagoya-Osaka Tour!
The final is at the Shinkiba Coast!
「We're playing」
We're playing our show at Shinkiba Coast today as planned. Please read the announcement from 3/30 on our homepage once more and do come to the show. Alright, talk to you later.
I wonder if everyone in the Tohoku region is alright. The rural area where my family resides was completely fine before but this time it looks like even they're getting power outages. Praying for the safety of all of your families and friends.