「Or possibly a button?」
Our recording work is over!!
Well to be exact, there's still the mastering left but I couldn't restrain myself.
This time we were really able to make something that topped our own expectations. That's the kind of strong feeling I get when listening to the mixed recordings. The others probably feel the same way, too. I say this every time we come out with a new release, but the process of how our music is made into CD's is really miraculous to me. This one's coming out in May. I want to let you guys hear it soon and have a good laugh. At that time, we'll be in CD shops staring at our CD that's lined up there, delighted at how surreal that fact is. Like, "what's this guy doing here?"
It's again really nice weather today, but still cold. Nevertheless, it's starting to show signs of spring little by little. I don't have hay fever, but some people are already starting to feel it now. It's just hell for vocalists. Here's to hoping my hay fever switch doesn't get flipped all of a sudden.
Takuro
『"Mori no Kokage de Cool Biz"¹ by Korpi』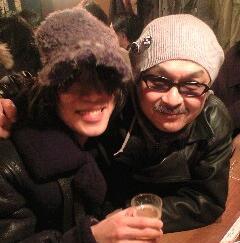 (Attachment: the maestro, me and alcohol)
Aaaahhh… I understand time must go on, but don't you think it's doing so just a liiittle bit too fast? Just a while ago we were on tour and now we're already busy with recording. Once in a while I want to go on some Southern island, forget about time and just take it easy. Oh dear. Such a precocious child, this is Chihiro.
For the time being, just remove the time axis from my space-time continuum, Mr. Albert=Einstein. Huh? It's impossible? Actually I was just thinking the same myself. Looks like you and me are gonna get along.
At the wrap-up party for our tour finale, I was able to spend time with the great maestro of drumming Makoto Takahashi who played in one BOΦWY. He was too kind. "I-I, the first thing I ever tried covering on the drums was the intro to B・BLUE!! That snare attack, it was seriously, seriously the best!!" After telling him that, he profoundly, gently nodded his head several times while patting me on the shoulder, and said "Ahhh, that one… yep, I really banged hard on those drums that time!!!!" Yaaaay♪♪ Heh hee~☆
Next to him, the current president and former director of Capitol, Mr. J.K, was saying "Yep. Mm-hmm. You were really banging on them that time. Mm-hmm." while recalling their past memories. According to Mr. Takahashi: "Hotei would tell me that I didn't need to play during certain parts." Mr. Hotei… as expected. I wish I shared the same luck as Mr. Takahashi.
I was moved by the exchange of stories and got utterly smashed from the alcohol we were having, and so I shouted out "This is the best. I wouldn't mind to just be completely erased by a harsh wind at this point!! So you couldn't even hear my last words!!" …Or, well, that's what Takuro told me the day after anyway. That's the kind of party it was.
Oh. The recordings are going all right. I guess I should say something like "I ask that you look forward to it" while looking cool. But, as I thought, that does seem like I'm being self-important which I don't like… so I guess saying "well… look forward to it I guess?" would look more modest and thus better. This just goes to show I'm a weakling full of vanity. Not having self-confidence is also uncool.
Ah well. Since I genuinely believe we created something good, I'll proudly stand behind it.
Wait for iiit.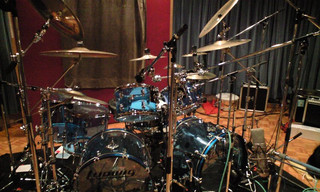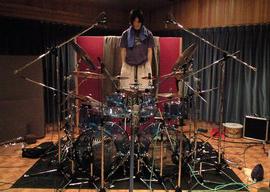 (Attachment: my cockpit. I like Perfect Gundam and stuff, so I added a bit of equipment.)
¹ Official Japanese translation of the song title "Under The Sun" by the band Korpiklaani.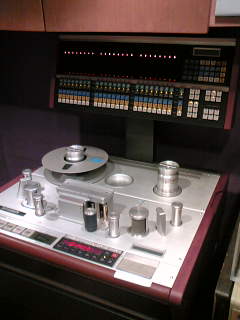 『3rd day of recording』
The recording's going great! We're getting some good stuff down. The analog tape was going 'round today as well~
I ask that you look forward to it!!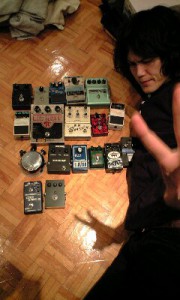 Recording starts today.
Look forward to a May release date ♪
The details will be published on the homepage soon.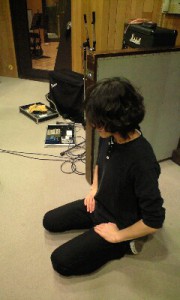 ↑ Takuro, concentrating his mind before recording.
「PEACE BED America VS John Lennon」
I feel those songs and those words are the real deal, conjured up from the bottom of his heart. He was a true intellectual. John was absolutely, definitely not just a dreamer.
http://www.peacebed-johnlennon.com/
There's not many cinemas showing it anymore.
Thanks to everyone who watched us play yesterday. It's been a while since we got to play in a really fun atmosphere like that. 9mm's getting into battle mode again.  We're hoping for your support.
Recording starts soon.
Just a guess on my part that this was posted by Takuro.
Tomorrow we're supporting an American band called mae.
The venue's the Shibuya O-EAST where we just played a month ago.
I wonder what kind of an audience it'll be. We'll do our thing just like always though.
Oh, and The Police were wonderful. Sting looked like he was in great physical condition, Andy Summers was taking it easy as he played next to him, whereas in the meantime Stewart Copeland was banging away with an amazing expression on his face. It was like he was using his face to play. Thanks to that, I was laughing half the time. You can't imagine how cool (as well as amusing) he looked. I had fun.
Our live tech Y-san is going on both days they're playing here. I'll have to hear his thoughts on tomorrow's show.
Alright, later.
Takuro
http://www.myspace.com/mae
Somehow, it generally seems people mainly write blogs in the evening, looking back on their day. From now on I'll do the opposite of that and try updating in the mornings whenever possible. I'll blog not late at night but in the morning. This is a real morning blo (the following omitted)
I'm going to go see The Police today. Actually I only own "synchronisity" (the album actually came out the same year I was born). In any case, it's 3 people playing at the Tokyo Dome. Just three people doing their thing can move tens of thousands of people in various countries. I still can't quite wrap my head around that fact. The power of music really is great. That'd be one way to put it I guess.
In any case, I'm really excited.
Roxanne
http://www.myspace.com/thepolice
Just now as I was thinking about having an evening snack, I discovered my cellphone has a huge crack on it. While wondering just when it got this injury, I realized this is my chance!! I'll take a picture of the crack and upload it on the blog…… is what I was thinking before I regained my sanity, realizing I was trying to take a picture of my cellphone with my cellphone. That's impossible. For now I'll just put some Aron Alpha on it¹.
I really don't think the models need to change to the extent that they do. I hate that. I don't want to change. I'm pleased with the shape of this model, but I'm still using one made by Vodafone. It's not listed on the catalogue anymore, naturally. That's why I was trying to use it carefully. Sure, I was thoughtlessly dropping it on the ground but during those times I followed the 3 second rule which means if you pick it up quickly, it's safe. Besides, deciding on a new model of equipment is such a bother. I kind of like reading the instruction manuals, but I'm weak with the price lists.
While typing, the construction work's over. Aron Alpha can fix anything.
Now I'll just snap a picture of this fixed part and upload it on the blog………
Takuro
¹ A brand of superglue.
This is Taki.
The Termination tour has ended. Thank you very much to everyone who came to see us. I'm happy the new songs were well-liked, too. It was a really fun tour. There were days we did insanely good shows and days we got to eat insanely good food.
Usually when a big event like this ends, I feel sad. I used to get insanely down when things like culture festivals or training camps ended. It's interesting how this time around I don't feel that way at all. I think it's because we have already have another tour coming up soon so it feels like I won't have time to dwell on this past one. I'm already looking forward to our next show. Or rather, I'm looking forward to the next time we get to play Punishment. Playing that song is all I can think about lately. I wonder just why it's such a fun song to play. I've no idea. Well, if I tried to explain it to you, it's because Punishment is (the following omitted)
Taki (the following omitted)
This is way too late already, but we managed to finish the Termination Tour'08 safely!!
Thanks to everyone who came to see us. I was able have a heap of good experiences and I also realized a lot of things. (For example: 9mm are like snowmen. It seems we're always just stuffing our faces with food.)
Watching recorded video of our shows, we sound like a completely different band on the first half versus the second hand of the tour (same for both the '07 and '08 tours alike). I guess it means we're properly maturing as a band. I still haven't watched our two days at Shibuya so I'm looking forward to that. In any case, with this we've finally completed Termination. Well, I'm sure the songs are still going to keep changing, but for now anyway.
Also, like I said at our second show in Shibuya and like is written on our homepage, 9mm will be slowly easing into recording our new CD. We're doing our best also recording the new songs that we played on tour, so look forward to it.
That's all. This was Takuro. We'll make something good.
PS. I went to see them as well.
It'd be nice if Rage came out with a new album, too.