「Limited edition commemorative item (lie)」
VAMPIRE came 2nd on the Oricon weekly chart. Thanks everyone!!
To celebrate this, 9mm's forever loved candy maker came out with this~! Have a look!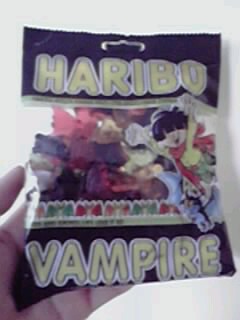 HARIBO's VAMPIRE-flavor. (lol) I've been wanting to talk about this for a while now~! Nhahahaha. Sure is a coincidence though. Is it because of the Halloween season I wonder? I'm happy about it but the problem is, if you look reaaally closely, his hand is kind of grossly unattached…… the illustration's cute, though.