「After CHAOS」
The blog about it had somehow a really abrupt ending, but the evening at LIQUID a while back turned out to be a wonderful one as expected. Enjoying some beers while watching the terrific performances of WRENCH and Arakajime Kimerareta Koibitotachi e, we nearly forgot that we'd even performed ourselves. Afterwards we straightened our collars, though. One has to stay serious, see.
Around that time, THE BACK HORN were playing their tour finale over at Shibuya QUATTRO. It's too bad that we (naturally) couldn't go and see them.
And then yesterday we gathered up the songs we wrote during our lodging together and rushed right into working on them. The songs we did on the first day were more technical than expected, so it was a tough fight. But I have a good feeling about the songs, so now's not the time to be losing to their difficulty. I'll do my best.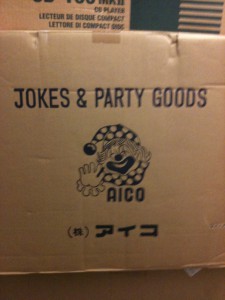 A cardboard box found at LIQUID. What'd they use it for, I wonder?