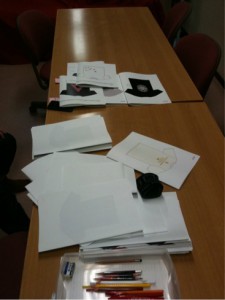 「Countdown!」
Only a month to go until the rescheduled "Movement YOKOHAMA"!! We're gradually deciding on the setlist. Combining songs from the new album as well as our other songs up until now, we'll come up with a new way to present our music. With that said, Movement will of course be the main dish of the night. It has 11 songs after all. I know you guys haven't heard it yet, but I want you to please wait just a little bit more. The album cover's out already so you can fixedly stare at that if you'd like. The real thing's even better and the shot was taken just for this album's sake. Though it's a bit unusual, don't you think it's a beautiful picture? Once you listen to the album, I think you'll see that the cover's a perfect fit. Just wait a little bit more.
This reminds me, it seems "Atarashii Hikari" debuted at 9th on the Oricon chart. I thought it was some kind of a joke but it looks to be for real. From the bottom of my heart, I'd like to express my gratitude to everyone who went out and got it. Thank you. I wonder if everyone downloaded the EMI ROCKS recording, too. Once you I hear it, I think it'll make you want to come see us at Yokohama Arena. Our CD's, it's fine if you share them with your siblings or the rest of your family, or if you loan them to friends or borrow them from TSUTAYA or something. I don't mind. If you listen to them, that alone will make me really happy.
Well then, the countdown starts today. Pictured up there are the remains of our planning for the designs of the limited edition goods for sale the Arena concert. You can see something resembling a T-shirt as well. Look forward to that, too!