「Our two shows in Nagoya are done」
It was a hot show tonight, too. It feels like the past two days went by in the blink of an eye. Thanks to our long tour, 9mm's performances are kind of starting to enter a new domain — we have one leg in the door, sometimes taking it out only to put it back in there again — though that "kind of" part is still kinda looming there a bit… I lost my train of thought there, but what I'm trying to say is that we're playing some really good shows lately. That's how it is.
Amidst all that I received my new guitar, the second edition of the ESP Bricoleur. The body color's GT with a gold top. This guy will guarantee the second half of the ZEPP tour having punch, too. I already used it on both the Nagoya shows and it's got quite the sound! Next up we're playing at the electric city of Sapporo, so I'm going to tear apart the night of the northern provinces with my guitar sound. Looking forward to it. Well then, later.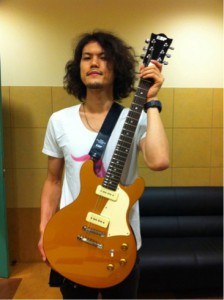 Here's the rookie just before the first show in Nagoya, all glittering and full of promise.