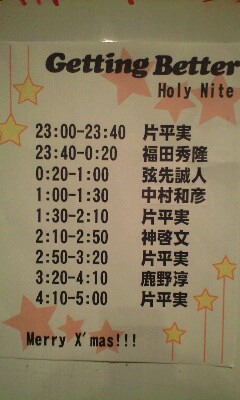 『That's right, I'm a weird old man.』
Hello, this is Kazuhiko Nakamura.
Last night I secretly took part in a DJ event called "Getting Better" over at Shimokita.
I was so nervous as well as drunk, so I messed up with the mixer's controls twice (badly!). I still feel uneasy about that. But it was really fun. Also, seeing that there were several people wearing 9mm's T-shirts made me really hyped up. I wonder if they knew I was going to perform. Ah man, it was fun!
Now then, today it's FACTORY. We'll do our best in high spirits.