Posts by Kazu
『Bring it on, 2012』
Happy New Year. Hello, I'm Kazuhiko Nakamura.
With 2011 starting with the recording of Movement and ending in touring, it was a year full of "Movement". A lot of things happened. I definitely want to make this year a better one. I want to cheer everyone up more. I want to live more fully. I want to be even more riotous! Let's do this!
In the picture are the long-sleeve shirts I was wearing on the MM tour. I tried lining them up at the beginning of my laundry session. They're null-bodies with DRONE prints. Especially the bottom three are my favorites. I'll be intensively wearing them this year as well.
With that, please give us your support again this year! This was Kazu.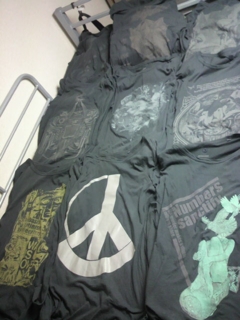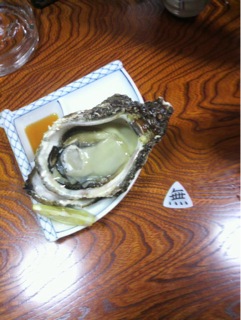 「Oyster man」
Hello, it's Kazuhiko. Kazuhiko the bass player.
The tour's going perfect.
The oyster I had yesterday in Sakata was freakin' huge. We had a great party, too.
Next up is Sendai!
「The bassist's long sleeve T-shirt — by bassists, for bassists」
Hello. It's Kazuhiko.
Our 4th album "Movement" is now on sale. I'm hoping it'll reach and move a lot of people.
We're doing pretty good with the rehearsals for Movement YOKOHAMA, too. For a while already it's felt like we're able to bring out the character of the new songs. It really feels like they're alive. I'm really looking forward to the tour, too.
Also, this was already announced, but I made a long sleeve T-shirt. It was a collaboration with a fellow bassist whom I greatly respect, Tomohiro Matsuda (te'/WRENCH) and his brand "DRONE." The shirt model's called "Null." The meaning… look it up yourself, please. I think you'll get it. (lol) This is something me and Matsuda worked on in absolute secrecy after he'd called out to me and asked if I'd do something together with him. In any case, as result of paying so much attention to detail when making it, it's like, it feels so me. I mean, it's like a suit to transform into Kazuhiko Nakamura. By the way, I wrote that "無" character by hand.
The real thing is going to be on display at Zankyo's shop soon, so if you're in Shibuya, do drop by for a visit and have a look at it please.
Also, DRONE makes some really cool stuff. I wear them a lot, too.
DRONE HP
http://dr-one.jp/
Vacation day tomorrow!
「Notice」
The deadline of applications for the lottery of the live house tour tickets is today at 23 o'clock. Thank you for the many applications we've received. Thanks to you, for the tour opening at Yokohama Club Lizard and for Shibuya La.mama… we somehow received over ten thousand applications. All of us in the 9mm team are overjoyed and……?…… Hang on a second. There's still tickets left for Yokohama Arena.
We have a suggestion. How about coming to see us at Movement YOKOHAMA?
All tickets are seated so you can watch comfortably, the venue is nice and spacey, we have the leading edge, state-of-the-art faculties prepared, it's an ever-growing street with lots of businesses and sightseeing opportunities, and it's only a 5-minute walk from the Shin-Yokohama station! Access is outstandingly easy! More than anything, we're scheming for things we're only going to do at Yokohama Arena. Even today we practiced the whole day. Even though Movement YOKOHAMA is shaping up to be such a glamorous event, why, why will you not come…!? We're perplexed as we are bursting into laughter.
You, you who are growing hopeless at your chances for winning tickets to Yokohama Club Lizard or Shibuya La.mama, we have a seat prepared for you at Yokohama Arena. I want you to tell this to all the boys and the girls who don't know this yet, as well as all the grandfathers and the grandmothers and the papas and the mamas, too. Movement YOKOHAMA is going to be the best night ever. Look forward to June 26th. 9mm will be practicing tomorrow, too!!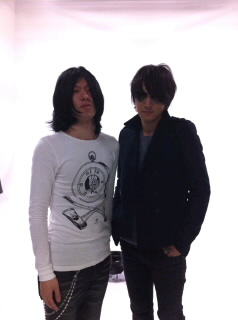 『Conversation』
It's been a really long time. This is Kazu.
Today, I got to have a conversation with the, the, the J-san during an interview for a certain bass-specialized magazine. That J. I was wildly nervous. It's the same as when I got to talk with Koji Ueno for GIGS. That same feeling. That feeling of going "well that sure could've gone better on my part…" after it's over. I came up with lots of things to talk about, but I ended up forgetting all of them. That kinda thing. And then I'm only just remembering them now. I got flustered. Ahh, I was nervous. I think I'll be envied and gotten slightly angry at by lots of people. Nevertheless, it was fun! I learned a lot!
I wonder how many years it'll be until I next write a blog. Just kidding. This was Kazu.
『T.S.S.F.』
Hello, this is Kazuhiko "Blackbeat" Nakamura. Long time no talk. The heavy rain at SETSTOCK broke my effect pedal which I'm pretty bummed out about. The miracles of Mother Nature. Hello, this is Kazuhiko.
Last night, me, Bill Gordie (Horinouchi from BBB) and Shadowmoon (Nagashima from telephones) held a get-together to talk about tokusatsu hero films. Mayday mayday. 25-year-olds, talking heatedly about tokusatsu hero films (mainly Metal Hero and Rider). We were pathetically doing self-introductions in our favorite characters' names. All of them bad guys, for some reason. However, we finally got to talking about music which saved us. Reading the other two's blogs about this is really funny as well.
Now then. It's around the time we should start heading for Hitachi.
Looks like it might start raining. Bleh, I don't like rain.
That's all. This was Kazu Nakamura.
『Birth』
Hello, this is Kazu Nakamura. I turned 25 on April 24th. Hello, this is Kazu Nakamura.
Today was my first show as a 25-year-old. Dring an MC, everyone from te' and telephones surprised me by coming and bringing a cake on-stage. Ah, I'm happy. But it's like, "are you guys really doing this at a festival show!?". I was really surprised.
I spent the day at my parents' home yesterday. If you lead this kind of a lifestyle, getting to celebrate your birthday with your parents is something of a rarity. This birthday felt somehow special.
It was raining down hard during the show and Takuro mentioned this in an MC, but there was a lot of steam rising from the guest seating area, so much so that it looked like an onsen. That looked crazy. Don't you go and catch a cold now.
After the show, we had a barbecue with everyone from te'. The flames were insane.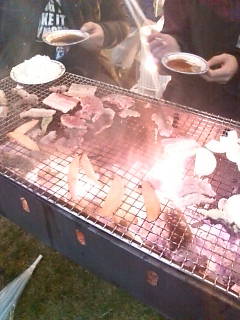 This was Kazu Nakamura.
『Call me anytime』
Hello, this is Kazu Nakamura.
We had something called the FILM LIVE today. Each of us in 9mm did a short speech like it was an introduction to a movie. I felt somehow nervous getting on stage without an instrument in my hands. I don't really remember what we talked about.
Work ended a little early today, so me and Ryohei from the telephones went to have yakiniku by the two of us. While talking about our bands and basses and such, we at some point ended up having a really deep discussion about Winspector. This topic is a huge hit with anyone born in the 59th year of Showa. Everyone was watching Winspector. So nostalgic. Bycle.
The picture is of Ryohei just as he's about to have some reimen after eating nothing but meat. He said he didn't have any qualms with me uploading it here.
With that, later.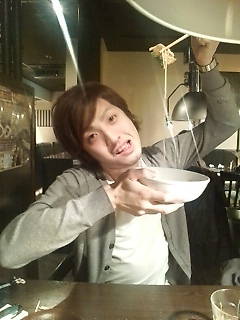 『Lodging together, news flash 6』
Good evening, this is Kazu Nakamura. Our lodging together is going favorably.
Just now, something unbelievable came out of the mountain recesses.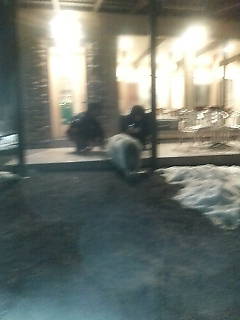 There he is!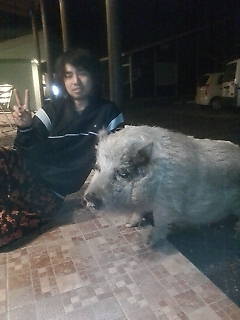 It's a pig.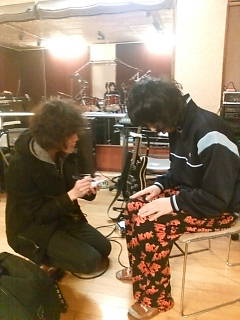 Yoshimitsu Taki (25), giving his eyewitness statement on the pig.
"That's right… it was smelly."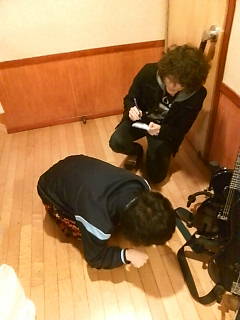 Yoshimitsu Taki (25), demonstrating the size of the pig.
"Around this big."
『A tour doesn't end until you're back home』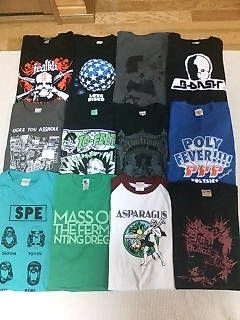 Hello hello, this is Kazu Nakamura.
We returned from Hanamatsu not long ago and somehow the fatigue from touring just struck me all at once. Right now I'm just feeling worn out. I tried lining up the T-shirts from all the bands we played with on tour. Lining them up like that, there would've been a space remaining so I put a 9mm one there. It's really fun doing this as it makes me reminisce about this and that about the tour. This venue and that venue, this band and that band. Really, so many fun things happened, I can't even write them all of them down. Bleh, now I feel lonely somehow. The tour's really over.
Also, those of you who came to see us, thank you very much. There were people who came to a number of shows it seems, which makes me really happy. Well done!
Now then, tomorrow it's back to the studio for us. We'll do our best.
With that, thank you. This was Kazu. Guhehe.