『Birth』
Hello, this is Kazu Nakamura. I turned 25 on April 24th. Hello, this is Kazu Nakamura.
Today was my first show as a 25-year-old. Dring an MC, everyone from te' and telephones surprised me by coming and bringing a cake on-stage. Ah, I'm happy. But it's like, "are you guys really doing this at a festival show!?". I was really surprised.
I spent the day at my parents' home yesterday. If you lead this kind of a lifestyle, getting to celebrate your birthday with your parents is something of a rarity. This birthday felt somehow special.
It was raining down hard during the show and Takuro mentioned this in an MC, but there was a lot of steam rising from the guest seating area, so much so that it looked like an onsen. That looked crazy. Don't you go and catch a cold now.
After the show, we had a barbecue with everyone from te'. The flames were insane.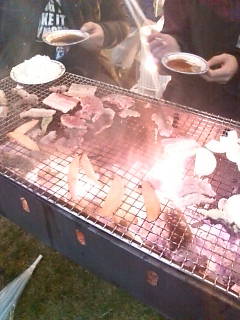 This was Kazu Nakamura.